HELMAND -- Hundreds of orchards established with financial assistance from the US Agency for International Development (USAID) in five districts of Helmand province have started bearing fruit.
Initial work to establish the orchards began in 2020 under the project, which is still receiving USAID financial support.
Now, pomegranates, peaches, almonds, figs and grape saplings are growing.
The orchards cover 400 hectares of land in Garmsir, Nad-e-Ali, Gereshk, Nawa and Nahr-e-Saraj districts, said Zainullah Zahid, deputy director of the Helmand Department of Agriculture, Irrigation and Livestock.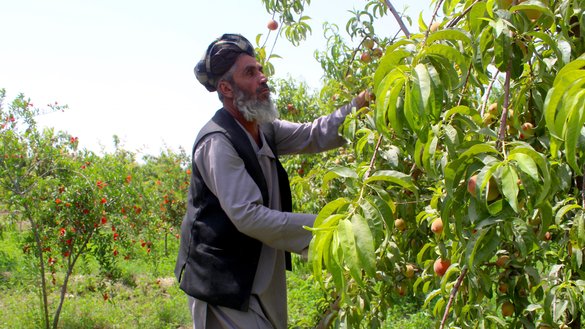 "With these orchards bearing fruits in the five districts, the volume of fruit produced in the province has increased by more than 70% from previous years," he said. "The amount of fruit harvested will increase even more in the future when the trees further grow."
"Most of these fruit orchards were established on lands where poppies were cultivated in the past," Zahid said. "This horticulture project has led to a decline in poppy cultivation and growing interest in orchards and alternative crops among farmers in Helmand."
Roots of Peace, a humanitarian non-profit organisation based in California, has been implementing the project.
Wahidullah, director of the organisation in Helmand, said an irrigation system was developed to regularly irrigate the orchards.
Farmers received professional horticulture training and are provided free fertiliser each month, he said.
"Because of timely watering and use of fertiliser, these newly established orchards have better quality fruit compared to other orchards," he added.
"These orchards also have much higher yields, which are very effective in improving farmers' financial situation."
Improving household economies
The orchards have helped increase farmers' income, improving their livelihoods and saving them from poverty.
Before joining the project, Abdul Khaliq, 62, a farmer in Nawa district, cultivated poppy and wheat, with minimal income.
Now, however, his economic problems have eased after his orchard started bearing fruit last year, he said.
"My orchard is 1.2 hectares, and I leased it this year [to another farmer] for 450,000 AFN [$5,100]," he said. "It is good money and has addressed my household's economic problems. I sent my two young sons to a private university with this money."
"I could have never had such a large orchard had it not been for USAID's assistance," he added. "It helped me so much in terms of giving me saplings and fertilisers."
Shamsuddin, 46, a farmer in Gereshk district, said the yields from his orchard cover the expenses for his six-member household.
"Fruits from our orchards are of high quality, and [customers] buy domestic fruits more than imported ones," he said.
Shamsuddin said he expects to use the orchard for up to 10 years.
"This horticulture project has saved us from poverty for years. This is an effective project, and I hope it is implemented in other provinces too."
Afghans badly need the support of the international community and aid agencies, which has helped avoid an even worse humanitarian crisis in the country, he said.
Alternative to poppies
Mohammad Wali, 58, owns an orchard established by the USAID-funded project in Nad-e-Ali district.
His orchard is on 0.60 hectare of land with peach and pomegranate saplings planted on it.
He said he is happy his trees have started bearing fruit and that the income from the orchard is much higher than from poppies.
"I could hardly cover my expenses when I was cultivating poppies," Wali said. "I would work hard the whole year, but smugglers and mafias would pocket all the profit."
"I was like a labourer for drug smugglers and achieved nothing except hard labour and difficulties," he added.
"I would work hard for months but pick 4 to 5kg of opium. It would not even cover my expenses when I would sell them," Wali said. "Now that my orchard is bearing fruit, my income has increased three to four times."
Assadullah, 30, a farmer in Garmsir district, said that he will never cultivate poppies again.
"The yields from fruit trees are higher than any crop," he said. "Compared to previous years when I was cultivating poppies, my income has quadrupled."
Aside from the increased income, Assadullah said he is happy that he has been given an alternative to cultivating a haram crop.
"I had to cultivate poppies because my economic situation was bad and drug smugglers were giving me advance payments during poppy cultivation season," he said. "At the end of the year, when I would collect opium, I would end up with very little profit while smugglers would get all of the profit."