NANGARHAR -- Parcels of land in Nangarhar Province once controlled by the Taliban will be developed into fruit orchards, allowing area farmers to improve their livelihood while decreasing the production of poppy, local authorities say.
The Nangarhar Department of Agriculture, Irrigation and Livestock (DAIL) plans to develop fruit orchards on 260 hectares of land during the ongoing solar year in six districts of Nangarhar that were previously insecure.
According to the department, farmers were previously forced to cultivate poppy for the Taliban, who use the sale of illegal narcotics derived from the plant such as heroin to fund their militancy.
"We will develop orchards on 260 hectares of land this year in Rodat, Chaparhar, Sherzad, Khogyani, Achin and Kot districts," said Nangarhar DAIL Director Dr. Zamir Behsudi. "These districts were previously insecure, so they had not received much attention. In order to ensure balanced growth of agriculture across the province, we will develop orchards bearing different fruits in those districts."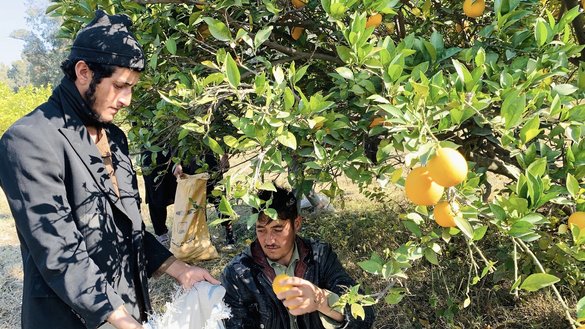 "Development of these orchards will be funded through the development budget of the Ministry of Agriculture, Irrigation, and Livestock (MAIL) with fruits suitable to the climate in each district," Behsudi said.
Currently, Nangarhar Province has more than 600 hectares of orchards of different fruits, according to Behsudi.
Improved income
Local farmers welcomed the government initiative, saying the switch to fruit cultivation will improve their livelihoods.
"The Taliban used to control this area. They would force us to cultivate poppy as it would serve their interests," said Rahim Shah, a resident of Khogyani District.
"We are now very happy as these areas are secured," the 38-year-old added. "DAIL is helping me develop a 0.2 hectare orange orchard. After having seen other orchards, I am sure that I will have a better income from this farm than I used to get from poppies."
"We used to live in dire economic conditions in which we could not even have three meals a day," he said. "There was no government and therefore no life. But we are happy now that those difficult days are behind us."
"We will have a life, and in addition to wheat and maize, in two years we will be able to have fruit orchards from which we will make a good income," Shah said, adding that he hopes the government will help other farmers develop fruit orchards so that they can improve their livelihood as well.
Haji Gulabuddin, a resident of Surkh Rod District who cultivates onions on his land, said he now sees the value of cultivating fruit, especially now that troops have secured the area from the Taliban.
"My brother developed orchards on 0.4 hectare of land, which had yields last year," he said. "We used to discourage him, arguing that it would not be profitable. But now I see that he sold hundreds of thousands of afghanis' worth of apricots from a 0.2-hectare piece of land."
"Now I also want to develop fruit orchards," he said. "Thanks to improved security, now we can focus on our livelihoods."
Ajmal Omar, a member of the Nangarhar provincial council, called on the government to expand the fruit-orchard programme now that the Taliban have been cleared from the area.
"These six districts were insecure in the past, and farmers were working in very difficult conditions," he said. "We ask DAIL to expand the development of orchards and to take active measures in providing seeds and fertilisers to farmers."
"I am from Sherzad District, where there has been no progress in the agriculture sector because it was totally under Taliban control. Now that it has become safer, we ask the government to pay more attention to agriculture here," Omar said.