HERAT -- Nafas Gul Jami, a 45-year-old Herat entrepreneur, has established a food processing centre to create work opportunities for locals.
Women make jam from domestic fruits such as pomegranates, apples, peaches and figs at the centre, which is called Malaka Jami.
They also produce tomato paste and pickled cauliflower, carrots, peppers and cucumbers.
Malaka Jami Food Processing Centre employs 70 women and 30 men, said Jami.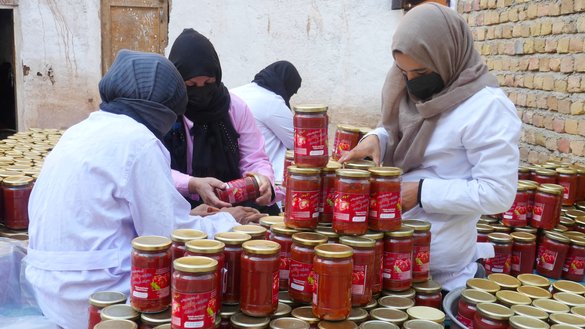 "We have mostly employed women who are the breadwinners of their households," she said. "They cover their household expenditures with their income."
"Girls deprived of going to school and women who used to work [before August 2021] and lost their jobs are part of our workforce," she added.
The centre's daily production rate is one metric tonne, with ebbs and flows depending on market demand.
In addition to Herat, Malaka Jami Food Processing Centre's products are distributed in Kabul, Kandahar, Mazar, Ghazni, Badghis, Farah and Nimroz.
Much-needed source of income
Salima Rahmani, 25, works from 8am to 5pm at Malaka Jami Food Processing Centre and makes 5,000 AFN ($57) a month.
She has eight family members. Her father is a tricycle driver in Herat city, but Rahmani's income is higher than his.
"I use the 5,000 AFN salary that I receive for household expenditures, which it covers to an extent," she said. "In the current situation of high unemployment and the bad economy, the salary I get is very valuable."
"I have been working at this centre for two months," she added. "In the current tough situation, the ability of women like me to work outside the home is a positive sign."
Tuba Kamali, 35, is another worker at the centre.
She is a mother of five, and her husband, a daily labourer, has not worked for weeks.
Kamali is the breadwinner of her household now and also earns 5,000 AFN per month.
"I am happy about working here alongside other women," she said.
"My husband used to work, and our life was good, but he has been unemployed for almost a year, and we are facing economic problems now."
"I rely a lot on this salary," she said. "We have no other income, and if it were not for this job, my children would have starved to death."
Masooda Saeedi, 33, works every day with Rahmani and Kamali.
She was hired two months ago and works in the jam production section.
"My husband is a daily labourer and goes out in search of work every day but returns empty-handed," she said. "Our economic situation has improved in the two months that I have been receiving a salary."
"I am happy about getting a work opportunity in a female-friendly environment in the current situation," she added.
Her family would starve if she does not work, she said.
Supporting woman-owned businesses
The Herat Women's Chamber of Commerce and Industry (WCCI) recently awarded Jami the Bibi Khadija award for her efforts in developing a business.
The annual award has gone to successful female entrepreneurs in recent years.
The chamber also awarded $1,500 (131,000 AFN) in cash to Jami.
Nargis Hashemi, chair of the Herat WCCI, said that despite having a small business, Jami has created work opportunities for many women.
"Jami has been recognised as an exemplary woman in business and job creation this year," she said. "Despite limited resources, she was able to expand her business and save other women from unemployment."
"In co-operation with other organisations, WCCI is supporting woman-owned small businesses," she added. "Financial support, training and capacity development, organising of exhibitions and marketing of women's handicrafts are examples of such support."
The International Organisation for Migration (IOM) provides financial support to woman entrepreneurs, said Hashemi.
Given the current difficult situation, women need support, said Simin Majedi, a women's rights activist in Herat city.
"The situation is such that women cannot do anything on their own and need help," she added. "Support from international organisations is critical and valuable to women."
"Afghan women have bravely continued their work in society despite the deprivation and restrictions they face," she added. "These women will progress and have a prominent role in society if they are supported further."
Growing business activities
As many as 1,500 women and girls are involved in various business activities in Herat, with some 350 women launching their own enterprises during the past five months.
Herat city's new Princess Market, for example, is run by and for women and girls, offering them a safe place to shop for clothing and an opportunity to earn money.
Some 35 women launched shops selling clothing and accessories at the market, which opened on November 16.
Also in Herat, the United Nations Children's Fund (UNICEF) and a German charity provided vocational training to 550 men and women to help them find jobs and income.
About 200 women and 350 men are joining the workforce after graduating from the six-month training programme on November 14 at the Herat city office of Help -- Hilfe zur Selbsthilfe, a German aid organisation.