HERAT -- Businesswomen this week showcased their products at a woman-focused trade fair in Herat city -- the first such event in almost nine months.
There were 50 booths at the Women in Business Fair held April 26-28 in Qala-e-Ikhtyaruddin. The products showcased included handicrafts, industrial products and food items.
Female-owned businesses in Herat are mostly concentrated in handicrafts, beekeeping, the processing of fruit and and saffron and the production of food, soap and carpets.
Despite the restrictions and economic challenges, the women at the fair said they have returned to work stronger and more motivated than before.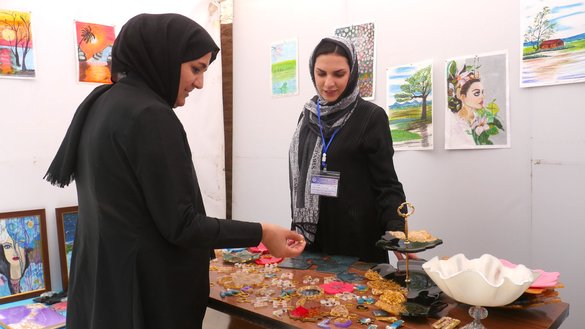 Malalai Hajizada, who hosted a booth for her dried fruit processing business at the fair, said her business had been closed for the past eight months, leaving her with no income.
"I have restarted my business, and I am trying harder than before," she said. "Silence and giving up on work are not the solution, and I have to grow my business."
Hajizada said she has invested considerable time and resources in starting up her business, so she cannot just forget her hard work and sit at home.
"We want to ... focus a lot on surviving in difficult times," she said, adding, "We push back on the imposed restrictions in a logical and reasonable manner."
Fatima Mohammadi, whose company manufactures bags in Herat city, said she has resumed her business with hope and determination.
She vowed to keep fighting for her business and to lobby for restrictions on women to be lifted.
"The fact that we are here today in this fair is a struggle itself," she said. "We women want to maintain our presence in society and continue our social activities."
"No one can stop our progress," Mohammadi added. "Entrepreneurial activities are one of our achievements of the last 20 years, and we will never allow it to fade away."
Women's right to earn a living
Entrepreneurial interest among women has recently started growing again, said officials at the Women's Chamber of Commerce and Industry (WCCI) in Herat say.
The WCCI, which had ceased operations in Herat last August, resumed activities on April 10, largely due to the active efforts of a number of women.
With the resumption of the chamber's activities, there is hope for women to resume their entrepreneurial activities without concern, said Nargis Hashemi, director of the WCCI in Herat.
The WCCI in Herat had 150 member businesswomen last year, 30 of whom have since left the country, she said.
There are more than 1,500 businesswomen in Herat province, but most of them operate informally, Hashemi said.
"About 70 women have taken WCCI membership in recent weeks and have started their businesses in various sectors," she added.
Rohina Sarwari, a new WCCI member who has opened a tailoring shop, said she is highly motivated to start up her business and wants to become an entrepreneur in the future.
Five women are working in her tailoring shop, she said, adding that she would like to increase the number of employees as the business grows.
"We women want to work in our country and create jobs for other women so that they do not have to be trapped at home and suffer from mental problems," she said.
"We have the right to work outside our houses and make a living," Sarwari said. "We won't allow others to dictate our lives and take away our rights."
Women face challenges working in Afghanistan, but they will overcome these challenges and build a brighter future for themselves, she said.
Saving families from poverty
Most female entrepreneurs in Herat are the breadwinners of their families. Many of them also provide jobs for hundreds of other women, thereby playing an outsized role in improving the economic situation for thousands.
By engaging in entrepreneurial activities, women save both their families and the families of the women who work for them from poverty, said Behnaz Saljuqi, an economist in Herat.
"Thousands of men lost their lives during the two decades of conflict in Afghanistan, leaving their families without any breadwinners," she said. "Women in those families are now working and are the breadwinners."
With rising unemployment and the plummeting economic situation in recent months, many more men have lost their jobs and are living in uncertainty.
"The more women have job opportunities, the more they can contribute to their families' livelihoods and become financially independent," Saljuqi said.
If women are not allowed to work outside their homes, the economic difficulties faced by families will be far greater than they are now, she added.
Munira Samadi, 32, a mother of four whose husband was killed in the war, has been working for a food processing company in Herat.
She makes 6,000 AFN ($69) per month working for the all-female company, which is enough to address her economic needs, she said.
"What should those women who do not have a male guardian do? What would they eat, if they do not work?" she asked. "Women are forced to work, and no one should stop them from doing so."
A country where women do not work will never prosper, said added.