HERAT -- Khair Mohammad, 56, lives on a street in Herat city, spending days and nights outside in the cold winter. He became addicted to drugs some 15 years ago in Iran where he had gone to work.
A native of Herat's Karukh district, Mohammad was abandoned by his family once he became an addict. He now lives in hunger, with only a thin blanket to cover him.
He said he wants to be saved from the cold weather and drugs.
"I am in a very painful situation. No one checks on me or helps me," he said. "I suffer day and night from the cold, hunger and drugs."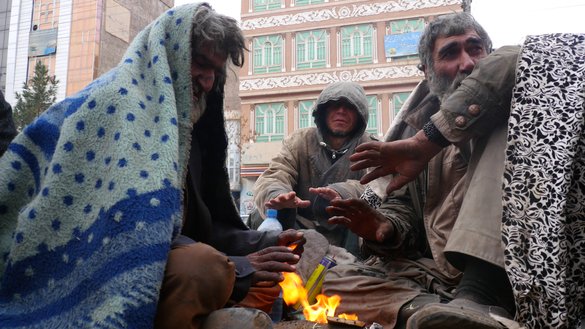 "The government admitted me to a hospital three years ago, where I was in treatment for two months," he said.
"I quit drugs and wanted to return to normal life, but my family still thought I was an addict and did not let me into the house. I relapsed because of unemployment and because I had nowhere to go."
In the last two decades, international assistance played an important role in fighting poppy cultivation and preventing the spread of drug addiction in Afghanistan.
Thousands of addicts in Herat received treatment and returned to normal life thanks to international aid.
But such aid was largely halted about a year and a half ago.
A 100-bed hospital to treat drug addicts, built in Herat with international aid, has not been operational since then.
Based on data confirmed by national and international organisations, about 70,000 drug addicts live in Herat, some 20% of whom are women and children.
Cold weather
Herat has been experiencing unprecedented cold this season, with temperatures dropping as low as -24° Celsius on certain days.
Thousands of homeless addicts live on the streets, in cemeteries and in dilapidated places in the deadly cold, and they say a few among them die every night.
Mehdi Qasemi, 31, lives on a boulevard in Herat city and has been sick from the cold.
He said he stays awake at night from the extreme cold, and burns plastic and garbage to warm himself.
"Nights are very cold. I sit on my feet until the morning, shivering," he said. "I have been ill for a month -- since the weather got cold -- and I have no money for treatment."
"Young addicts remain resilient in the cold, but middle-aged and old addicts cannot survive the cold, and they die," he added.
"Every night two or three addicts lose their life to the cold on the street where I live."
Desire to return to normal life
Many addicts in Herat city want to return to a normal life.
Abdul Shokoor, 40, walks throughout the night so his body does not freeze.
He said he yearned for treatment and good health. "We, all addicts, are tired of this humiliating life and want to be healthy."
"If there is a proper place to treat addicts, all of us are ready to quit drugs and return to normal life in society," he said.
Mohammad, 30, has been living in a cemetery in Herat for the past two years after being deported from Iran. He became addicted to drugs five years ago in Iran while working there.
He recently witnessed the death of an addict from the cold and buried his body five days later with the help of another addict.
Mohammad said he does not want to live in the cemetery anymore. "I want to become healthy again, but there is no one to help me."
He said he hopes to be reunited with his family in Iran after quitting drugs.
"I am very interested in getting treatment and getting clean," he added. "I hope a suitable place become available that would feed us and protect us from the cold."