HERAT -- A video clip circulated on social media that shows a Taliban commander in Ghor province beating a 10-year-old boy with a stick after his legs were bound has provoked a furious backlash.
The clip, recorded by a Taliban fighter in Khak-e-Bala, near Firoz Koh, the provincial capital, shows a Taliban commander violently assaulting a child.
The incident took place in late March, according to Zalmai Karimi, a spokesman for the Ghor governor. The exact date of the incident is unknown.
"Mullah Saber is a local Taliban commander who operates in a number of villages within 30km of Firoz Koh," Karimi said on April 2. "His main activity is the torture of local residents and extortion of money from them."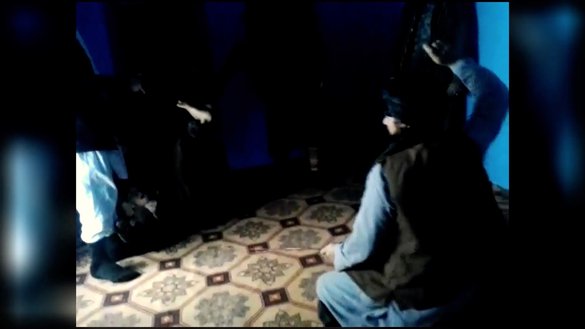 "This child was brutally tortured and punished by Mullah Saber," he added.
In the clip, the child can be seen pleading with the Taliban commander to stop his assault, but his pleas and cries are ignored and the beating continues.
This incident reveals the extreme brutality of the Taliban, said Firoz Koh resident Noor Mohammad Habibi.
"The Taliban have mercy on no one," he said. "Women, men, seniors, youth, children -- it does not matter to them."
"The Taliban ignored the voice of an innocent child being tortured," said Firoz Koh activist Mohammad Gul Poya, describing the incident as an "extreme form of brutality".
Wherever the Taliban have gone, violence, torture, killing and chaos have become common, he said.
'An anti-Islamic act'
The perpetrators of the beating demonstrated that they have no understanding of the precepts of Islam, as the torture of civilians and children is an anti-Islamic act, say religious scholars in Ghor.
The rights of children and respect for their dignity have a very important place in Islam, said Firoz Koh religious scholar Mawlawi Mohammad Hashim Azizi.
"Those who abuse, beat and torture children are rejected by Islam, and these acts are forbidden," he said, pointing out that such acts represent a great sin.
"Islam has given much respect to children," Azizi said. "The Holy Prophet of Islam (PBUH) treated children with kindness and never raised his hand against a child."
Islam calls children a blessing (rahmat), said Mawlawi Shamsuddin Mohammadi, a religious scholar in Firoz Koh.
The Taliban assault captured on video and other similar incidents "have no basis in Islam," he said.
The Afghanistan Independent Human Rights Commission (AIHRC) also called the Taliban's torture of a child an unforgivable crime and an inhumane act.
The recent incident is being investigated thoroughly, and the perpetrators must be punished, said Mubarak Shah Sherzada, acting director of AIHRC's Ghor office.
"The beating and torture of children are a clear violation of their human rights," he said, noting that children do not have the ability to defend themselves and that no one has the right to exploit this to harm them or endanger their lives.
The Taliban must change their behaviour towards children and innocent civilians in areas under their control and not further violate human rights, he said.
Firoz Koh activist Mohammad Haroon Saghari accused the Taliban of spreading fear and oppression in area villages by targeting the poor and helpless.
"Residents are tired of the Taliban's oppression but cannot stand up to them for fear of their lives," he said. "By creating fear among the public, the Taliban try to create a [favourable] environment for their activities in the villages."
"Taliban leaders must be brought to justice for the behaviour of their fighters and the oppression of civilians," Saghari said.
"Taliban leaders every day give a very innocent picture of themselves in different countries, but their militants commit crimes of all kinds," he said.
Begging for mercy
The video of the child being assaulted is not the only one showing the Taliban's abuse of children.
Another video filmed in Khak-e-Bala village shows Taliban insurgents beating up three youths.
Holding a handkerchief to his mouth, one of the youths pleads with a Taliban fighter in the video, telling him he is in pain with a toothache and begging him to stop. But the militant continues beating him, regardless.
The Taliban commit such crimes on a daily basis but keep a low profile when their crimes become public, said Karimi, the Ghor governor's spokesman.
The militants hold kangaroo courts in districts under their control "and beat and torture civilians as they please", he said, noting that residents remain quiet about the Taliban's behaviour out of fear for their lives.
The Taliban's kangaroo courts have handed down harsh judgments to women and children, who "do not have the ability to defend themselves", said Sherzada, the acting director of AIHRC's Ghor office.
Human rights watchdogs do not have a presence in the villages, women's rights are lacking, and the voice of those who have suffered under the Taliban's oppression cannot be heard, Sherzada added.