BADAKHSHAN -- Despite the restrictions on women's activities outside their homes, dozens of women recently launched a handicraft exhibition in Faizabad, the capital of Badakhshan province.
The women participating in the exhibition said they want to show the world they are still active and that Afghan women can work under any circumstances.
Some 150 women working in the handicraft sector showcased their products at the exhibition on October 14, said Wahida Wahaj, director of Kahkashan Vocational Organisation in Badakhshan and one of the organisers of the exhibition.
"The objective of this exhibition is to economically empower women and make them self-sufficient, expand woman-owned small and medium businesses, improve women's and girls' participation in social activities, and create employment opportunities for women who have lost their jobs," she said.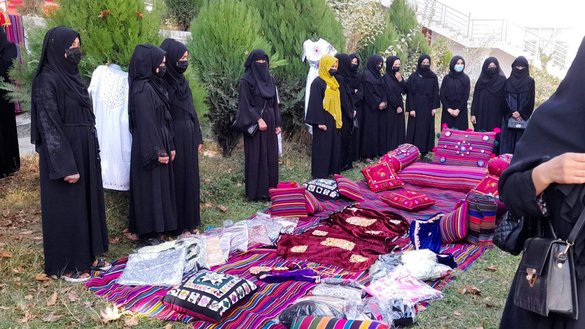 "We showcased various kinds of handicrafts including traditional clothes, hand embroidered waistcoats, pillow and mattress covers, various kinds of handkerchiefs, embroidered pieces, woven pashmina [cashmere], etc.," she said.
"In the past, our customers outside Badakhshan used to give us orders, but women have lost interest in the handicraft sector from a lack of market to sell and the decline of handicrafts," Wahaj said
She called on non-governmental organisations to support the women in marketing their handicrafts.
Women in the sector are concerned about the sale of their handicrafts because they do not have a suitable place to sell their products, she said.
Hope for the future
Faizabad residents who visited the exhibition said that holding such events is critical to raising public awareness about local handicrafts and encouraging the public to buy local products.
Say no to imported products and promote domestic industries, said Deda Bahar, one of the exhibition visitors.
"I call on all Afghans to buy domestic products, especially women's handicrafts, and promote them so that we can maintain our culture under any circumstances," she said.
"Holding such exhibitions raises public awarenesses and encourages consumers to buy Afghan products," she said. "I am confident that women's handicrafts will further expand if more support is provided."
Bahar encouraged women and girls prevented from going to school to remain strong and to join a vocational centre to learn a trade and to serve themselves and their country.
Sabera Subhani, a resident of Faizabad who brought her handmade dresses to sell at the exhibition, said that women face a lot of economic challenges due to the lack of work opportunities for them.
"I make various kinds of dresses, and I have come to sell them," she said. "I hope my business once again flourishes so that I can save my family from poverty."
"With the international community's support, Afghan women had nearly become self sufficient," she said. "I hope that those achievements will be maintained."
Afghan women made unprecedented achievements over two decades in various fields including employment creation, investment and handicrafts, said Muazuddin Ahmadi, spokesman for the Badakhshan provincial government.
"The women's bazaar in Ishkashim district, which was closed ... is reopened to support female entrepreneurs," he said. "They can sell their products in this bazaar now."
Ahmadi added that they are working to open soon another market that was built in Faizabad city to sell women's products to promote local businesses and facilitate women selling their products to other women.
The provincial government is working to open soon another market that was built in Faizabad city to sell women's products, promote local businesses and facilitate the sale of products by women to other women, said Ahmadi.
"Foreign tourists love local handicrafts made by women in Badakhshan," he said. "Supporting local products is the only way to help women's economic growth."
Women's economic growth
"We try to create job opportunities so that Afghans can make legitimate income," said Angiza Hejran, one of the handicraft vendors at the exhibition.
"We focus on rehabilitating jobs created by female entrepreneurs who were forced by economic challenges and lack of market to quit their jobs," she said.
"To achieve this objective, we need the support of relevant organisations and the international community," she said. "Therefore, we ask them to support women who create employment."
Hundreds of political, social, religious, economic, literary and cultural books, and more than 50 paintings and calligraphic artworks portraying women's messages and their cooking were showcased on the sides of the exhibition.
"The goal of launching this exhibition is to develop the young minds of Badakhshan, and we wanted to showcase the talent of Badakhshan's youth on the streets," said Paimana Payez, one of the organisers of the exhibition.
Almost 40 paintings and calligraphy works made by artists from Badakhshan and about 1,000 philosophy, history, literature, political, law, physics and sociology books were showcased, drawing hundreds of students and non-students alike, she added.
"I call on all girls not to give in to depression and economic problems and to work harder toward self-motivation and awareness of society," she said.