HERAT -- More than 300 residents of the western region gathered Saturday (December 3) to demand better living conditions and a stronger voice in determining their destinies.
Young individuals from Herat, Ghor, Farah, Badghis and Nimroz provinces -- half of them girls and women -- attended the gathering in Herat city's Arg Hall.
The Voice of the Afghan People Mechanism held the gathering to share with the international community Afghans' demands and challenges, especially those of the youth and women.
Similar gatherings will be held across the country to give people the opportunity to voice their views, said Abdul Rahim Khuram, deputy director of the organisation.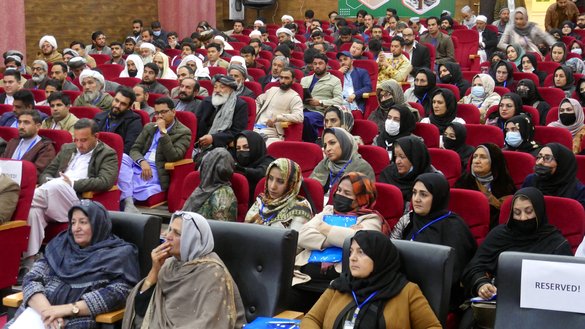 "We are collecting the views of residents of every corner of the country and sharing them with the international community," he said.
"We want to revive civil society in the country," he added. "Civic activities have nearly disappeared in the last year, but efforts are under way to revive them."
Women want to demand their rights through the revival of civic activities, said Masooma Jami, a civil society activist in Herat city.
"Civic activists are doing their part. I am optimistic that men and women together will create favourable conditions for a better future," she said.
"Although women face serious challenges and restrictions, the spirit and momentum built among women will change the situation," she added.
The goal is for women to engage in political, economic and social spheres as they once did, Jami said.
Women demand their rights
The women participating in the gathering called for the removal of restrictions on girls and women's work and education.
Afghan women and girls want justice, said Marzia Noorzai, 42, a women's rights activist in Farah city who participated in the gathering.
"We call on the international community not to ignore us," she said.
"We have been waiting for a year and a half for a decision and for the situation to change. This situation is no longer acceptable to us. Women have sacrificed so much to have a life free of violence."
"We want the rights Islam has given to women, like in other Islamic countries. We want our rights according to Sharia."
"Women want to get all their political, economic and social privileges. We do not want to be victims anymore. We demand our rights peacefully and graciously," she added.
If women have no presence in a society, that society is incomplete and disorderly. Women and girls must be given the freedom, independence and the right to education and work, Noorzai said.
The first demand of women and girls is to re-open girls' schools immediately, said Gul Afroz Ghafoori, 38, a women's rights activist in Ghor and a participant in the gathering.
Women must be included in all ongoing processes, she added.
"Women and girls must be given the right to work that they once had."
"Women are half of society and should not see themselves trapped in their homes. Most active women in Ghor had to leave the province because of restrictions."
"A responsible body must be established to protect the rights of women in the country," Ghafoori said.
"We women call on the world not to abandon Afghan women in such a critical situation and to support us in demanding our human rights," she said.
Attention to youth
Young Afghans at the gathering also demanded opportunities to participate in all critical decision-making processes of the country.
Neglecting women and driving them away from society will create a bleak future for Afghanistan, said Nadia Rezae, 24, a Herat resident who took part in the gathering.
"The youth should not be ignored ... their energy and knowledge should be utilised to improve the current situation," she added.
"We Afghan youth call on the international community to keep supporting us, especially the women, as it did in the past two decades," she said.
"For a better future, we have to change the current uncertain situation and we need support."
In the current situation, youth need support to escape psychological pressure and uncertainty, said Nazir Ahmad Qarizada, 27, a resident of Badghis who took part in the gathering.
"I graduated from the political science faculty two years ago, but I haven't been able to find work for a single day."
"I have tried hard but could not find any work opportunities. My family, my parents want to see the return on my 16 years of education and hard work," he said.
He studied with the hope of building his country and serving his people but instead became an unemployed burden to society, he added.
"I want to ... put my capabilities to use to build Afghanistan."
All educated young Afghans have high academic capabilities and, if supported, will transform society, Qarizada said.
Young Afghans are being forced to migrate by unemployment and uncertainty, said Masuda Karukhi, a former member of the Wolesi Jirga from Herat province.
"Our youth have lost hope and see a bleak future," she said. "Most of them have chosen migration, some of whom lose their lives on the borders with the neighbouring countries, and others drown at sea."
"The Afghan youth who have studied so painstakingly do not deserve such a difficult life," she added. "They must be included in decision-making, and they should have the right to choose their future."
The demands of Afghan youth must be heard and practical steps must be taken to address their problems, Karukhi said.