HERAT -- An Afghan woman beekeeper, Ghuncha Gul Karimi, has used a unique approach to continue working outside her home over the past year despite restrictions on women's work and activities in Afghanistan.
Karimi, a 34-year-old mother of seven whose husband went to Iran to find work, is a beekeeper.
She wears men's clothes to and from her workplace in Injil district, Herat province, using her scarf as a turban to cover her head and wearing a beekeeping outfit.
She travels alone on her motorbike through the quiet alleys of the district to reach her bee farm, situated about 5km away from her house.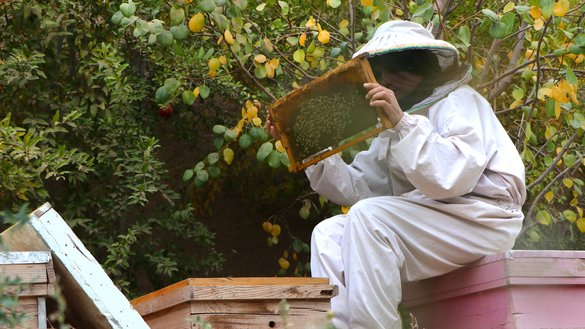 Karimi said she has turned to men's clothing to skirt gender restrictions and any potential backlash.
Her goal is to keep her business and achievements alive.
"When I leave my house wearing men's clothes, I feel strange, but I also don't feel the restrictions. When men see me, they greet me like a man ... women hide their faces from me," she said.
"I do not want to abandon my business and leave the country because of current gender restrictions," she added.
Karimi started her beekeeping business some 13 years ago with an initial investment of 6,500 AFN ($73), making her the first woman with such a venture in Herat.
Her business, which includes 100 beehives, is now worth about 450,000 AFN ($5,078).
Some Herat residents have since dubbed Karimi "the queen of bees".
Achieving goals
Karimi has tirelessly and eagerly continued to grow her business despite gender restrictions.
She said she feels more comfortable in women's outfits, but she has no other choice but to look like a man in society.
"If a woman is determined, she can achieve her dreams," she said.
"With poverty widespread across the country, it is not ideal that only men work and half of the population -- women -- sit at home. The economic situation is very fragile and requires men and women to work together to save their families from hunger," Karimi added.
Mozhda Khaliqi, 32, a friend of "the queen of bees", said that Karimi's determination and commitment are an inspiration to her and other women.
"Ghuncha Gul has endured many problems, but she has always been as strong as a mountain. She has never given up and has continued to pursue her ambitions. She works like a man to feed her family," Khaliqi said.
"Women have the right to work in society, just as men do," she said. "Those women who can work are economically self-sufficient, and can help achieve progress."
Maintaining achievements
Karimi is not the only Afghan woman who has continued to work despite the restrictions.
Farkhunda Fakhri, 25, has a tailoring shop in Herat city.
Fakhri stopped working last August but returned to her shop five months ago. She now has six trainees who have all been prevented from going to school.
Fakhri said she will not let the gender restrictions create obstacles for her progress.
"I will never give up and will continue my struggle to the end," she said.
"When I reopened my business, I hired six girls, who were very disappointed because they were being deprived of education," she said.
Since then, "they have regained hope and now earn an income after learning to sew", Fakhri said, stressing that Afghan girls and women will not allow the achievements of the past two decades to vanish altogether.
Mariam Nabizada, 38, a shop owner at Khadijah al-Kubra Women's Market in Herat city, has also been back to work for three months.
She has been in the business of making women's clothing for more than 15 years. After spending a difficult year at home suffering from stress and anxiety, Nabizada ultimately decided to resume her business.
Staying at home and living in fear are not the solution, and they destroy women's ambitions and dreams, she said.
"Although there are restrictions and many people oppose women's work in society, I decided to return to work outside the home. By doing that, I earn an income and can support my family," she added.
"Afghan women have made tangible gains over the past two decades. We will not sacrifice ourselves to extremism."