HERAT -- Legal and illegal imports of low-quality, fake Iranian honey into Afghanistan are hindering Herat's beekeeping industry by decreasing demand for domestic products.
Some 50% of Herat's honey market is made up of honey from Iran, according to Herat's Beekeepers Association.
Fifty percent of domestic honey produced last year could not be sold because of the presence of artificial Iranian honey in the market, said Mohammad Arif Wasel, chairman of the association.
"Beekeepers suffered major financial losses and were discouraged from continuing beekeeping after 50% of their product was not sold," he said.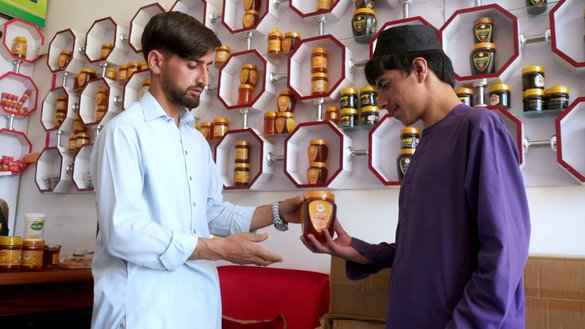 "Some beekeepers in Herat closed their farms because of the presence of low-quality Iranian honey and the lack of demand for domestic products, and they have migrated to neighbouring countries."
"Some farmers are still trying to sell their farms and leave the country," he added.
The presence of low-quality Iranian honey in the market has discouraged beekeepers and destroyed incentives for future investments, Wasel said.
"When domestic honey is not sold, beekeepers are forced to give up beekeeping and turn to other businesses," he added.
Low-quality, artificial Iranian honey smuggled into the country has badly damaged beekeepers' businesses, said Abdul Ghafar Sediqi, a honey seller in Herat city.
"Low-grade Iranian honey has affected quality domestic honey," he said.
"A kilogramme of Iranian honey is sold for 200 AFN ($2.30) in the market, while producing 1kg of pure domestic honey costs more than 700 AFN ($8.00)."
"Low-grade Iranian honey is available in stores in Herat city. It is made of powder, water and sugar and is completely artificial," he added. "We have suffered many losses because of low-quality, cheap Iranian honey."
Iran does not export its good honey to Afghanistan. It exports low-quality honey only to destroy the market and damage the beekeeping industry in Afghanistan, Sediqi said.
Health threat
Low-quality, sugar-filled "honey" from Iran is very risky for the public's health, say some doctors.
Low-quality honey causes diabetes due to its high sugar content, said Khalid Khpalwak, an internal medicine specialist in Herat city.
"Pure honey helps control diabetes and some other illnesses in humans, but importing low-quality honey is playing with human lives," he added.
"Diabetes is growing, especially among elders. One of the main reasons behind its prevalence is low-quality honey. The sale of low-quality honey that is full of sugar deceives consumers and is putting their lives at risk," he added.
Low-quality honey should be recalled so that it does not cause more diabetes and other diseases, Khpalwak said.
"Diabetes is not exactly curable, and patients suffering from it must take medication for their entire life," he added. "Using artificial and low-grade honey shortens life expectancy greatly."
Wais Gharanai, a resident of Herat city, said he used to buy Iranian honey because it was cheap but stopped doing so because of its high sugar content.
"I used to buy 1kg of honey for 200-300 AFN ($2.30-$3.40) in the past, but it had no taste," he said.
Iranian honey is made of water and sugar and harms your health, he added.
"I have been eating domestic honey for a while now," Gharanai added. "Herat-produced honey has good quality and tastes great too."
Self-sufficiency
The influx of cheap Iranian "honey" comes as Herat has become self-sufficient in terms of honey production, officials say.
According to the Herat Department of Agriculture, Irrigation and Livestock (DAIL), honey production has doubled in Herat this year compared to the last.
This year, over 150 tonnes of honey was produced in Herat, a major increase from last year's 80 tonnes, said Sayed Masoom Sadaat, director of the livestock unit at the department.
"Herat's honey production has made the province self-sufficient," he said. "It is enough for the consumption of neighbouring provinces, too."
"Iranian honey is not usable because of its low quality. It is harmful to human health," he added.
"The only goal of exporting low-quality Iranian honey to Herat is to destroy the young beekeeping industry in Afghanistan."
There is no need to import foreign honey in the western region, Sadaat said.
Beekeeping has grown to a great extent in Herat in recent years.
There are 800 small and large beekeeping farms active in Herat, employing more than 3,000 workers, half of whom are women.
The market is flooded with low-quality cheap Iranian honey during domestic honey harvesting seasons, said Khalil Ahmadi Bahmanish, a beekeeper in Herat city.
The abundance of Iranian honey in the market undercuts the sale of domestic honey, he said.
"This year, our sales have dropped by more than 70%."
"Low-quality Iranian honey is [exported to Afghanistan intentionally] to discourage domestic beekeepers from continuing their work," he added. "When domestic production is stopped, foreign honey will capture the market."
No individual or organisation supports domestic products. Therefore, demand for low-quality Iranian honey is high at the moment, Bahmanish said.