HERAT -- Farmers in Herat Province, vowing to cut off a financing source for the Taliban, say they will not grow plants used by the militants to produce illegal drugs such as opium.
Farmers in the region pledged not to cultivate plants such as poppy because the profit earned from the cultivation of those crops -- and eventually from the trafficking of illicit narcotics -- goes directly into the pockets of the Taliban and other terrorists.
About 95% of the profit from "narcotics cultivation lines the pockets of drug cartels and foreigners, while only 5% of it ends up in the hands of farmers," Gul Ahmad Ahmadi, a farmer in Injil District, Herat Province, told Salaam Times.
"We pledge not to cultivate narcotics," he said.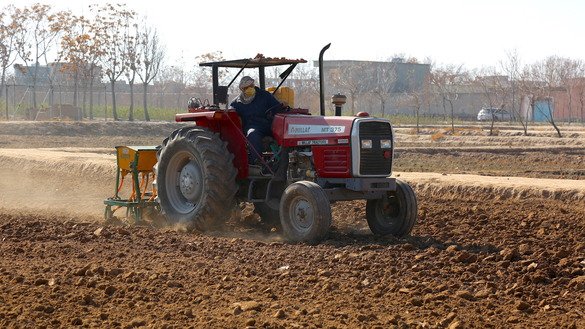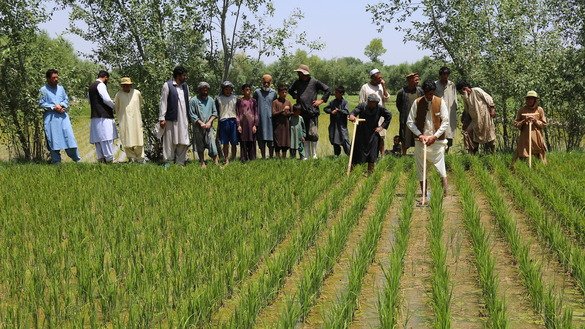 "We plant grapes, apricots and other alternative crops instead of cultivating illicit narcotics," Ahmadi said.
"Saffron cultivation has become widely prevalent with most farmers cultivating that instead of narcotics," said Ahmadi. "Alternative crops are very good, for they are permissible and lawful, while the proceeds do not end up lining the pockets of the enemy."
Cultivating crops that are turned into illegal drugs goes against the Islamic faith, emphasised Abdulakher Faizi, a farmer in Keshk Kuhna District.
"Our religion does not permit the cultivation of narcotics since it is harmful both to us as well as to our government, and hence it is illegitimate," he told Salaam Times.
"We destroy our lives, as well as those of our children, if we cultivate narcotics, while we also ruin our afterlife," he added. "Cultivation of illicit narcotics is religiously forbidden, and we will never cultivate them."
Alternative crops
With its suitable climate, Herat is among the key agricultural provinces of Afghanistan. Cultivation of renowned Afghan crops such as saffron is prevalent in the region.
"The best agricultural products of Afghanistan are produced in Herat Province, including saffron, aloe vera, strawberries, and fresh and dried fruits and vegetables, to name but a few," Abdussabur Rahmani, director of the Herat Provincial Agriculture, Irrigation and Livestock Department, told Salaam Times.
"These are all initiatives of Herat Province farmers, who have rejected illicit narcotics cultivation and support and increase the production of valuable and legitimate crops."
"Herat is among the provinces where the cultivation of narcotics is nearly zero, or is at its lowest point, according to the criteria set forth by the Ministry of Counter Narcotics," he added.
"Illicit narcotics are not cultivated in the districts [outside Herat city], save for some insignificant quantities that are cultivated in some insecure areas."
"Farmers in Herat Province have rejected those who use drug revenue to play with the fate of the Afghan people and instead have boosted the cultivation of valuable and legitimate crops," Rahmani said. "In our meetings with farmers they have vowed to never cultivate narcotics."
Farmers are focusing on alternative crops such as saffron.
"Saffron farming started in Herat Province, from which it spread across Afghanistan," Wakil Ahmad Barak, an agricultural analyst in Herat Province, told Salaam Tames.
"Saffron cultivation has played a key role in improving the lives of farmers, as well as in the economy of Afghanistan," he said.
"Alternative crops are vital to increasing Afghan exports and reducing poverty," he added. "There are standard fruit orchards in Herat that employ hundreds of Afghans."
Blocking drug-smuggling channels
Meanwhile, anti-narcotics police forces in Herat province have stepped up efforts to end drug trafficking in the area.
By blocking drug-trafficking channels and destroying opium poppy farms in insecure areas, these forces have helped slash the Taliban's sources of income, officials say.
"Terrorist groups, the mafia, power-mongers, the Taliban and outlaws live off of revenues coming from narco-trafficking," Abdul Qayum Rahimi, governor of Herat Province, told Salaam Times. "The money that goes to the people of Afghanistan from the illicit drug business is insignificant."
"Drug traffickers and the Taliban don't traffic drugs on roads and highways; instead, they use various mountainous routes," Rahimi said.
The anti-narcotics police in Herat Province on February 22 confiscated 570kg of narcotics from smugglers on the Herat-to-Islam Qala highway.
"The anti-narcotics police forces are now far better equipped than they were in the past and are preventing illicit drug trafficking through this province," Abdul Ahad Walizada, a spokesman for the Herat provincial police, told Salaam Times.
"Over the past year, security forces have detected and confiscated hundreds of kilograms of drugs on the Herat-to-Islam Qala highway."
Fuelling the war machine
Revenue from illicit drug sales is a key component to the Taliban's financing and recruitment, agree political analysts and civil society activists.
"Cultivation and trafficking of narcotics are among the main causes of the war in Afghanistan," Ghulam Faruq Rasib, a civil society activist in Herat, told Salaam Times. "All terrorist groups use drug revenue, pocketing a significant income from cultivation and from the processing and trafficking of drugs to neighbouring countries."
The Taliban are "pocketing huge sums of money from trafficking drugs to neighbouring and regional countries to buy weapons from these very countries that they use against Afghans and the government of Afghanistan", Rasib added.
The Taliban count on money from drug sales to finance their violence, said Jafar Kazemi, a political analyst in Herat.
"The war in Afghanistan is based upon cultivation and smuggling of drugs," he told Salaam Times.
"Opium poppy is cultivated in areas where the Taliban are in charge. Moreover, illicit drug cultivation and trafficking account for 80% of [the Taliban's] revenue stream," he said.
"In areas controlled by the Taliban, farmers are forced to accept the group's demands and cultivate narcotics," he added. "Through this, the Taliban earn big money and buy arms and ammunition."