HERAT -- Starting before the break of dawn, Afghanistan's army of saffron pickers moves its way across sun-baked fields to pluck the bright purple flowers that are providing the country's farmers with a new means of income.
The delicate golden pistil of the flower has for centuries been used in cooking around the world and because of its relatively high price has been dubbed "red gold" by those who rely on its cultivation.
Joma Khan is one of the 156,000 seasonal workers who help harvest the spice, earning about $1 (75 AFN) an hour.
"We start our field work before sunrise and each of us can collect about 4-5kg of saffron flower," the 16-year-old told AFP.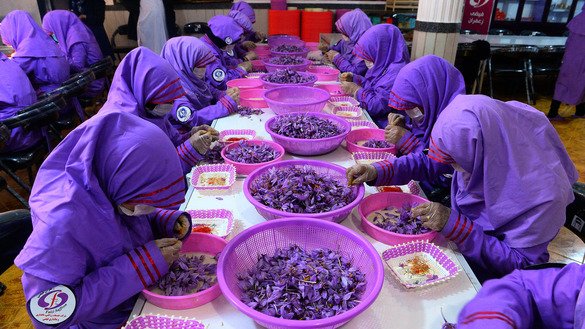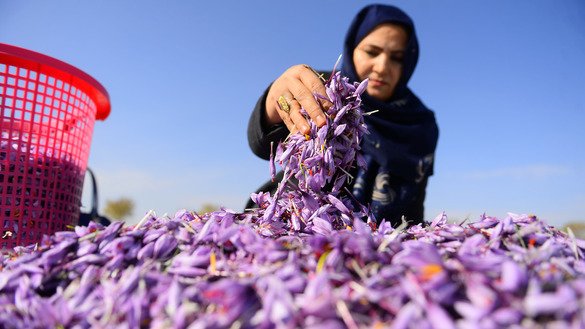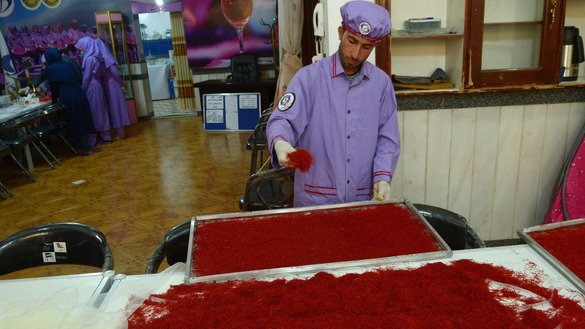 The harvest is then sent to factories where gloved workers remove the pistil, made up of the three stigma that when dried constitute the spice.
Alternative to opium poppies
Authorities struggling to wean farmers off the highly profitable opium poppy trade are hoping to use the spice as an attractive alternative.
And the results are looking positive, thanks to billions of dollars of international aid.
The saffron harvest hit 13 tonnes this year, compared to just 1 tonne in 2013, according to Agriculture Ministry spokesman Akbar Rostami.
"The annual production of saffron was supposed to reach 14 tonnes in year [2021], but fortunately, it is expected that in the next year saffron production will exceed 14 tonnes," he said at a news conference in Kabul December 11.
Cultivation requires little water, meaning it has not been heavily impacted by the historic drought threatening almost three million Afghans with famine.
It has even intensified in some drought-hit areas, especially in Herat Province on the border with Iran and Turkmenistan.
Official figures show saffron cultivation has increased to 6,200 hectares of land in 2018, up 21% on last year.
However, Afghanistan still has far to go, with 263,000 hectares now taken up by poppy production. And while the saffron sector generated $35 million (2.6 billion AFN) in 2017, opium made an incredible $1.4 billion (105 billion AFN).
Iran remains the world's largest saffron producer, capturing almost 90% of the global market with 400 tonnes annually. Meanwhile, almost 90% of the opium harvested on the planet still comes from Afghanistan.
Ban on Iranian saffron
To help tip the scales in favour of the highly prized Afghan saffron, authorities are working to implement a ban on the import of substandard Iranian saffron that continues to flow into Afghanistan through a variety of legal and illegal channels.
In accordance with President Ashraf Ghani's October 7 decree, all custom officers and border security guards in Herat Province have orders to prevent the entry of saffron into Afghanistan.
"The full implementation of President Ghani's decree has been hampered by cross-border collaboration between some Afghan and Iranian businesses," Herat Deputy Governor Muhyuddin Nuri told Salaam Times in early December.
"We are forming a committee in Herat to fully execute the presidential decree and to constantly monitor smuggling routes via the Islam Qala customs office, so that we can prevent the imports of saffron," he said.
"We have another committee, which has orders to monitor Herat city and its markets and to take legal action against all those who violate the presidential decree ... including local shopkeepers," Nuri said.
In part because of mafia groups who illegally import Iranian saffron and flood the market, prices for the spice have also fallen, from more than $900 (68,000 AFN) at the start of the year to $660 (50,000 AFN) now, Rostami confirmed.
Nevertheless, the increased cultivation of saffron is being seen as a positive sign.
Afghanistan is exporting the spice to 17 countries through new air corridors, mainly to China, India and the Gulf countries, and to a lesser extent to the European Union and North America, according to the Agriculture Ministry.
"Afghanistan's saffron, based on its organic nature, is better than any other saffron," said Abdul Shukoor Ahrari, director of Tila-e-Surkh Afghan, one of the country's main processing sites.