Vows by China, Russia and Iran to support peace and stability in Afghanistan stand in stark contrast with their long histories of military support for the Taliban or outright malice toward the war-torn country.
Russian President Vladimir Putin and his Chinese counterpart Xi Jinping agreed to have their countries step up efforts to counter "threats" emerging from Afghanistan following the Taliban's takeover, the Kremlin said on August 25.
The leaders agreed on the need to combat "terrorism and drug trafficking" and discussed "preventing the spread of instability to adjacent regions", a sensitive point to them both: several ex-Soviet republics in Central Asia -- where Moscow holds military bases -- share a border with Afghanistan or China. Tajikistan borders both.
A week earlier, Iranian President Ebrahim Raisi August 18 told his Russian and Chinese counterparts that Tehran was ready to co-operate with the two countries to establish "stability and peace" in Afghanistan.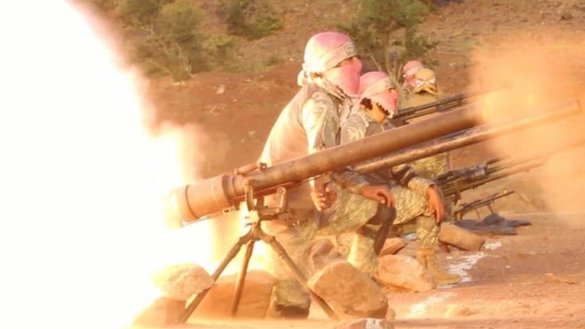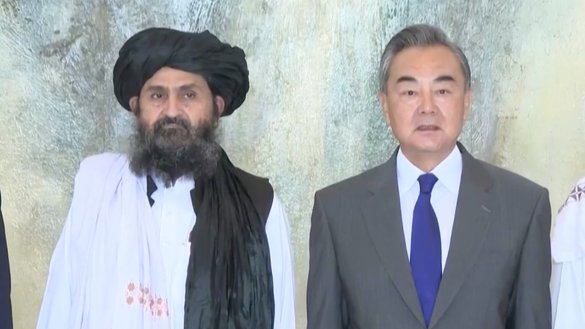 "Iran is ready to co-operate with China to establish security, stability and peace in Afghanistan and strive for its people's development, progress and prosperity," Raisi told Xi in a phone call initiated from Beijing, Raisi's official website said.
He also expressed Iran's readiness for "any co-operation for establishing peace and calm in Afghanistan" in a phone call with Putin.
Mismatch of rhetoric and history
Such statements, however, stand in contrast to Iran's long-running efforts to foment conflict in Afghanistan.
Tehran has long been accused of providing training and weapons to the Taliban, with the militants most recently photographed using Iran-made sniper rifles.
The Iranian regime has been supporting the Taliban for years, but the support has recently become quite obvious, said Sayed Mohammad Kakar, a military analyst in Herat city, in August.
"Iranian-made sniper rifles enable the Taliban to attack their targets from long range, and the Iranian regime and its leaders are responsible for the bloodshed caused by sniper-style rifles," Kakar said.
The large supply of weapons that the regime is providing to the Taliban shows Tehran's broader motives in Afghanistan, which it aims to implement by prolonging the conflict in the country, he added.
Much of the support is aimed at destroying Afghanistan's infrastructure -- in particular, dams that halt the flow of water to Iran.
Iranian combatants were allegedly present in a Taliban attack on the Salma dam in Herat province in July, according to Afghan military officials at the time.
War in the western region is about water, and the Iranian government is behind it, said Mohammad Naser Akbari, an international relations analyst in Herat city, in July.
It is very clear that Iran is trying to destroy dams in the western region, he said, adding that the Taliban are the best and cheapest soldiers of the Iranian government for achieving this goal.
The construction of Salma and Kamal Khan dams has led to severe water shortages in eastern Iran, he said, noting that "most of the agricultural land in the provinces bordering Afghanistan has dried up".
"The Iranian government is trying with all its resources to destroy these dams."
Vows for 'peace'
Statements from Russia and China urging peace also ring hollow.
Despite the hardline Islamist group tracing its origins back to the war against the Soviets in the 1980s -- in which about 15,000 Soviet troops were killed -- Russia's view on the group now is pragmatic.
Three decades later, seemingly indifferent to the painful past, the Kremlin has boosted the Taliban's international credibility by hosting it several times for talks in Moscow -- despite the movement being a banned terrorist organisation in Russia.
That designation did not keep the Kremlin from arming and funding the Taliban since at least 2015.
A Russian intelligence unit, known as Unit 29155, also covertly offered rewards for successful attacks on coalition troops in Afghanistan in 2019 amid US-led peace negotiations to end the war between the Taliban and the Afghan government, The New York Times reported in June 2020.
Taliban militants, or armed criminal elements closely associated with them, are believed to have collected some bounty money, officials told the newspaper.
Beijing, meanwhile, appears to be ready to forgive any potential violence for a share of Afghanistan's resources.
China is ready to deepen "friendly and co-operative" relations with the Taliban, a government spokeswoman said August 16.
"The Taliban have repeatedly expressed their hope to develop good relations with China, and that they look forward to China's participation in the reconstruction and development of Afghanistan," Foreign Ministry spokeswoman Hua Chunying told reporters.
A co-operative administration in Kabul would pave the way for an expansion of China's Belt and Road Initiative (BRI) into Afghanistan and through the Central Asian republics, analysts say.
Among other goals, the BRI is meant to facilitate the extraction and shipping of poorer countries' natural resources for Chinese benefit.
The Taliban meanwhile may consider China a crucial source of investment and economic support, either directly or via Pakistan, a close Beijing ally.
In this alliance of convenience, the Taliban seem willing to overlook China's repression of millions of Muslims in Xinjiang, while Beijing is saying little of the Taliban's militant ideology and violent campaign to overthrow the Afghan government.