HERAT -- Images of Taliban militants using Iranian-made sniper rifles in clashes in Herat city have sparked harsh criticism from Afghans across the country.
"Those sniper rifles are used by the Iranian military and made in that country, but in recent days, the Iranian government has provided these weapons to the Taliban," a senior Afghan military official told Salaam Times on condition of anonymity on August 4.
Herat Governor Abdul Saboor Qani confirmed that "neighbouring countries" have been supplying the Taliban with modern weapons.
By supporting the Taliban, he said, these foreign actors aim to damage Afghanistan's infrastructure, weaken the security forces and oppress the general public.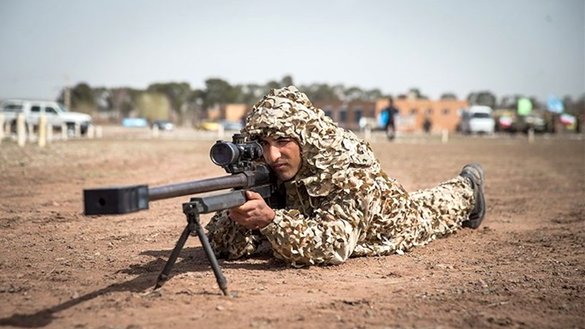 The Iranian regime has been supporting the Taliban for years, but the support has recently become quite obvious, said Sayed Mohammad Kakar, a military analyst in Herat city.
"Iranian-made sniper rifles enable the Taliban to attack their targets from long range, and the Iranian regime and its leaders are responsible for the bloodshed caused by sniper-style rifles," Kakar said.
"A large number of weapons and ammunition are being smuggled to Afghanistan through the Iranian border, and the Taliban use these weapons against the Afghan National Defence and Security Forces (ANDSF) and civilians," he said.
The large supply of weapons that the regime is providing to the Taliban shows Tehran's broader motives in Afghanistan, which it aims to implement by prolonging the conflict in the country, he added.
Without the Iranian regime's military support, Taliban insurgents would not be able to fight in the western region even for a week, said Gul Aqa Fadaiee, a military analyst in Qala-e-Naw, capital of Badghis province.
"The Taliban have been using night-vision goggles in combat," he said, adding that such weapons have been provided either by the Iranian regime or by way of Iranian territory.
Iran-backed attacks on Afghan infrastructure
"The Iranian regime is responsible for the bloodshed in Afghanistan by the Taliban," said Sayed Jaffar Hassani, a resident of Lal Sarjangal district in Ghor province.
The Taliban are puppets of the Iranian regime, he said, adding that Taliban attacks on infrastructure, including dams, are a major demand of the Iranian regime.
Knowing the truth, Afghans will never trust Iran's false friendship with Afghanistan, he said.
"Iran's ambition towards Afghanistan has always been hostile, and its goal is the destruction of Afghanistan," said Abdul Wahid Jamali, a resident of Qala-e-Naw city.
"The Iranian regime wants to prevent the construction of dams in Afghanistan by weakening the Afghan government," he said.
Even though the Iranian regime has always called itself a friend of the Afghan government and people, in reality it is the enemy of the Afghan people, he said.