HERAT -- The Iranian regime provided the Taliban with extensive military support that enabled it to seize control of three districts bordering Iran in June, say Afghan lawmakers.
Iranian troops led the battle which saw Anar Dara, Qala Kah and Lash-e-Jowain districts fall to the Taliban, said Abdul Sattar Hussaini, a member of the Wolesi Jirga representing Farah province.
"The Iranian government is furious about the construction of dams in the western region," he said, adding that the Iranian regime seeks to destroy the Kamal Khan, Bakhshabad and Pashdan dams.
Afghan officials have regularly accused the Iranian regime of supporting the Taliban. Iran's goal, they say, is to thwart dam construction in the western region, thus ensuring unimpeded water flow into Iran.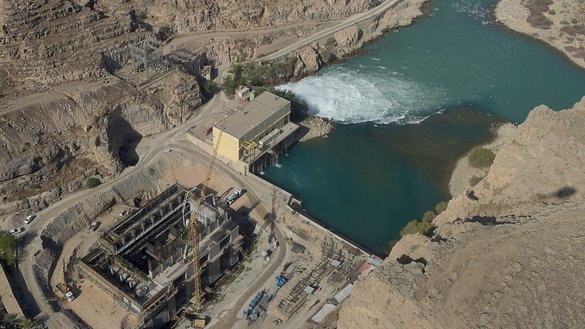 The Taliban seized Afghan National Army tanks and other military equipment during clashes and then transported them to Iran, said Hussaini.
Iran is sparing no effort to extend its influence throughout western Afghanistan via the Taliban, said Humayun Shahidzada, another Wolesi Jirga member representing Farah.
"Without Iran's support and involvement, the Taliban would not have the capability to take over any territory," he said. "The Taliban receive all their financial and military needs in the western region from Iran."
Iran has provided the Taliban with advanced weaponry to help them prevent Afghan forces from retaking these areas, said Shahidzada.
In recent days, the Taliban have intensified and escalated their offensive in other districts bordering Iran, including Ghorian, Kohsan and Gulran.
Afghanistan's national security forces have thwarted the Taliban's attempts to overrun Kohsan and Gulran districts, Herat Police Chief Col. Sayed Mirajuddin Sadat told Salaam Times July 1.
"The Taliban failed to defeat the security forces and capture districts, even though they received considerable support from their foreign supporters," he said.
Afghan forces repel Salma dam attack
The Taliban, backed by Iran's Islamic Revolutionary Guard Corps (IRGC), also launched a massive attack on Salma dam in Chesht district, Herat province, a military official at the dam told Salaam Times on July 6.
But security forces repelled the assailants, according to the official, who asked to withhold his name from publication.
IRGC elements have been fighting alongside the Taliban, bringing "dangerous explosive materials" with them, he said.
Hundreds of Iran-backed Taliban militants attacked military posts around Salma dam, and skirmishes continued for several hours.
"We have intelligence reports indicating IRGC fighters accompanied the Taliban during their failed offensive," the military official said.
Afghan security forces blocked their advance towards the dam, he said, noting that if the Taliban had breached the blockade, they would have destroyed the dam.
Security forces foiled potential threats targeting Salma dam, which they are now protecting against any future attack, Herat Governor Abdul Saboor Qani said during a July 6 news conference in Herat city.
"Since the surge in Taliban attacks, we have deployed reinforcements around Salma dam," he said, noting that no force can now harm the dam.
The Taliban receive support from "certain regional powers" to destroy key infrastructure projects in Afghanistan, he added.
"Our neighbours' hostile goal is to keep Afghans dependent forever," he said.
Despite these malign plans, construction work is nearing completion at Pashdan dam, Qani said during a June 26 visit to the facility.
Afghanistan has the right to manage its own water resources and build hydropower dams wherever it wants, he said.
Iranian interference in western region
With the withdrawal of foreign troops and a surge in the Taliban's western offensive, the ground is fertile for Iranian interference, said Ahmad Wali Sayedi, a political analyst based in the Ghor provincial capital of Firoz Koh.
One of the goals behind the surge of Taliban violence in the west is to pave the way for an Iranian military presence in the region, Sayedi said.
This is because Tehran is determined to maintain its influence and presence in Afghanistan's western provinces, which border Iran, he added.
"Iran continues to intervene in the domestic affairs of all of its neighbours to pursue its own motives," he said.
The Iranian regime will not hesitate to deploy Fatemiyoun Division fighters in western Afghanistan to advance its interests, he added, referring to an Iran-backed militia made up of Afghan mercenaries.
Such interventions "will have very dangerous consequences for Afghanistan", Sayedi noted.
The recent fall of border districts to the Taliban, with IRGC assistance, is a clear indication of Iran's interference in Afghan affairs, said Herat city activist Mohammad Anwar Hussaini.
This situation has enabled Iran to smuggle weapons and ammunition across the border to insurgents, he said.
By receiving financial and military support from the Iranian regime, however, the Taliban are serving as vassals to destroy their own country, Hussaini said.