HERAT -- The capture of a Taliban commander after he crossed the border from Iran into Shindand District, Herat Province, provides further evidence of the Iranian regime's support to the Taliban, Afghan security officials say.
National Directorate of Security (NDS) forces in a special operation May 21 captured Qari Shafi, also known as Hafez Omari, who was the Taliban's military chief for Herat Province, after he got out of an Islamic Revolutionary Guard Corps (IRGC) vehicle on Iranian soil and crossed the border into Afghanistan.
After he crossed into Afghanistan by foot, the militant got into another vehicle when NDS forces captured him.
Shafi had come to Afghanistan to destroy infrastructure projects, disrupt security on highways and carry out assassinations in Herat city, the NDS Herat office said in a statement.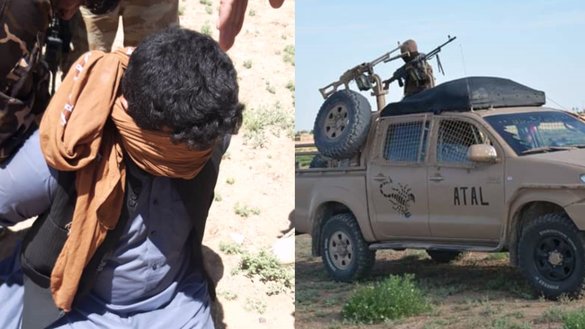 "When Qari Shafi left a Revolutionary Guard vehicle from Tapa Seyah base [in Iran] and intended to cross the border to Shindand District in Herat Province, he was arrested by the security forces," the statement said.
Shafi is a member of the Taliban's leadership commission in Herat Province, and he was behind many of the terrorist and destructive attacks in Herat, the NDS said.
"Qari Shafi planned and led most of the clashes and unrest in Shindand, Pashtun Zarghun and Karukh districts," the NDS said. "This prominent Taliban commander had been the mastermind of terrorist attacks inside Herat city for one and a half years."
Afghan security agencies are seriously investigating the Iranian regime's support for the Taliban, acting Minister of Defence Asadullah Khalid said at a press conference in Herat city on May 23.
Although Khalid did not provide additional details about Shafi and the IRGC's support for the Taliban, he insisted that Afghan National Defence and Security Forces (ANDSF) will foil any type of interference from neighbouring countries.
Continuing Iranian sabotage of Afghan infrastructure
Shafi took responsibility for plotting to sabotage the Pashdan hydro-power dam in Karukh District, the NDS office in Herat said.
"One of Qari Shafi's main goals was planning and carrying out attacks on the Abgardan dam," it said. "This Taliban commander was also assigned to increase unrest on highways in Herat Province."
Afghan authorities have previously accused Tehran of planning attacks on Afghanistan's infrastructure, especially on hydro-power dams, and using the Taliban to carry them out.
Work is under way on Pashdan Dam and is expected to be completed next year, despite repeated Iranian attempts to halt construction of the dam, Afghan security officials and construction company representatives say.
The ANDSF are providing security for all the infrastructure projects and hydro-power dams, and they will not allow any country to damage them, said Jilani Farhad, a spokesman for the Herat governor.
"There are sufficient security forces to secure Pashdan Dam, its ongoing [construction] work and its workers," he said. "No country or group has the ability to face our security forces and inflict damage on the hydro-power dams."
"In recent years, there have been numerous efforts by some of the countries and terrorist groups to damage Salma Dam and prevent the construction work on Pashdan Dam, but thanks to our brave security forces, they were not able to achieve their evil goals," Farhad said.
Tehran has repeatedly targeted Afghanistan's dams and infrastructure projects because dams in Afghanistan will reduce the flow of water to Iran and because the Iranian regime benefits from an unstable Afghanistan, said Sayed Ashraf Sadaat, a civil society activist in Herat city.
"Because of Iran's destructive interference, the work on infrastructure projects, such as on hydro-power dams, has been disrupted many times," he said. "We want the Afghan government to identify Iran's operatives and destroy them before they can inflict any damage on the country's infrastructure."
"Because of the neighbouring country's interference, only a limited number of infrastructure projects have been implemented in Afghanistan," he said. "These projects have transformed Afghans' lives, but the neighbouring countries don't want Afghans to live in prosperity."
Efforts to disrupt the peace process
Tehran's continuing support to the Taliban and other groups affiliated with the IRGC -- including providing arms and funding -- shows that the Iranian regime is making efforts to disrupt the Afghan peace process, said Hasan Hakimi, a civil society activist in Ghor Province.
Peace and security in Afghanistan threaten Tehran's interests and prevent it from meddling in Afghanistan's internal affairs, he said.
"Iran has a long enmity toward the construction of dams and infrastructure projects in Afghanistan, and it has always tried to destroy these projects," Hakimi said. "If the Taliban and Afghan government make peace, the Iranian regime's interference in Afghanistan's matters will end; [Iran] doesn't want to lose its interests."
"Iran is never in favour of peace in Afghanistan, and it is doing everything in its power to have Tehran-backed groups within the Taliban ranks continue fighting," he said. "Neighbouring countries, including Iran, see their interests in war, not in peace."