HERAT -- Construction of Pashdan Dam in Herat province has come to a halt since the fall of the previous government in August, leaving the fate of the project up in the air.
Pashdan Dam, one of the largest infrastructure projects of Afghanistan, is situated in Karukh district, 25km east of Herat city.
The hydroelectric dam was scheduled for completion by the end of 2021. However, work has been suspended on the project, and the dam is only 85% finished.
Work on the reservoir wall, water canals and sites to install power turbines was complete and the dam was ready for water intake, according to dam officials.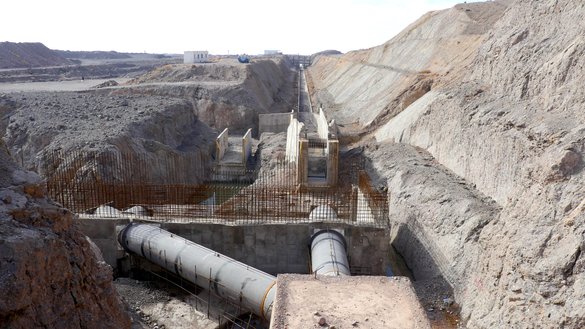 The project has been stalled by delays in payments to the construction company and a lack of response from the National Water Affairs Regulation Authority (NWARA), Abdul Saboor Naderi, the director of procurement of the Pashdan Dam project, told Salaam Times.
"Some canals of the dam were damaged by flooding last week," he added. "If water intake does not start soon, more canals and parts of the dam will be destroyed by water."
"All equipment including stop gates have arrived in Herat from India and are waiting to be installed," he said. "But there is no official in the government to co-ordinate the process of water intake and installation of dam turbines."
Hundreds of workers, including several Indian nationals, have lost their jobs because of the work stoppage and have gone home, Naderi said.
Pashdan Dam in Herat has so far cost $117 million. It is capable of generating two megawatts of electricity, storing 45 million cubic metres of water and irrigating 13,000 hectares of land.
Construction of the national project began in 2011.
Disappointment
Expectations were that Pashdan Dam would be inaugurated soon, said Basir Ahmad Khwajazada, a resident of Herat city.
"It is very painful to see construction of the dam stop," he said. "We looked forward to benefiting from the dam's water and electricity, but the current situation is disappointing."
"The construction of hydroelectric dams such as Pashdan is critical," he added. "The Afghan economy will further weaken, and Afghans will suffer even more if serious and practical efforts are not made in this regard."
Much frustration and disappointment will ensue if construction of Pashdan Dam does not resume, said Jalil Ahmad Karimi, a saffron farmer in Herat province.
The intake of water into Pashdan Dam should start in winter when there is enough water, he said. Otherwise, water will flow out of Afghanistan and no water will be available for another year.
"When construction of the dam was going well two years ago, we leased government lands near the dam to grow saffron," Karimi said.
"People are disappointed about many things. We hope that the inauguration of Pashdan Dam will address some of the disappointment," he added.
Infrastructure projects, including Pashdan Dam, gave Afghans great hope, but the suspension of work on the dam has disappointed them, especially farmers, said Mohammad Asif Nazari, a resident of Herat city.
"The suspension of the construction of Pashdan Dam and uncertainty about its future are a major blow to the Afghan economy since much money was invested in this project," he said.
The suspension of infrastructure projects has forced young Afghans to go to neighbouring countries for work, he added.
An uncertain future
Pashdan Dam is not the only infrastructure project in Afghanistan that has been put on hold.
It is very painful to see no reconstruction going on anywhere in Afghanistan, said Javed Nazari, a resident of Herat.
"It is very hard to accept that until a few months ago, hundreds of development projects were under way across the country and thousands of people were busy working on these projects," he added.
"But now there is deadly silence everywhere and no reconstruction and development work anywhere."
The suspension of infrastructure projects has led to the collapse of the country's economy and its population, said Mohammad Azim Kawosh, an economist in Herat city.
"Many infrastructure projects are incomplete. If they are not completed soon, the work done so far will be lost too and Afghanistan will never be able to rebuild them," he said.
"The impact of the current economic collapse due to the halt of development projects will affect the country's economy for years to come and will be very difficult to recover from," he added.
"Work on these projects is heavily dependent on foreign aid, while there are no plans internally to continue these infrastructure projects either," Kawosh said.
He called on the international community to take over the management of Afghanistan's infrastructure projects to avoid wasting its previous investments.