KABUL -- While the Taliban continue targeting infrastructure and reconstruction projects in Afghanistan, the government is responding by launching a wide range of projects to benefit millions of Afghan citizens.
The Taliban's targeting of bridges, canals, irrigation systems, schools, clinics and roads has cost the Afghan economy millions of dollars and incalculable lost opportunities.
In a recent example, on May 17, the Taliban blew up the main bridge that links Obe district with Herat city, creating major transportation and trade obstacles for local residents.
"The bridge was very important for us, and with its destruction by the Taliban, the public faces many difficulties commuting," said Sayed Faisal Karimi, a resident of Obe district.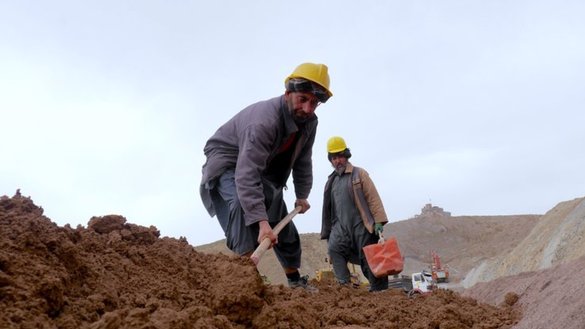 Six days earlier in Nerkh district of Maidan Wardak province, Taliban militants destroyed the government's district office and the documents inside the building.
"They broke all the windows and destroyed all official documents," said Sediqullah Wardak, a resident of Maidan Wardak province, describing it as "a huge betrayal of Afghanistan".
On May 11, the Defence Ministry announced that Afghan troops would launch an offensive to reclaim the district.
War, violence threaten public projects
"The Taliban unfortunately destroy public assets such as schools, clinics and roads and have committed such destructive acts in the majority of provinces, including Helmand," said Mirwais Khadem, a member of the Wolesi Jirga representing Helmand province.
"The Kabul-Kandahar highway, which cost millions of dollars to build, is now severely damaged," he said.
The Taliban allow public projects to launch in districts under their control only if they receive a percentage of the funds, Khadem added.
In Nimroz, workers finally completed the Dilaram-Zaranj road after 125 people were killed as the Taliban attempted to stop public projects in the province, said Gul Ahmad Noorzad, a member of the Wolesi Jirga representing Nimroz province.
Acts of aggression included harming staff members of an Indian firm who were working on that project, he said.
"Anti-government elements have always undermined public projects," Noorzad said, noting that workers finally finished the Kamal Khan Dam project thanks to the tireless efforts of security forces.
Khalil-ur-Rahman Omid, spokesperson for the Ministry of Public Works, described war as one of the main obstacles to public projects in Afghanistan.
The government has had to suspend public projects in some provinces because of intense fighting and threats of violence, he said.
Three weeks ago, the government suspended survey and land acquisition work that had begun three months ago on the second phase of the Kabul-Jalalabad road because of "insecurity and threats", he said.
The ministry seeks to implement public projects in all provinces in an equitable manner, especially in deprived provinces, "but war and insecurity do not allow it", he said.
"Anti-government elements have destroyed 11 bridges, 352 small bridges, 400 metres of retaining walls, and 342 roads with roadside bombs between 2019 and 2020," he said.
These figures do not include the two large bridges that the Taliban wrecked on March 24 in Kandahar, costing the Afghan economy millions of dollars, Omid said.
Over $1 billion in damages
"Based on our calculations, the Taliban have damaged public infrastructure worth more than $1 billion," said Dawa Khan Menapal, Afghan government spokesman.
They have blown up many bridges, small bridges, roads and other infrastructure projects in different parts of the country since the beginning of the solar year, he said.
They have damaged irrigation systems, severely harming infrastructure, and have planted bombs in more than 2,000 houses, he added.
The Taliban recklessly ruined infrastructure and prevented implementation of projects, indicating a disregard for public needs and disregard for the future of Afghanistan, said Ahmad Behruz, a Kabul-based Afghan analyst.
"We remember how they prevented the completion of Salma Dam in Herat for a year following instructions from Iran," he added. "They attacked the dam many times after receiving money from Iran, killing dozens of Afghans."
"Our people now know that the Taliban have no desire to protect public infrastructure or implement national projects," Behruz said. "Only their own interests and that of their group matter."
"Public infrastructure [projects] are national assets that belong to this land and its 40 million people. They belong to the Afghan nation and should not be destroyed," said Noorzad, the MP representing Nimroz.
100 days, 100 new projects
The Afghan government has been countering the Taliban's nihilist ideology with the inauguration of an increasing number of public projects since the beginning of the solar year.
The government will hold an inauguration ceremony for a completed national project on every one of the first 100 days of the solar year, President Ashraf Ghani pledged in April.
The inauguration of Kamal Khan Dam and the start of work on a number of other dams are among the major projects that Afghans have widely welcomed.
"Construction of 119 irrigation canals with an overall budget of $58.92 million has begun," said Rafiq Junbush, deputy spokesperson for the Ministry of Rural Rehabilitation and Development.
Some of these canals "will irrigate 46,000 hectares of arable land and 40,000 hectares of rain-fed land on a regular basis in Zhari, Shah Wali Kot, Arghandab, Dand, Daman, Panjwai and Maiwand districts of Kandahar", he said.
"The project will have 1.2 million beneficiaries," Junbush added.
Another project will involve building 6,000 schools across the country.
"In the first phase, we will build 2,647 schools with a $157 million budget in 17 provinces," Junbush said.
"So far, we have constructed 762 schools and handed them over to the Ministry of Education, and we will complete 800 more by the end of the year," he added.
"We have also started construction of 127 irrigation networks with a total budget of 1.3 billion AFN ($16.6 million), while we have completed 133 irrigation networks and handed them over for use," said Akbar Rustami, spokesperson for the Ministry of Agriculture, Irrigation and Livestock.
Last week, the government handed over 10,685 storage units for potatoes, onions and raisins, as well as cold-storage units for pomegranates and apples, to beneficiaries, he said. Workers built them with an overall budget of 5.6 billion AFN ($71.6 million).
Another 4,500 small projects, including the construction of potato, onion and raisin storage units across 34 provinces, with an allocated budget of almost 1.4 billion AFN ($17.7 million), are set to start soon.