HERAT -- The Taliban blew up the main bridge that links Obe district with Herat city before attempting an attack on the district centre, creating major transportation and trade obstacles for local residents.
Afghan National Defence and Security Forces (ANDSF) repulsed the Taliban's attempts on the district centre on Tuesday (May 18) and forced the militants to retreat, Herat officials said.
The Taliban's main goal was to sever the bridge, which doubled as the location of a popular market, officials said. The Taliban failed to harm security forces or civilians. Nor did they reach government buildings in Obe district.
Herat residents strongly condemned the Taliban's destruction of the bridge, calling it a crime and an obvious act of hostility against the Afghan people.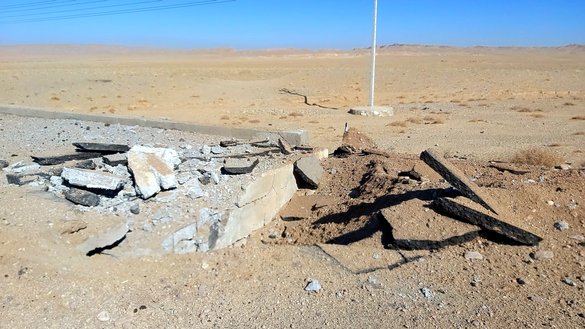 The bridge was a vital route connecting Obe district residents with the district centre, said Herat governor Sayed Wahid Qatali.
"District residents transported their agricultural products to Herat city across this bridge," he said. "It was deemed to be a lifeline connection."
Immediately after the end of the three-day ceasefire during Eid ul Fitr, the Taliban resumed targeting infrastructure projects in Herat province, Qatali said.
"In less than a month, the Taliban have caused more than $20 million (1.5 billion AFN) in damages to infrastructure projects in Shindand district alone," he said, adding that the Taliban have blown up bridges, roads and other public property in the district.
The Taliban also wrecked some major bridges along the Herat-Kandahar highway in Shindand district, he added.
As a result of Taliban car bombings, public property and residential houses in the centres of Farsi, Obe, Shindand and Pashtun Zarghun districts have sustained considerable damage, Qatali said.
"Many houses have been destroyed," he added.
It is a common tactic of the Taliban to destroy bridges, roads and farm crops as they escalate their insurgency and fighting, said Toryalai Taheri, deputy chairman of the Herat provincial council.
"The destruction of infrastructure projects built for the public welfare in the districts is one of the main goals of the Taliban," he said.
"The Taliban's war is not just against security forces, but an important part of their war is the destruction of infrastructure and the weakening of the Afghan economy," Taheri said.
Stoking public outrage
The Taliban's continuing targeting of infrastructure and other public projects has incited outrage among Afghans.
The Taliban's legacy for Afghanistan is nothing but destruction, bloodshed and devastation, said Nasir Ahmad Faizi, a student at Herat University.
"The Taliban destroy bridges, public roads and schools," he said. "This act of the Taliban is brutal and against human values."
Sabotaging infrastructure projects affects only ordinary Afghans, said Mohammad Nadir Nadery, a resident of Herat city.
"The destruction of bridges and roads has cut off many residents from each other in many districts," Nadery said. "They can no longer take patients to hospitals or move easily from one place to another."
"The Taliban claim that they can regain power and govern Afghanistan, but they have wrought only havoc, which has prompted public scorn and hatred," he said.
The Taliban are wrecking public infrastructure projects to flex their muscles and and to put on a false show of power, said Amanullah Quraishi, a resident of Herat city.
Not only are the Taliban destroying bridges, roads and other national projects, but they are creating obstacles to the implementation of other public projects, he said.
The Taliban's actions clearly show that foreign countries are directing them to destroy Afghanistan, Quraishi said.
"The Taliban's logic is only killing and destruction," he said, adding that they are not working towards a prosperous Afghanistan.
Destroying infrastructure is haram
Religious scholars in Herat also strongly condemn the Taliban's deliberate attacks on infrastructure projects, including roads, bridges and dams.
Every destructive act that the Taliban perpetrate against civilians and public welfare projects is considered haram, said Maulawi Abdul Ghani Jamshidi, deputy director of the Herat Hajj and Religious Affairs Department.
Public places -- including schools, mosques, clinics, roads, bridges and hydropower dams -- belong to the public, and nobody has the right to target and destroy them in the name of Islam, he said.
"The Taliban's devastating attacks have nothing to do with Islam but serve only the personal interests of the Taliban as a radical group," Jamshidi said.
"Destruction and demolition have no place in Islam," he said. "Muslims are instructed to strive towards development and building prosperity."
The sabotage of roads and bridges disrupts normal life, and the perpetrators must understand that they are committing a great sin, said Mawlavi Abdul Sami Nasrat, a religious scholar in Herat city.
All infrastructure projects and public places belong to the Afghan people, who are Muslims, and it is illegal to destroy or damage them, he said.
"The destruction of infrastructure projects is not jihad but rather an act of violence and a violation of Islamic principles," he said.
Devoted Afghans implemented all development and infrastructure projects with support from the international community, Nasrat said.
"The destruction of these projects means pushing Afghanistan backwards, and this is what only the enemies of Afghanistan have wished for," he said.