KABUL -- The United Nations (UN) on Thursday (March 17) agreed to secure a formal presence in Afghanistan, days after the UN refugee chief urged the world not to forget Afghanistan amid Russia's ongoing war in Ukraine.
The UN Security Council resolution, drafted by Norway, passed with 14 in favour, with Russia abstaining. It will allow the UN to continue its work in Afghanistan.
It includes several strands of co-operation, on the humanitarian, political and human rights fronts. It does not give the current rulers international recognition.
"This new mandate for the UN mission to Afghanistan (UNAMA) is crucial not only to respond to the immediate humanitarian and economic crisis but also to reach our overarching goal of peace and stability in Afghanistan," said Norwegian ambassador to the UN Mona Juul.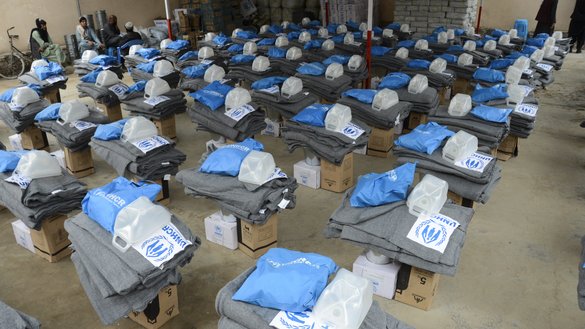 "The council gives a clear message with this new mandate: UNAMA has a crucial role to play in promoting peace and stability in Afghanistan and to support the Afghan people as they face unprecedented challenges and uncertainty," she said.
Competing crises
Earlier in the week, during a four-day visit to Afghanistan, the UN refugee chief urged world leaders not to forget Afghanistan's humanitarian needs as attention turns towards Russia's invasion of Ukraine.
"The whole attention of the world at the moment is focused on Ukraine," UN High Commissioner for Refugees (UNHCR) chief Filippo Grandi said Tuesday.
"The risks of distraction are very high, very high," he said, adding, "Humanitarian assistance has to flow no matter how many other crises compete with Afghanistan around the world."
Donor countries, UN agencies and Afghan civil society are set to take part in an online fundraising event later this month. The summit will focus on delivering food, shelter and health services, particularly for women and girls.
Earlier this month the World Bank announced more than $1 billion in humanitarian aid for Afghanistan, stating the money will go directly to UN agencies and international non-governmental organisations (NGOs).
But the war in Ukraine already has started to make it difficult to raise funds for Afghanistan, said Grandi.
The UNHCR made an appeal of $340 million for Afghanistan for 2022 but so far has managed to raise only about $100 million, he said, noting, "The needs are the same now as they were in September."
In January, the UN made its biggest-ever single-country aid appeal for Afghanistan, calling for $5 billion to avert a humanitarian catastrophe.
The United States -- the single largest donor of humanitarian aid to Afghanistan -- pledged more than $308 million in an initial aid package for the country this year, at that time.
Since October, the US government has donated almost $782 million to Afghanistan and for Afghan refugees in the region, according to the US Agency for International Development (USAID).
Food insecurity
More than half of Afghanistan's 38 million people are facing hunger, according to the UN and other global aid agencies.
Food security has deteriorated sharply since August, while wages have fallen "dramatically" for more than two-thirds of workers, a World Bank survey said Tuesday.
Seventy percent of households surveyed said they were unable to meet their basic needs for food and other essentials, the report found -- twice as many as in a survey conducted in May 2021.
There also was a "significant" decrease in both the quality and quantity of food consumed, according to the report, based on data gathered by telephone between October and December 2021 of almost 5,000 Afghan households.
"The results suggest that while the Afghan population is still able to find work and access some key public services, the situation is quite fragile," it said.
Wages have declined markedly across industries and regions, and more Afghans are looking for work in both urban and rural areas than a year and a half ago, the survey said.
The number of available jobs has increased in the countryside but has decreased in the cities and suburbs.
The share of public sector jobs shrank, and a larger proportion of households reported being self-employed, according to the data.
"An imminent and dramatic decline in welfare outcomes and access to services could occur unless salaries, at least for key services, can be restored and food security improved," the World Bank warned.