KUNDUZ -- Traffic police officers in Mazar-e-Sharif, Balkh's provincial capital, have been struggling to meet basic daily needs, with many claiming they have not been paid in seven months.
The lack of pay has pushed dozens of them to quit their job, sources at the traffic department tell Salaam Times.
Of the 80 traffic police officers who comprised the bulk of the force at the department before the fall of the previous government in Afghanistan, 30 had to quit, they said.
"Since the new government has come to power, I have barely managed to cope with the difficulties that come with the cold winter months," said Balkh traffic police officer Abdul Qayum Nasiri.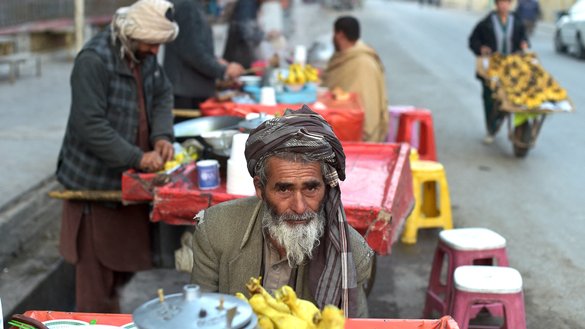 "I have not received my salary and other allowances for seven months now," he told Salaam Times.
"I used to receive 10,000 AFN ($1,097) every month, which was enough to live on for a month. However, life has changed to the worse as I am now unable to pay for even my basic needs," he said.
Rent, electricity, transportation, clothing, foodstuff and medication have all climbed out of reach for Nasiri. "We are really struggling with enormous challenges," he said.
"We spend the whole day on the road and breathe dust to serve our people. But we've had enough. We have our families and children to take care of. We are tired of this situation," he added.
Sayed Ghazanfar Hussaini, another police officer in Mazar-e-Sharif, said he and his colleagues have shared their concerns and grievances with the current authorities, "but nobody bothers or takes any action to address them."
"God knows I have been buying necessary items on debt from a nearby shop for several months. Now the shopkeeper calls me every day asking me to repay him, and threatens to sue me if I don't," he said.
"I also borrowed money from someone but have spent it all. Now I do not even have 1kg of flour in my house and am very worried about what will happen to my children."
"Some of my colleagues don't have the money to pay for transportation. Others have to walk long distances for about an hour and half to get to work," he added.
Struggling to provide
Former Balkh police officer Shafiqullah Esmati said he was forced to quit his job after eight years and become a taxi driver to help take care of his family of eight.
"It has been seven months since the government has paid us our salaries. There is nothing left in my house to sell and no bread to eat," he said.
"How long do we have to wait to get paid? I had to rent a taxi for 200 AFN ($2.20) a day to work," he added.
Abdul Wali Mirzada also had to quit after several years on the force and has since opened a firewood store in Mazar-e-Sharif.
"Unfortunately, some 30 of my colleagues have left the traffic department. Some of them are doing routine manual labour, and others have left the country along with their family members," he said.
"It has been three months since I opened a firewood store, and I can now provide for my family," he said on February 23.
"If the previous government had not fallen, we would have still been receiving our salaries and other benefits. We never would have migrated to foreign countries or felt helpless," Mirzada said.
Mazar-e-Sharif resident Abdul Hadi Nazar said most former government employees have lost their jobs and those who are still working have not been paid in months.
The traffic police is essential for the city and its people, he said.
"They serve the people and society. They manage the flow of traffic and enforce safety rules to prevent potential accidents and congestion."
Although the provincial traffic authorities in Balkh have repeatedly promised to pay their personnel's salaries in the near future, Mazar-e-Sharif residents say this priority cannot wait.