HERAT -- Thousands of jeribs of public and private property illegally seized in western Afghanistan have been reclaimed by government authorities.
During this solar year, authorities took back 20,000 jeribs (4,000 hectares) of land from strongmen in areas mainly controlled by the Taliban, said officials from the Afghanistan Land Authority (Arazi) in Herat Province.
The Herat Land Authority (HLA) protected almost 50,000 jeribs of public and private land in Herat city and districts of Herat Province from illegal seizure during the first six months of solar year 1398 (March-September 2019), said Roya Sharifi, chief of the HLA landownership department.
The HLA referred dozens of land grabbers and strongmen to law enforcement agencies for their actions, she said.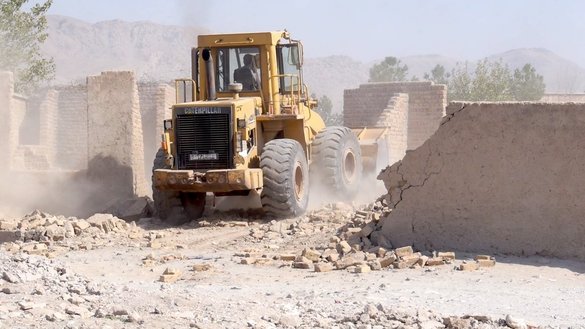 "The [HLA] has begun serious efforts to take back the seized land in Herat Province," Sharifi said. "Those involved in stealing land will be identified, arrested and put in prison."
During the past year, the level of land grabbing has dropped because of these efforts, she added.
"One of the main challenges of the [HLA] is that most of the stolen lands are in areas that are insecure and under the Taliban's control," she said. "The [HLA] hasn't been able to fully take back the lands from the land grabbers and strongmen because of the security threats."
"Most of the public and private lands in Herat Province are on the outskirts of Herat city and in Guzara, Zindajan, Karukh and Pashtun Zarghun districts," she noted. "Taking back these lands need more time because of the security and legal issues, but we are seriously committed."
Authorities reclaimed more than 250 jeribs of land seized by strongmen, said Faiz Muhammad Mirzazada, the deputy governor of Badghis Province.
"More land has been stolen in Badghis Province, especially in areas where pistachio forests exist, and various government agencies including the [provincial] Land Authority and judicial and law enforcement agencies are putting efforts into taking back these lands," he added.
"Those involved in land seizures face serious consequences," Mirzazada added. "A number of these land grabbers ... have been arrested and punished. The government's fight against land grabbing will continue in the future as well."
The local government of Ghor Province has been able to take back 300 jeribs of land from land grabbers in the past year, said Abdulhai Khatibi, a spokesperson for the Ghor governor.
Authorities returned five jeribs of land in Firoz Koh, Ghor Province, to the rightful private owners.
"The documents of over 50 jeribs of more land are being processed," he added. "This land will be taken back from the strongmen and land grabbers after the court's decision. The strongmen had even seized land allocated for the town of security forces' [families] in Ghor Province. The government has taken back these lands and distributed them to the families."
Punishing land grabbers
Judicial and law enforcement authorities have received the names of land grabbers in Herat, and they will face punishment, said Herat authorities.
The provincial government has shared a list of all such offenders, minor and major alike, with President Ashraf Ghani, the attorney general and relevant government agencies in Kabul, said Herat Governor Abdul Qayum Rahimi.
"The effort of taking back land from land grabbers has started," said Rahimi. "In the first phase on October 16, we took back the land in the north of Herat city that belongs to the National Directorate of Security from land grabbers, and this campaign will expand to other areas as well."
Accurate data about stolen land in Herat Province are still unavailable, he said, adding that Kabul December 12 assigned a committee to determine the amount and location of such land.
Kabul's efforts to fight land grabbing and punish offenders will improve public trust in the government, said Abdul Qader Kamel, a political affairs observer in Herat Province.
"The main reason behind grabbing private and public land in Herat is the existence of mafia networks and corruption," he added. "These groups try to earn abundant money from seizing land. The government's efforts to take back the seized lands have been effective, but we have to fight more seriously against them."
"As the government is recording public and private properties in Afghanistan, it is one of the logical solutions that will help prevent land grabbing," added Kamel. "When all the land is registered with the Afghanistan Land Authority, no one will be able to steal land."
Upholding justice
Land theft is a social challenge and has suppressed development and growth in Herat city and districts of Herat Province, said Sayed Ashraf Sadaat, a civil society activist in Herat Province.
"Public land belongs to everyone, and no one has the right to steal it," he said. "[Public] land is national property owned by all Afghans. When strongmen and land grabbers steal land, many citizens are deprived of their rights."
"When stolen land is taken back from the strongmen, it is restored as public property," added Sadaat.
"We have seen how the government [in Kabul] has distributed plots to internally displaced persons, families of martyred security personnel, teachers, workers and Afghans from various walks of life."
"The stolen land needs to be reclaimed and distributed to those in need," he said.