HERAT -- Thousands of families from western Afghanistan, internally displaced by the Taliban's insurgency, are returning home with government assistance.
Last year, an escalation of attacks by the Taliban coupled with a drought forcibly displaced about half a million Afghans, according to Ahmad Jawid Nadem, director of the Department of Refugees and Repatriations in Herat Province.
Most of these displaced Afghans came from Badghis, Ghor and Faryab provinces and settled in Herat Province.
"We expect that nearly 3,000 families will return to their own areas with dignity," said Nadem.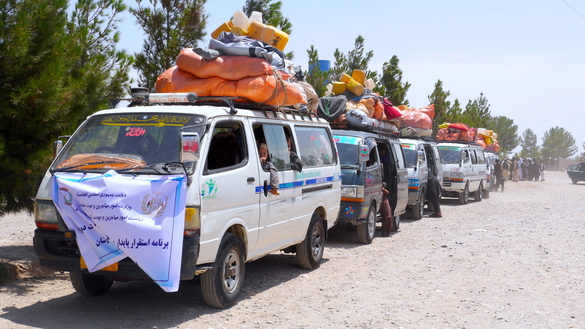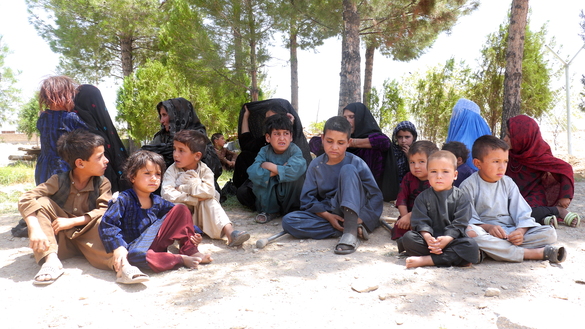 "A house-to-house survey of displaced persons lasted for a month, during which we were able to survey more than 6,000 families," he said. "Among them, 2,800 families were found to be eligible to return to their areas of origin in Badghis, Faryab and Ghor provinces."
"According to our plan, we are repatriating 150 families per day," he said.
"We give 20,000 AFN ($255) in cash to each family so that they can resume their regular lives," Nadem added.
He expects that 6,000 more families will also return home and receive assistance from the government and relief agencies, he said.
Fleeing the Taliban
Most of those displaced in the western region of Afghanistan left their areas because of the Taliban fighting in their villages.
"Civilians left their homes for a year because of war and the presence of the Taliban [in their areas] -- the Taliban used residents' houses as their bases," said Bahauddin Qadisi, a member of the Badghis Provincial Council. "The Taliban set fire to houses and public property in some parts of Bala Murghab and Qadis districts of Badghis Province."
Because of the Taliban's attacks, many villagers had to escape and a number of them took refuge in Herat Province, while some travelled to the outskirts of Qala-e-Naw, Badghis Province, he said.
"The Taliban attacks on civilians' houses are an atrocity," Qadisi said. "It creates a situation that does not allow residents to evacuate the injured or remove the dead bodies [of their family members] from the Taliban-controlled areas. The Taliban use civilians as human shields when they fight against government forces."
"Now that civilians are returning home and are trying to resume their life and work, we want the Taliban to stop harming them and let them live in peace," he added. "We also expect the government not to allow the Taliban to drive them out again."
Overall, the conflict with the Taliban still has pushed hundreds of thousands of Afghans -- most of them children -- from their homes this year, prompting a huge need for humanitarian aid across the country, the United Nations (UN) said on Thursday (August 15).
More than 217,000 Afghans had to flee because of fighting during the first seven months of 2019, according to the UN's Office for the Co-ordination of Humanitarian Affairs (OCHA).
Of these displaced persons, 58% were children under 18, OCHA said.
OCHA "estimates that close to a million people on the move will need humanitarian assistance by the end of the year", the agency said in a statement.
Returning home
Security has improved in some areas, however.
"Our village is very secure this year, and it has prospered," said Bahari Jan, a resident of Badghis Province. "Three years ago, we came to Herat Province because of war and drought, and the government has taken care of us here. The government has now restored security in our village, and there is no war."
"This year farmers cultivated their farmland in our village, and the drought has faded away," he added. "The Taliban used to collect ushr and zakat from us in the past, but now we don't have that trouble, and no one does harm to us."
Security has greatly improved, agreed Rangeen, another resident of Badghis Province who declined to give his full name.
"We escaped our village last year because of the war and drought, but now our area is peaceful and secure, and we want to return to our area," he said.
"The Taliban forced us to escape," he added. "There was fighting every day in our village, and the Taliban hid in residents' houses, but now the situation has improved."
"The security situation in the villages of these families has improved, and they can now live a better life in their own areas," said Abdul Aziz Sheikh-ul-Islami, a displaced person in Herat Province.
"We hope the Taliban do not come back to these areas," he added. "Civilians have tolerated many problems caused by war and violence, and they no longer want to live at war."