GHOR -- Afghan forces, backed by NATO air support, are conducting winter operations across the nation's western provinces and dealing heavy blows to the Taliban.
The operations, which have been under way for a month, have enabled security forces to regain control of a number of districts and to kill about 200 Taliban fighters.
The operation in Ghor Province, which ran from December 10-20, was the largest and most successful of the winter operations, said Brig. Gen. Sayed Sami Sadat, an adviser to the Ministry of Defence.
"The Taliban's fighting capability in Dawlatyar and Murghab districts is degraded," said Sadat. "Four key Taliban centres were annihilated, and their prison was destroyed by security forces."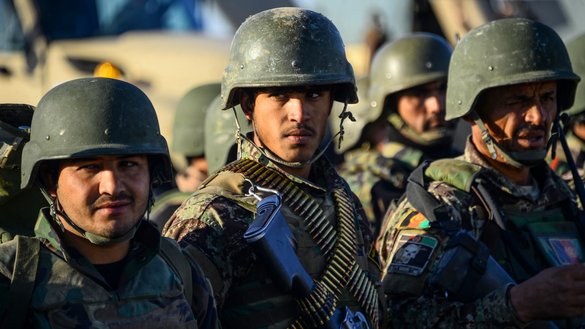 More than 53 Taliban fighters have been killed and 60 others have been injured in the Samaak Valley in Dawlatyar District, said Ghor Police Chief Col. Aminullah Ahmadzai.
"Samaak is a strategic area where the Taliban have regularly threatened the Kabul-Ghor highway as well as some districts," he said, adding that the militants also extorted money from locals.
"The Taliban had safe havens in this area. They even had their own prison where they would torture civilians and security personnel," he added.
For several years the Taliban would attack innocent civilians and kill women and children for no reason, said Keramuddin Rezazada, a member of parliament from Ghor.
"The Taliban would oppress civilians and extort large sums of money. Civilians could not even take the Kabul-Ghor road as the Taliban would steal all their money and valuables," Rezazada added.
"Many times, the Taliban mined the highway and other roads, as a result of which dozens of civilians including women and children were killed, injured and maimed," he said.
Establishing government control
"We came to the Samaak Valley of Ghor Province for a four-day operation, but we defeated the enemy in just one day," said Sgt. Ehsanullah, a commando officer of the Afghan National Army (ANA) taking part in the clearing operation.
"The enemy's dead bodies and their equipment are lying abandoned on the battlefield; nobody [from the Taliban] could even remove the bodies," he said.
"As long as commando forces exist, Afghanistan will exist -- civilians should not worry. As long as we, commandos, are alive, we will not allow any enemy to take our people's peace away," he said.
Samaak Valley, which consists of 14 villages, was under the enemy's control for several years, said Col. Mahboob Andarabi, the commander of the Civil Order Brigade in Ghor Province.
The government has established a new district called Murghab to better facilitate the delivery of services and expand government control, said Andarabi.
"Now civilians can travel from Ghor to Kabul and vice versa in safety and with peace of mind," he said.
"With the clearing of the Taliban from Samaak, peace has returned to the 14 villages in this area and residents have gone back to their normal lives. Security forces are present in the area and will not allow the Taliban to come back to the area and harass the public," he said.
The government has donated cash and food to the residents of the 14 villages in the valley, said Ghor Governor Ghulam Naser Khaze.
"A health team has also arrived in the area to treat patients. Peace has returned to Samaak Valley, and there are no security concerns," he added.
Operations continue
Meanwhile, a winter operation began on November 25 in the vicinity of Qala-e-Naw city and Moqor District in Badghis Province, said Col. Hasibullah Akhundzada, commander of the 3rd Brigade of the ANA, adding that the operation will continue until the end of the winter.
Security forces have already cleared 25 villages in the area of Taliban fighters, he said.
"Operations in other districts of Badghis Province will also be launched against the Taliban. Afghan security forces are backed by the Afghan air force" as well as by air support from the NATO-led Resolute Support Mission, Akhundzada added. "Most of the casualties suffered by the enemy are caused by air attacks."
"More than 50 Taliban fighters including a number of commanders were killed," he said.
"Areas that have been cleared less than one month ago were under the control of the enemies of Afghanistan for several years. They collected money from civilians for many years under the pretense of ushr and zakat," Col. Sher Aqa Alokozai, chief of the security department of the Badghis Police, said on December 22.
"Security posts have been established in the recently cleared areas. Security forces will prevent the Taliban from returning to these areas," he added.
Taliban leaders killed in Farah
Afghan security forces on December 22 also launched a comprehensive and large-scale operation in Farah Province.
The operation, which has not ended, was launched in Pusht-e-Koh, Pusht Rod, Anar Dara and Lash-e-Jowain districts as well as villages around Farah city.
"We assure all Farah residents that we will clear areas of the Taliban, and we will not allow Taliban terrorists to kill or harass residents. Security forces will defeat the Taliban and defend all areas of Farah Province," Farah Police Chief Gen. Fazal Ahmad Sarwari said on December 22.
"Nearly 100 Taliban fighters, including their notorious commanders, have been killed in the last two months in ground and air operations. During this period, another 23 Taliban fighters have been injured and 12 have been captured by the security forces and who are in the custody of the National Directorate of Security [NDS]," he said.
The Taliban have lost their fighting spirit in Farah Province and are retreating and losing areas under their influence on a daily basis, said Sarwari.
"Security forces have conducted 17 joint operations in less than two months," he said. "Parts of those areas have been cleared from the Taliban, and the remaining areas will be cleared as a result of the current operation."
The Taliban have also suffered heavy blows in Herat Province and nearby areas, said Herat Governor Abdul Qayum Rahimi.
"Mullah Saifullah, shadow governor for Pusht-e-Koh District of Herat, Mullah Abdul Rauf, shadow governor for Shindand District, and Mullah Abdullah and Mullah Hashim, two notorious Taliban commanders in Gulran District, were killed in a week in air and ground operations," said Rahimi.
Mullah Amruddin, deputy commander of the Taliban's military commission for Ghor Province, was detained in Gulran District on December 23 by the Herat NDS while he was visiting Herat, he added.