HERAT -- Afghan and coalition forces have ramped up military pressure against the Taliban over the last two weeks, killing hundreds of militant commanders and leaving fighters with fewer and fewer places to hide.
More than 350 Taliban fighters have been killed in attacks conducted by security forces in Afghanistan's western provinces since September 1, according to official data.
Those killed have included the Taliban shadow district governors of the Ghorian, Gulran, Obe, Keshk Rabat Sangi and Adraskan districts of Herat Province, as well as other well-known commanders, say authorities in Herat.
"Our security forces have launched operations in all areas where the Taliban exist," said Herat Governor Abdul Qayum Rahimi.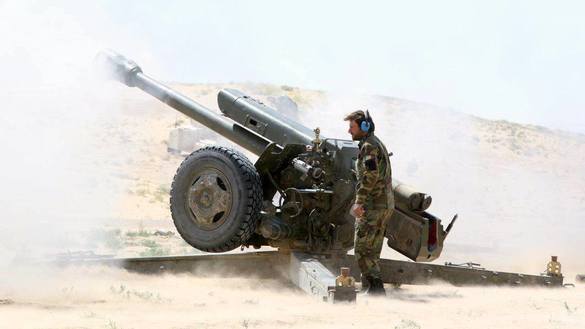 "Operations against the Taliban are underway in Keshk Rabat Sangi, Gulran, Shindand and Obe districts, and we'll continue these operations until we clear these areas of the Taliban," he said.
In an operation in Obe District on September 5, "more than 50 Taliban fighters, including three of their famous commanders, were killed and another 50-plus were injured," said Rahimi.
Rahimi earlier announced on September 3 that a Taliban trainer for suicide bombers was killed in Keshk Rabat Sangi District.
"In our operations in Keshk Rabat Sangi and Gulran districts of Herat Province, tens of Taliban fighters including a number of their group leaders were killed," said Herat Police Chief Gen. Aminullah Amarkhil.
Mullah Sardar, the Taliban shadow district governor for Gulran, and Mullah Nabi, the shadow district governor for Keshk Rabat Sangi, were killed in these operations, he said.
"Mullah Idris, the Taliban's shadow governor for Ghorian District of Herat, was killed along with six of his comrades in an air strike on September 10," Amarkhil added. "Mullah Idris was the core organiser of blowing up electricity pylons in Ghorian and Zindajan districts."
Nowhere to hide
Under pressure, Taliban fighters have withdrawn from most districts in the western region to remote areas. However, there is no place to hide, say officials.
"We have launched heavy and expansive attacks on the Taliban," said Ghor Governor Ghulam Naser Khaze, referring to operations that started on September 1. "These operations were conducted in the west of Firuzkoh City and in some of the western districts [of Ghor Province]."
"More than 90 Taliban fighters lost their lives in these operations" and dozens were wounded, he added.
"The Taliban were forcing people into giving them tithe and zakat in some areas and districts of Ghor Province, but the security forces were able to stop this practice of extortion and expel them [the Taliban] from the villages," said Khaze.
"The Taliban tried a lot to make the Herat-Ghor Highway unsafe and take control of the route, but in an operation, we cleared the highway of the Taliban," he added. "We are working on putting permanent checkpoints to maintain the highway's security."
"The Taliban have seen heavy casualties in the past 10 days," Col. Hasibullah Akhundzada, commander of the 3rd Brigade of the Afghan National Army in Badghis Province, said September 10.
"According to our reports, 114 Taliban fighters lost their lives and 67 sustained injuries, and a number of their commanders are also among the casualties," he said. "We are trying to increase the number of ground attacks and air strikes on the Taliban."
The Taliban attacked Farah City on September 6 and tried to capture certain areas, but they were defeated, said Farah Police Chief Maj. Ghulam Muhaiuddin Khairkhwa.
"Nearly 90 Taliban fighters, including their intelligence chief for Farah Province, Noor Ahmad Chakani, were killed," he said. "A few other famous Taliban commanders who were leading the attack on Farah City were also killed in ground operations and air strikes."
"Our operations on the Taliban have continued for three days in the outskirts of Farah City and we'll search and clean all the areas," Khairkhwa said on September 10.
"The Taliban intended to capture Farah City, but security forces with support from the Resolute Support Mission air forces were able to contain the Taliban and forced them to escape," he added. "The Taliban couldn't reach their goals and they didn't succeed in killing civilians and the security forces."
Losing a golden opportunity
The sustained pressure on the Taliban comes after a secret meeting in the United States between the Afghan government, US negotiators and Taliban leaders was called off September 8.
The Taliban passed up an opportunity by continuing violence amid talks in Qatar and causing the cancellation of the summit, say political experts and civil society activists.
The Taliban are no longer in the position they were in a few months ago and have lost their credibility at a global level by attempting to use the killing of civilians as a bargaining chip, they say.
"The Qatar peace talks were a great chance for the Taliban as it provided them with an opportunity to sign a peace deal with the international community, especially with the United States," said Jawad Ameed, a civil society activist in Herat Province. "But the Taliban made a mistake as they declined to accept the ceasefire and increased violence and the killing of people, and thus lost the opportunity."
"It is obvious that the Taliban will face enhanced military pressure in the wake of losing the chance to make peace, and this will be a huge blow to the group," he said.
"The Taliban lost one of the best opportunities," said Mohammad Rafiq Shahir, a political expert in Herat City. "The Taliban were dreaming of the Islamic Emirate in recent months, but they have to accept that now they have nothing, and they have lost their credibility."
"If more military pressure is mounted on the Taliban in this situation, it will force them to renounce violence and join the peace talks," he added.
"Giving the Taliban privilege and showing flexibility to them is like nurturing a snake in your bosom," said Shahir.