HERAT -- Herat Province residents in eight districts are being deprived of phone service at night because of threats by the Taliban to destroy telecommunications antennas.
The Taliban fear that network antennas will enable troops to track their movements.
Everyday from 6pm to 8am service is halted in the districts of Kuhistan, Zindajan, Ghorian, Shindand, Pashtun Zarghun, Obe, Gulran and Keshk Rabat Sangi.
Operators in other Afghan provinces including Kunduz and Helmand have cut off their service at night because of similar threats by the militants.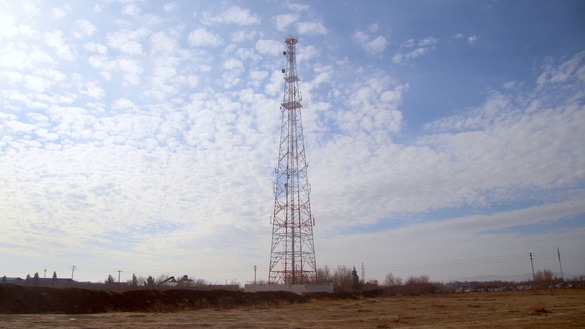 Residents who live in those districts decry the nightly shutdown and call on the government to address the issue.
"Many problems can happen," Shamsulhaq Zia, 28, a resident of Ghorian District of Herat Province, told Salaam Times.
"For instance, if someone gets sick in the village or if an event happens in the city, we have no way of knowing throughout the entire night," he said. "If those officials in higher positions can hear us, we want this problem to be resolved."
Gawhar Khan, 35, another resident of Ghorian District, agreed, saying the shutdown puts the safety of residents of those districts in peril.
"In an emergency, I can't call anyone, including my relatives, my neighbours or government agencies," Khan told Salaam Times. "Those who have sick relatives experience so much trouble when they want to call someone at night."
Keeping the telecommunication networks in the districts inactive will only expand insecurity and bolster the Taliban's activities, warn some members of the Herat Provincial Council.
"This nightly service disconnection of telecommunication networks in these districts has caused great difficulties for the residents vis-à-vis their health issues, transportation, security and so on," Toryalai Taheri, vice president of the Herat Provincial Council, told Salaam Times.
"Security officials have promised us that they are going to solve this problem, and we hope that moving forward, telecommunication antennas will remain activated at all time in all areas," Taheri said.
"The disconnection of antennas and interruptions in service to the centre of the city will result in an increase in insecurity," Sakina Hussaini, a member of the Herat Provincial Council, told Salaam Times. "Therefore, the government must pay attention to this issue and resolve this problem."
Resuming service
Local officials in Herat say that they are pushing telecom operators to restore service at night.
"We are aware of this, and some complaints have reached us," Herat Governor Abdul Qayum Rahimi told Salaam Times.
"Based on these complaints, we sent official letters to the Ministry of Telecommunications, and we now expect it to start communicating with telecommunication networks as soon as possible in order to resolve this problem," he said.
"The goal is for us to have 24 hours of uninterrupted telecommunication service in Herat Province."
"Unfortunately, the insurgents have disabled the telecommunication antennas in some areas," he added.
"Through tribal elders, district councils, telecommunication companies and our own connections, we are trying to solve this problem," Rahimi added. "The telephone services must remain active in all districts."
Telecom operators in some districts have shut service at night even though their antennas are protected from any Taliban threat, said Rahimi.
"Even in secure areas where the government is in charge," some operators "have stopped their service at night", Rahimi said. "It's an issue that's under investigation, and we will soon resolve this problem as well."
Police are working to secure all telecom operators in the districts from any potential Taliban attack, said Gen. Aminullah Amarkhil, Herat's provincial chief of police.
"There are serious security concerns in three districts only, while other districts have no serious security threats," he told Salaam Times. "Once we are made aware of problems, we will take action as we did in the past. If we hear of a situation, we will carry out operations."
"The security threats are not that serious, and the telecommunication companies do not need to interrupt their activities," he added. "There shouldn't be a service interruption in secure areas solely based on a threatening phone call."
Taliban backs up threats
Still, actions by the Taliban in the past show they are prepared to carry out such acts.
"The Taliban burned down nine telecommunication towers over the past 12 months," Ghulam Rasool Qarizada, an official at the office of the Afghanistan Telecom Regulatory Authority (ATRA) in Herat, told Salaam Times.
"They disregarded the threats made by the Taliban, who had warned them that they would burn the towers down if they refused to stop their service," Qarizada said.
"These towers are located in remote, mountainous areas, and hence there are some security problems," he said.
"Residents need telecom" service at all times and "want to contact their families and relatives," he added. "When the towers aren't connected, residents are the ones who face serious problems."