KABUL -- Iranian plotters have for the second time in three months attempted to use the Taliban to attack the Turkmenistan-Afghanistan-Pakistan-India natural gas pipeline project (TAPI) in Herat Province, local officials say.
And again, Taliban fighters opted to disobey Iranian orders and instead surrendered their weapons and joined the Afghan-led peace process.
A group of seven Taliban members who had been "conducting terror and anti-government operations under the command of Fairuz Ahmad joined the peace process and surrendered their weapons," Abdul Ahad Walizada, a spokesman for the Herat Province chief of police, told Salaam Times.
The group surrendered on April 22 "thanks to the joint efforts of the Pashtun Zarghun District police command and the Herat provincial police command", he said.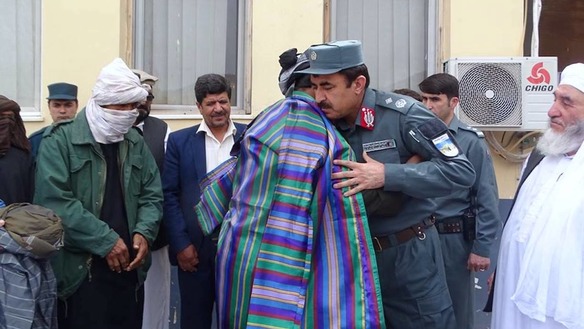 "This Taliban group had previously been involved in a number of security incidents in Pashtun Zarghun, Guzara and Karkh districts, organising and implementing a series of terrorist attacks," Walizada said.
Disobeying orders from Iran
"Iran provided our commanders with weapons and ammunition and ordered them to attack and destroy TAPI, and subsequently our high-ranking commanders ordered us to do so," Ahmad, the leader of the group, said at a news conference in Herat.
"We did not follow their orders, however, since our entire nation benefits from TAPI," he said. "Instead, we contacted security officials and joined the peace process."
The Iranian Embassy in Kabul did not reply to repeated requests for comment from Salaam Times regarding the accusations.
This is not Iran's first alleged attempt at sabotaging TAPI. Earlier, on February 21, a 10-member Taliban group surrendered to Herat authorities, giving a similar account of Iran's designs.
Mohammad Ayub Alizayee, the commander of that group, said Iran trained and provided them with weapons and directed them to attack the ground-breaking ceremony and pipeline.
The TAPI pipeline will stretch 1,840km from Turkmenistan to India through Afghan territory and is scheduled to begin pumping natural gas from Turkmenistan's giant Galkynysh gas field by early 2020.
Tehran adamantly opposes the TAPI project, as it poses a direct threat to hopes of rival pipeline projects that go through Iran.
"We underwent combat training on the other side of the border within Iranian territory," Alizayee told Salaam Times at the time. "Iran provided us with money, weapons and equipment so that we could fight [Afghan] security forces."
"Upon realising the truth and also in order to support TAPI, we gave up fighting and surrendered," Alizayee said.
Taliban increasingly choosing peace
"Peace is the only solution that will let the country escape its problems," Herat Deputy Governor Muhyuddin Nuri said at the April 22 news conference. "We ask other insurgent groups to take advantage of the opportunity and resume their normal lives."
"Our security forces have great determination, and those [militants] who do not join the peace process will be crushed," he said.
"The joining of this group of Taliban with the peace process is a positive step that will improve security in Pashtun Zarghun and Karkh districts," Herat provincial police chief Gen. Mohammad Ayub Ansari said at the news conference.
"Recently, Taliban members have shown more and more interest in joining the peace process," said Ghulam Sarwar Barakzai, chairman of the Herat Provincial Peace Council.
"Over the past few years, the Taliban have been joining the peace process in scattered, random groups," he said. "The High Peace Council's new strategy, however, has led large numbers of Taliban members to give up fighting and join the peace process."
"The High Peace Council provides jobs for those who join the peace process," he added.