KUNDUZ -- As the novel coronavirus spreads in Afghanistan, 74 clinics and three hospitals across Kunduz Province have increased public access to health services, say officials at the Kunduz Department of Public Health.
As of Monday (March 30), Afghanistan had 120 known cases of the disease, including four deaths.
The department said it has created health committees in areas near the border with Tajikistan and along the highway leading to northern and central provinces to identify patients with the virus.
Three teams have been deployed to Sher Khan port at the border with Tajikistan, Aliabad District on Kunduz–North highway, and at the Zanjir Charkhaab point of entry to Kunduz city on the Kunduz–Takhar highway to screen suspected cases of coronavirus (COVID-19), Dr. Ehsanullah Fazley, director of the Kunduz Department of Public Health, said in an interview on March 24.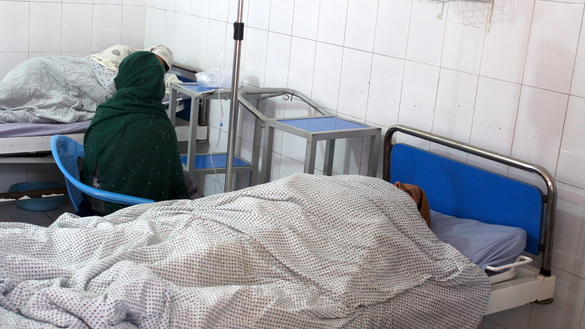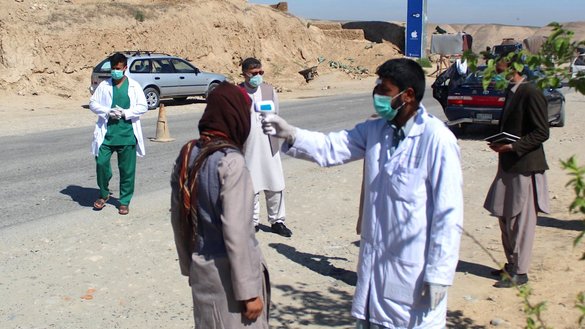 In addition to these health centres, more than 500 health teams are providing mobile health services to residents of areas far from health centres, he said.
As of Monday (March 30), no positive case of coronavirus has so far been recorded in Kunduz Province.
"We have prepared the Doctors without Borders hospital in Kunduz city for treating potential coronavirus patients," he said. "When we identify suspected individuals, we will quarantine them there."
Fazley called on all citizens to comply with hygienic measures and refrain from gathering in crowds to prevent further spread of the virus.
"In total, around 2,600 doctors, including mobile and stationary teams at health centres, are busy treating patients" in general, he said.
"These groups delivering basic health services aim to provide health and hygiene education and distribute free medicine," he said.
"Our health personnel deliver health services equally to everyone from all walks of life," he added.
Free government healthcare services
Residents and local authorities in Kunduz Province have praised the government for the increase of health services in their areas.
"In the past when there were few health centres in Kunduz, the residents took patients for treatment to Mazar-e-Sharif, Kabul, Iran, Pakistan, India and even to Tajikistan," said Mohammad Yusuf Ayubi, chairman of the Kunduz provincial council.
"Two years ago, I took a family member who was ill to Kabul, Mazar-e-Sharif and even to Pakistan many times, but now every kind of health service is available in Kunduz, and there is no need to take [our patients] elsewhere," he said.
Rahmat Gul, a resident of Imam Sahib District, said a clinic opened in his area two years ago, "and we are really happy that our patients are treated there."
"Residents have free and easy access to doctors and medicine, and their patients receive good care," he said.
"The Kunduz Department of Public Health regularly monitors the clinic, medicine and specialist doctors, and when there is a shortage, it satisfies the clinic's needs so that the public can easily receive health services," he said.
Mobile health teams monitor all pharmacies and grocery stores and seize and destroy any expired medicines, Fazley said.
"This year, the Department of Public Health confiscated more than two tonnes of expired medicine and low-quality food and set fire to them in the Abdan desert, far away from Kunduz city," he said.
"Those who continue to sell expired medicine will be dealt with in accordance with the law," he added.
Decrease in maternal mortality rate
An increase in the number of nurses and professional midwives in healthcare centres in Kunduz Province has helped improve medical care for pregnant women and lowered the maternal and child mortality rates, officials say.
"Based on the data the Ministry of Public Health revealed last year, previously, for every 100,000 pregnant women, 1,600 lost their lives during pregnancy, but that number has now dropped to 320," said Dr. Marzia Salam Yaftali, chief physician at Kunduz Regional Hospital, referring to numbers for all of Afghanistan.
Although Yaftali did not share the annual number of births in Kunduz city or at the district level in Kunduz Province, she said that the maternal mortality rate has dropped by 50%.
"Midwifery and obstetric services are delivered equally in Kunduz city and districts and villages of Kunduz Province, and it's a huge achievement that we have been able to prevent further maternal and child mortality," she said.
Midwives have been employed by both the Ministry of Public Health and partner health organisations so that they can cater to women's health needs, Yaftali said.