TORKHAM -- The main border crossing between Afghanistan and Pakistan re-opened to pedestrians and vehicles on Friday (September 15), more than a week after it was closed following a gun battle between frontier guards.
There have been several border closures after clashes between Pakistan and Afghan forces since August 2021, but the nine-day closure at Torkham -- one of the busiest crossings -- was one of the longest so far.
The towns on both sides of the border are named Torkham.
Ailing Afghans desperate to make hospital appointments in Pakistan were among the first to cross, pushed in homemade wheelchairs past checkpoints and luggage X-ray machines along roads and walkways between the frontier posts.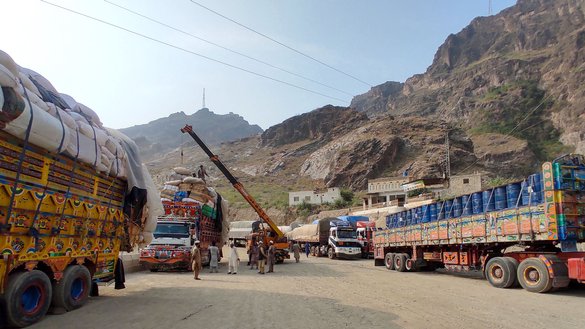 Shakoor Khan, 62, said he had been waiting for five days to take his daughter, who suffers from epilepsy, to a hospital in Pakistan for treatment.
"These five days were like seeing her on death row," he said.
"I am sick... I have a respiratory disease," said another woman, who gave her name as simply Habiba, as she waited to cross into Pakistan.
Islamabad and Kabul have been in diplomatic deadlock since September 6, when border guards opened fire at the crossing in a dispute over the construction of an Afghan outpost.
Torkham, which is halfway between the two capitals, is the busiest border post for trade and travel between the two nations, which share a porous 2,600km frontier that cuts through rugged mountains and valleys.
As hundreds of colorfully painted trucks loaded with products prepared to cross, traders complained that tons of perishable goods had been lost.
"Our grapes, tomatoes, cucumbers and other produce are rotting in Jalalabad market," said trader Hazrat Gul as he left Afghanistan.
The border closure has meant "a lot of losses for traders and truck drivers," he said, calling on the authorities to "not involve the gates with politics" and to "always keep the trade lanes open."
More than three million Afghan refugees live in Pakistan, according to the Pakistani government.
Many Afghans who migrated to Pakistan since August 2021 are reporting continuing difficulties and declining quality of life in their adoptive country.
Constant source of friction
Each side blamed the other for firing the first salvo on September 6, souring already poor relations between Islamabad and Kabul.
The border -- a colonial-era demarcation that every Afghan government has disputed -- is a constant source of friction.
Pakistan has complained repeatedly that Afghanistan is failing to secure its frontier, allowing militants to cross and carry out attacks.
Afghan authorities have denied the allegations.
Officials said more than 1,300 vehicles, including trucks and trailers, were on the Pakistani side of the frontier, waiting to cross.
On the Afghan side, officials and residents staged a small protest earlier this week, demanding that the border reopen.
Pakistan's foreign ministry said this week that "unprovoked firing by Afghan border security forces invariably emboldens the terrorist elements."
"Pakistan has continued to exercise restraint and prioritize dialogue in the face of persistent, unwarranted provocations by Afghan troops deployed along the Pakistan-Afghanistan border," said ministry spokeswoman Mumtaz Zahra Baloch.
A gun battle erupted at the crossing in February after Afghan authorities ordered the border shut, with both sides blaming the other for starting the firefight.
TTP involvement
Pakistani troops thwarted a September 6 cross-border raid from Afghanistan, launched by "hundreds" of Tehreek-e-Taliban Pakistan (TTP) militants, a senior official said.
Additional forces were swiftly deployed to the rugged frontier region.
A significant number of armed militants wielding light and heavy weaponry initiated an assault on a Pakistani military post near the border, said Chitral district deputy commissioner Mohammad Ali.
Chitral district, in Khyber Pakhtunkhwa province, Pakistan, borders Afghanistan.
Inter Services Public Relations (ISPR), the Pakistani military's public relations wing, confirmed that "a large group of terrorists equipped with the latest weapons" had attacked two outposts in the vicinity.
The TTP meanwhile claimed to have seized control of two military posts in the Bomburit area of Chitral, Pakistan, which is approximately 200km northwest of the capital, Islamabad.
In the 12 months following August 2021, Pakistan experienced a 50% surge in militant attacks concentrated in the western border provinces, according to the Pak Institute for Peace Studies (PIPS).