JALALABAD -- The US military's largest non-nuclear bomb killed dozens of "Islamic State of Iraq and the Levant" (ISIL) militants when it smashed their mountain hideouts, said Afghan officials Friday (April 14), ruling out any civilian casualties.
The GBU-43/B Massive Ordnance Air Blast bomb was unleashed in combat for the first time Thursday (April 13), hitting ISIL positions in Nangarhar Province.
Afghan and US military officials expect the bombing to erode ISIL's capabilities in Afghanistan and to convey a warning to the Taliban ahead of their annual spring offensive.
"As a result of the bombing, key ISIL hideouts were destroyed and 36 ISIL fighters were killed," the Defence Ministry said, adding that the bombing took place in co-ordination with Afghan National Defence and Security Forces (ANDSF).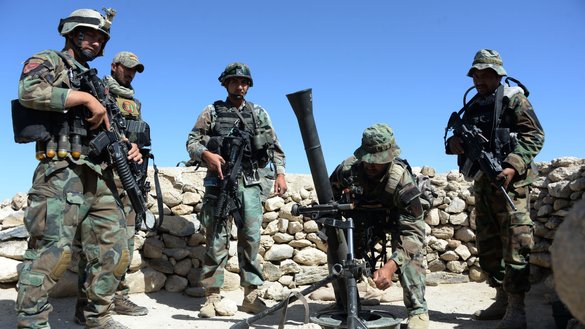 The bomb targeted one of the main centres of ISIL in eastern Afghanistan, Ataullah Khogyani, a spokesman for the Nangarhar governor, told Salaam Times.
ISIL leaders and commanders, including a number of foreign fighters, were present at the centre when the bomb struck, Khogyani said.
ISIL fleeing bombardment
The bomb has a blast yield equivalent to 11 tonnes of TNT.
The explosion reverberated for many kilometres and engulfed the remote area in flames, destroying what officials called a network of ISIL tunnels and caves that had been mined against conventional ground attacks.
An Afghan militant source told AFP from an undisclosed location that local residents had described the ground shaking "like an earthquake".
One resident was happy to hear of the bomb.
"ISIL fighters are active in this area and have overrun our houses," said Achin resident Khair Mohammad. "We don't care if our houses are destroyed; we want ISIL to be eliminated."
Another militant source told AFP that 800 to 1,000 ISIL fighters were believed to be hiding in the area, which borders Pakistan.
ISIL Friday denied suffering any casualties in the bombing.
'The right weapon'
The bomb fell as ANDSF and international forces have intensified their campaign against ISIL in Nangarhar Province during the past two weeks as part of an on-going operation.
The Afghan government expressed its support for the bombing, which it said targeted an uninhabited area as thousands of local families had already fled in recent months.
"Precautions were taken to avoid civilian casualties," President Ashraf Ghani said on Twitter.
Gen. John Nicholson, the top US commander in Afghanistan, said the massive bomb was the "right weapon against the right target".
Pressure builds on ISIL
ISIL has made some inroads into Afghanistan in recent years, attracting disaffected members of the Pakistani and Afghan Taliban as well as Uzbekistani Islamists.
But the group has been steadily losing ground in the face of heavy pressure both from US air strikes and a ground offensive led by Afghan forces.
Nangarhar Province is considered ISIL's last remaining stronghold in Afghanistan, but the group is active only in a few districts as Afghan and international forces have bombed a number of militant bases in the area since last August.
The group's actions have also been rejected and not welcomed by the Afghan people, adding additional pressure, Afghan analyst Ahmad Behruz told Salaam Times.
Farooq Bashar, an analyst and former Afghan university professor, echoed that sentiment, saying ISIL activities go against the principles and culture of Afghans.
This rejection of the group has been exemplified by the citizen co-operation with security forces against ISIL in Nangarhar, Bashar told Salaam Times.
[Najibullah from Kabul contributed to this story.]