KABUL -- A new media outlet dedicated solely to women's issues is defying years of Taliban oppression and violence against journalists.
Zan TV began broadcasting May 21. It airs various cultural, artistic, recreational, political and social programmes, all focused on women.
The channel -- one of hundreds of newspapers, TV and radio stations, and Web-based media outlets to launch post-2001 -- plays a unique role in Afghan society.
"The purpose of establishing this television station was an attempt to secure women's rights and to raise awareness regarding such rights," Gholam Jan Myrgan, director of Zan TV, told Salaam Times.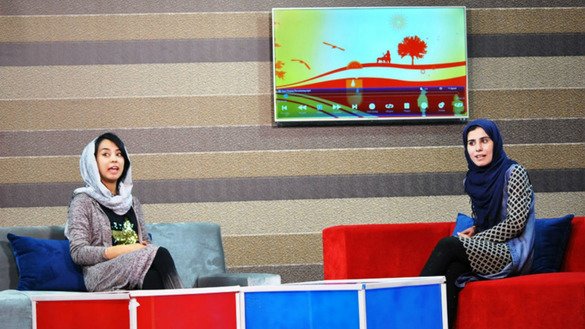 Zan TV has 70 employees, 48 of whom are women, according to Myrgan. All of the on-air employees are female, while their male counterparts work as production staffers and cameramen.
"While journalism in Afghanistan is a great challenge for men, it is an even greater challenge for women," he said, adding that despite those challenges, efforts must continue for the sake of democracy and women's rights.
Violence against journalists
At least 10 journalists were killed in Afghanistan in the first half of 2017, part of a 35% increase in attacks on journalists compared to the same period last year, the Afghan Journalists Safety Committee (AJSC) said in a report released Tuesday (July 25).
Taliban militants and the "Islamic State of Iraq and Syria" (ISIS) were behind most of the "direct and indirect" attacks on media workers in Afghanistan, the report said.
"Insurgent groups in provinces force journalists to self-censor by telling them either to broadcast what they want or to shut down their stations," Najib Sharifi, the director of AJSC, told reporters.
Afghanistan suffered its deadliest year on record for journalists in 2016, according to AJSC, with at least 13 media workers killed.
If the violence continues at the same pace, Afghanistan is on track for another record year of fatal attacks on journalists.
A voice for women
Along with the insecurity faced by all journalists in Afghanistan, female journalists battle social and cultural restrictions imposed on women.
"In addition to security concerns, the first struggle for a working woman in the community is dealing with her own family and relatives, followed by her struggle with others in society," Mehria Afzali, director of Zan TV's political department, told Salaam Times. "However, we continue to work with determination and we must persevere."
Afzali worked with various media outlets for two years before joining Zan TV.
"I started to work with this media outlet as soon as I heard a channel was established exclusively for women," she said. "I always wanted to serve Afghan women... I wanted to be the voice for women."
Afzali said her programmes on Zan TV aim to educate women about their rights and to gain men's support for women within their families.
"Afghan women need more awareness to better understand their rights and responsibilities," said Faryal Ahmadi, 26, who studies in a private university in Kabul.
Media, particularly radio and television, can play an effective role in raising women's awareness, she told Salaam Times.
"We welcome the establishment of an exclusive media outlet for women, since female reporters reflect on women's issues with more precision and pay meticulous attention to their needs," she said.