KABUL -- Despite having been on the air for less than six months, Zan TV is continuing to beat the odds and break the mold for women in Afghanistan.
For years, Afghanistan has been one of the most dangerous countries for journalists to work, especially for women.
In an attack carried out by the "Islamic State of Iraq and Syria" (ISIS) Khorasan branch on Radio Television Afghanistan (RTA) in Jalalabad on May 17, four employees were killed.
Just a few days later, on May 21, Zan TV began broadcasting various cultural, artistic, recreational, political and social programmes, all specifically focused on women.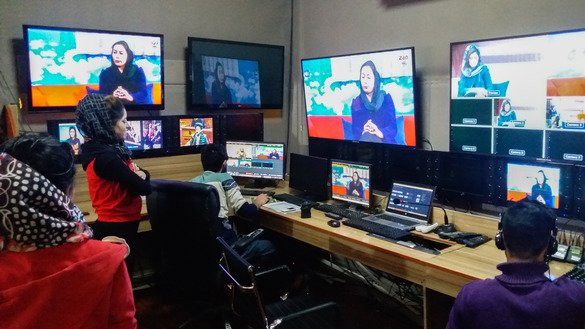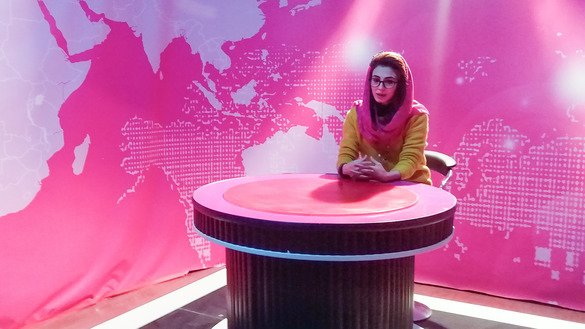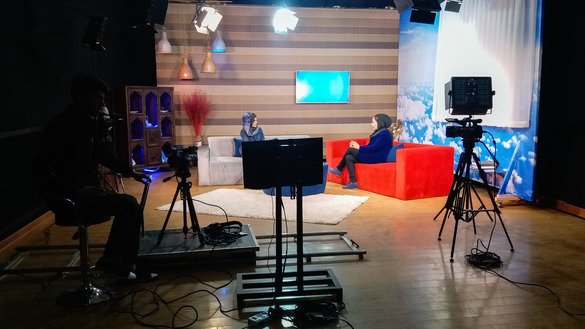 Last year was the bloodiest on record for journalists and media personnel in Afghanistan, with 13 journalists killed and scores wounded, threatened or otherwise harmed, according to the Afghan Journalists Safety Committee (AJSC).
The first six months of 2017 continued that trend. Authorities recorded 73 cases of violence against journalists, including killings, beatings, infliction of injury and humiliation, intimidation and detention. During that period, ten journalists were killed -- either directly targeted by terrorist groups or killed as a result of terrorist attacks, AJSC reported.
Militant attacks on journalists are still a very real threat.
On November 7, ISIS gunmen disguised as policemen stormed the Shamshad TV station in Kabul, killing at least two individuals and wounding about two dozen others in an assault that lasted about three hours.
Afghan special forces overpowered the attackers and freed staff trapped inside the building. The station went back on the air in an act of defiance just moments later.
Facing threats with bravery, honour
Despite the threats, the women working for Zan TV say they are undeterred.
"We have been threatened and faced with various forms of violence, but nothing can prevent me from doing my job," Freshta Mahbobi, 23, a Zan TV presenter, told Salaam Times. "I want to go forward, and such difficulties will not prevent me from moving ahead."
"Thanks to the passion I have for my work and the support I receive from my family, I want to portray the problems of Afghan girls and young women," she said.
"I am determined to prove that today's women are not confined to the walls of a house," she said. "I want to demonstrate their ability and to say that women can contribute to the development of a civilised society."
"Insurgent groups, in particular ISIS and the Taliban ... use [supposed] moral perversion in the media as a pretext to attack female journalists," Gen. Nazifa Zaki, a member of parliament representing Kabul, told Salaam Times.
Women in Afghanistan are engaging in journalism, "out of a great interest in getting involved in public awareness, and this is a very honourable task", she said.
Nonetheless, the threats are too much for some women.
Fattana Gilani, director of the Afghan Women's Network, said she knows some women who have left their jobs in journalism in Afghanistan and sought refuge in Europe because of security threats.
"How long will we continue to lose our talented ones?" she asked.
"It is very unfortunate to see an Afghan woman set herself free from hundreds of miseries and entanglements in society and go to work in media, and yet she still faces a wave of threats from the enemies of Afghanistan such as ISIS, the Taliban and other terrorist groups," she told Salaam Times.
Breaking cultural barriers
Shamala Niazi, 21, one of the presenters of Zan TV's social programmes, said her work is "revolutionary".
"There is not even one family among our relatives or even our tribe that allows its women and young girls to work," she told Salaam Times.
"One of my biggest goals is to break this traditional barrier and show that Afghan girls can develop and have the talent to work," she said, adding that she is ready to face the "psychological and physical problems" she encounters as a result of her career choice.
"We have several major problems for working women in Afghanistan," Mujeeb Khalwatgar, director of Nai, an Afghan media watchdog group, told Salaam Times.
"First, there are security threats. Second, there exists a belief against women working outside the house," he said.
The work of Zan TV and women journalists in Afghanistan is "praiseworthy" and heroic, Khalwatgar said. "Women's role in a society cannot be ignored."
"When a young lady dares to work in Afghan society, she faces serious hardships, including insecurity," Shugoofa Sediqi, news manager of Zan TV, told Salaam Times. "Yet ... we [women] have the right to work, not only in journalism but in all sectors."
"Our demand of the Afghan government, international supporters and law enforcement agencies is that Afghan female journalists have support and a healthy work environment," she said.
Moving forward
For its part, the Ministry of Women's Affairs said it is "very pleased" with Zan TV and considers it "an important step towards women's progress", according to Spogmai Wardak, deputy minister for planning and policy.
"We are determined to help attract the attention of domestic and foreign sponsors to invest in this TV station," she told Salaam Times.
Zan TV is gaining popularity among some 70 satellite stations in Afghanistan, said station director Hameed Samar.
"More than one million people watch Zan TV inside and outside of Afghanistan," he told Radio Free Europe/Radio Liberty in an interview broadcast October 19. "Our goal is for Zan TV to become one of the major TV stations in Afghanistan."
Zan TV provides a "golden opportunity" for Afghanistan, said Kabul-based civil rights and women's rights advocate Humaira Ayyubi.
"Every moment of broadcasting by this TV station equates to strong punches to the mouths of insurgents and of [those] who have violated women's rights," she told Salaam Times.