KABUL -- "Islamic State of Iraq and Syria" (ISIS) and Taliban militants are taking aim at education, closing schools in areas of Jawzjan and Ghazni province, local officials say.
In Darzab and Qush Tepa districts of Jawzjan, ISIS has shut down 75 schools, depriving more than 26,000 students from receiving an education.
ISIS elements are using a number of schools as military bases and storage for weapons and ammunition, according to Darzab District Governor Baz Mohammad Dawar.
"ISIS not only closed down schools but used residents of Darzab District as human shields, targeting security forces from [ISIS bases in] local residents' houses," he told Salaam Times, adding that a 65-year-old woman was killed in fighting between ISIS and security forces September 17.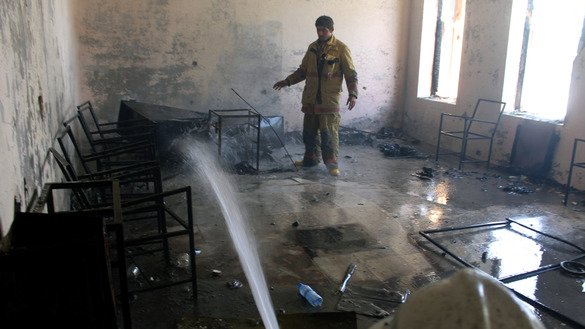 "In Darzab District, ISIS militants have destroyed 12 schools in one year," he said. "By shutting down 47 other schools, they have prevented 15,000 students in the district from continuing their education."
"Members of ISIS are prepared to reopen the schools under one condition: the teachers must pay the group at least two months of their salaries and the local people should pay them ushr and zakat," Dawar said.
"They want to fund their activities through collecting ushr and zakat," he said.
ISIS has shut down about 75 schools in Darzab and Qush Tepa districts, confirmed Abuldhai Yashin, Jawzjan's director of education.
"Almost 26,000 students are deprived of education in these two districts alone," Yashin told Salaam Times.
"Efforts by tribal elders and elites are under way, so that ISIS will allow the reopening of schools," he said, without elaborating on what steps elders are taking to make ISIS relinquish its demands.
Militants recruit among illiterate, ignorant
Meanwhile, in Ghazni Province the Taliban have put a limit on girls' education, warning that they will kill school principals and girls' families if they disobey the order, say officials
"The Taliban have ordered the principals of girls' schools not to allow girls to pursue education beyond the sixth grade and to shut down all girls' classes over sixth grade," Ghazni Provincial Council Chairman Khaliqdad Akbari told Salaam Times.
"They have threatened local families, saying that their daughters do not have the right to study beyond grade six and that if they do so, they will be killed," he said.
Akbari said the Taliban and ISIS want Afghans to be illiterate and ignorant so they can be easily swayed by extremist ideology.
"Ninety-nine percent of those who joined the Taliban and ISIS are illiterate individuals who are uninformed about Islam and its principles and do not know the value of knowledge," he said.
Mohammad Abed Abed, head of the Ghazni Province Education Department, confirmed the threats made by the Taliban against school principals, The province was forced to close 46 schools for lack of security, he said.
"All schools in Nawa District, which is under the control of the Taliban, are closed," he told Salaam Times, adding, "We have not been able to open girls' schools in Gilan and Giru districts because of the Taliban's threats."
Preventing girls from acquiring an education is un-Islamic, because Islam has made it obligatory for women to acquire knowledge and science, said Fawzia, a sixth-grader in Ghazni city.
"I have no fear of the Taliban's threats," she told Salaam Times. "I am ready to face death ... I will still continue my education."
Education is a religious obligation, human right
The Ministry of Education condemned the militants' closing of schools and destruction of educational centres, calling it a manifestation of the Taliban's and ISIS's animosity towards education.
"Terrorist groups and wars they imposed upon Afghans have closed the doors of more than a thousand schools in 24 provinces and have deprived tens of thousands of Afghan children of education," ministry spokesman Mujeeb Mehrdad told Salaam Times.
"Education is not only a religious obligation but a right for every human being. No group can take away this right," he said. "Therefore, we ask armed opposition groups to refrain from further damaging the education system of Afghanistan."
"The Taliban's and ISIS's actions prove that they are against schools, universities and education in general," he said. "The destruction of schools and educational centres by these groups is a sign of hostility towards education and towards the Afghan people."
"Islam has made it obligatory for both men and women to acquire science and knowledge," said Mawlawi Abdulkarim, a religious scholar and a resident of Sheberghan, Jawzjan Province.
"Denying girls an education and closing down schools ... contravene the principles of Islam and Afghan culture and traditions," he told Salaam Times.
"I explicitly say that shutting down schools, destroying educational centres, and preventing Afghans from learning and acquiring knowledge ... are un-Islamic and inhuman, and have no place in any religion," Abdulkarim said.