KUNDUZ -- The Taliban's latest act of oppression in Sar-e-Pul Province involves preventing more than 4,000 female students from going to school, provincial officials say.
Taliban militants are preventing schoolgirls grades six and higher from going to 22 girls' schools in Kohistanat District, as well as four girls' schools in Sancharak District of Sar-e-Pul Province, Ahmad Khan Begzad, director of the Sar-e-Pul Education Department, told Salaam Times.
In Sar-e-Pul, approximately 150,000 students, 40% of whom are female, are taught by 3,400 teachers, of which 40% are female, according to the Education Department.
"The Taliban issued a threatening statement against school staff and students in areas under their control, stressing girls should not continue their education or go to schools beyond the sixth grade," Begzad said.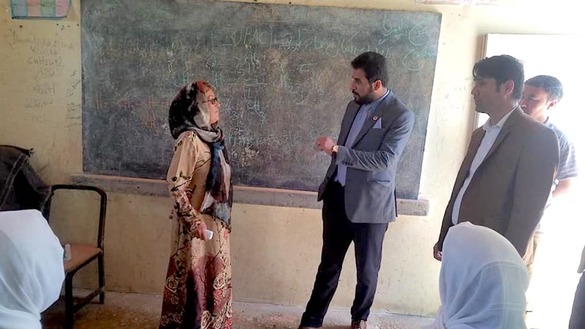 "Families do not send their daughters to school out of fear of the Taliban, and this is truly a great injustice against the public," he said.
"God almighty has made learning and seeking education mandatory to all men and women alike, and they should equally benefit from the blessing of education," he said.
"We call on local popular councils, influential individuals and our honourable scholars to start a discussion and conversation with the Taliban, so that these girls, who are sitting in their houses... are allowed back into school," Begzad added.
Crushing dreams
"My daughters' future is ruined," said Farkhunda, a 38-year-old mother of two female students in Sancharak District, who did not give her last name.
"I'm concerned about my daughters' future," she told Salaam Times. "My two daughters were studying in the sixth and eighth grades. Now, however, they cannot go to school."
This is due to "the Taliban's oppression and injustice", she said. "They are the main culprit when it comes to preventing girls from progress for they are the enemies of education."
"The Taliban do not allow us to go to school," said Simin Qaiumi, 23, an eighth-grade student at the Nawabad school in Kohistanat District, Sar-e-Pul Province.
"The situation previously was good when they allowed us [to go to school]; nowadays, however, they do not allow us to study beyond the sixth grade," she told Salaam Times.
"I am very enthusiastic about learning and acquiring knowledge, and I want to become a doctor in the future, but the Taliban do not let me reach my dreams," she said.
"I call on the government to provide our district with security and to reopen our school, so that we can continue our education," she added.
A crime against children
In Sancharak District, the Taliban have even turned some schools into bases, Sancharak District Governor Naqibullah Daqeeq told Salaam Times on May 8.
"The Taliban have turned Bahar Lu girls' school in the village of Tabat in Sancharak District into their headquarters, and now they use the school as a military base," he said.
"The Taliban in six villages of Sancharak District -- which are under their control -- have prevented girls from continuing their education beyond the sixth grade," Daqeeq added.
"It has been over a month since six of our villages have fallen under the control of the Taliban. The Taliban announced that moving forward, no one should send their daughters to school," he said.
"The Taliban have even told women not to leave house without a Mahram [a male family member]... they ordered men to grow a beard and said that anyone who shaves his beard will be prosecuted by the Taliban," Daqeeq said.
Muhibullah Farahmand, 42, a resident of Sancharak District, called the Taliban's actions a major crime against the country's children.
"Previously, we were extremely happy to see our children gain knowledge and obtain education inside these schools. Now, however, [schools] have been turned into military bases," Farahmand told Salaam Times.
"We call on the Taliban to please depart the schools for the sake of the holy month of Ramadan and to give students the opportunity to continue their education and studies," he said.
Reopening schools
The Ministry of Education, in co-operation with local elders and school council members, is trying to convince the Taliban to allow all students to attend school.
This ministry has launched efforts to solve the problem, Nuria Nuzhat, a spokesperson for the Ministry of Education, said on May 12.
"We're negotiating with the militants through school councils and local tribal elders," Nuzhat told Salaam Times, adding that "negotiations are proceeding."
"There are 30 schools that face threats from the militants in Sar-e-Pul Province, and eight of them are closed down," she said.
"The local government is trying to clear vulnerable areas of the presence of the Taliban by launching military operations," Zabiullah Amani, a spokesman for the Sar-e-Pul provincial governor, told Salaam Times.
"Once we clear areas that are under the control of the Taliban, we will resolve the educational problems of their schools too," he said.