HERAT -- The Taliban have again demonstrated their hostility toward girls' education by blowing up two girls' schools in Farah Province over a period of 24 hours.
Taliban militants on April 14 entered Shaheed [Martyr] Benafsha girls' school in the village of Tosaak, 20km from Farah city, and blew up the building. A day later, the insurgent group destroyed the Amir Sher Ali Khan girls' school in Nawdeh village, situated in downtown Farah city.
The Taliban attacks took place at night. No students or school administrators were harmed.
The Benafsha girls' school was destroyed in the explosion, and "unfortunately, it has caused some hardship for our students," Mohammad Azimi, director of the Farah Province Education Department, told Salaam Times.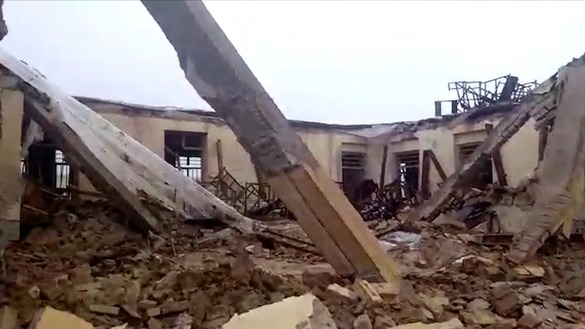 "Our school was a high school with more than 1,000 female students," he said. "There, our students studied in a normal way where all the teachers were female."
"This is the doing of the Taliban, for they had recently warned us about it," said Dadullah Qani, a member of the Farah provincial council.
"The Taliban had previously warned us, and the area where the [two] schools have been destroyed is inside opposition-controlled territory," he told Salaam Times. "Four vehicles with armed passengers blew up these schools."
The Amir Sher Ali Khan girls' school "was completely destroyed by the enemies of the Afghan people, and its equipment was burned up," he said.
The council has informed officials at the Ministry of Education and in the Farah provincial government, said Qani.
"We are in contact with tribal elders and local residents, and we are working to rebuild these schools and to provide a training ground for female students," said Azimi, the director of the provincial education department.
As a result of the recent school explosions, more than 2,000 students have been deprived of education, according to the department, which said it plans to rebuild the facilities.
The Taliban previously blew up or burned down four girls' schools in the province between March 2018 and March 2019, according to Azimi.
Enemy of education
The Taliban have repeatedly claimed that they are not against girls and boys going to school. Still, the group's members and commanders have targeted education facilities in various provinces, including Farah.
"The Benafsha girls' school was set on fire by the Taliban," Shah Mahmud Naimi, deputy chairman of the Farah provincial council, told Salaam Times. "For days, we were receiving warnings from Taliban militants and their [so-called] moral police, stating that the school must be shut down and its activities should be halted."
"Civilians called on the Taliban time and again, asking them not to prevent girls from going to school," Naimi said.
"Even the Taliban commanders in Farah brought up this issue with the Taliban Quetta Shura," he said. "Unfortunately, however, members of the insurgency-- who are enemies of schools and do not want girls to study -- blew up the two schools."
Taliban leaders such as Mullah Ghafar, Mullah Abdul Salaam and Zaher Hutak -- the self-proclaimed Taliban shadow governor for Farah -- "are indeed enemies of education and they target schools arbritrarily," Mohammad Sadiq Halimi, deputy director of the Farah Education Department, told Salaam Times.
"Four girls' schools in Karizak, Nawdeh, Tosaak, and Kuksheb were threatened by the Taliban, and members of this group blew up and burned down these schools," he added.
"Enemies of education in Farah are nothing but a bunch of slaves who target girls' schools based on their orders," he said.
Contrary to God
Afghans and religious scholars condemned the Taliban's destruction of the schools in Farah Province.
"The objective of enemies of Islam and slaves of foreigners is to shut the doors of education and to turn off the light of knowledge in Farah," said Qani, the member of the Farah provincial council.
"As a representative of the public, I would say that we, the people of Farah, will stand up against these black-hearted individuals," he added.
"Islam has greatly emphasised education," Abdul Jabbar Mutmaen, director of the Hajj and Endowment Department of Farah, told Salaam Times.
"[Islam] has even made it mandatory for all Muslims, men and women alike, to pursue science and education," he said. "According to Islam, it is necessary for girls and women to go to school and nobody should stop them from doing so."
Those who destroy schools "in the name of Islam should know that their action is rejected by Islam," he added.
"There were hundreds of books, even copies of the Holy Koran, in those schools, which have been ... burned up. How do the Taliban dare prevent girls and boys from going to schools, in an act contrary to God's command?"