HERAT -- The Afghan National Army (ANA) is doing more than providing security to Herat Province; it is also helping to give impoverished schoolchildren a leg up in education.
The ANA, in a campaign that began March 25, distributed much-needed materials such as backpacks, pens, notepads, shoes, tents and carpets to poor students in Herat schools.
"We brought a number of materials donated by Camp Arena (an Italian military base in Herat Province) and distributed them in schools," Lt. Saleh Muhammad, operations officer at the 207th Zafar Corps of the ANA, told Salaam Times.
The troops expect to receive more donations this year "from our international friends, like Camp Arena, and distribute them to schools in need", he said.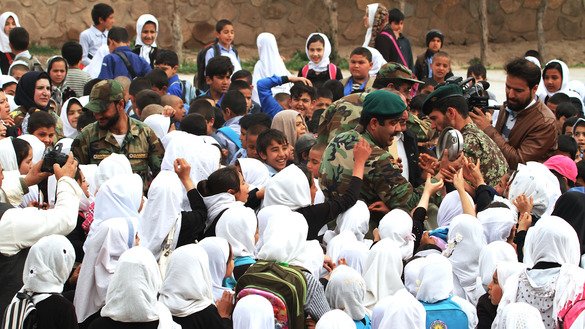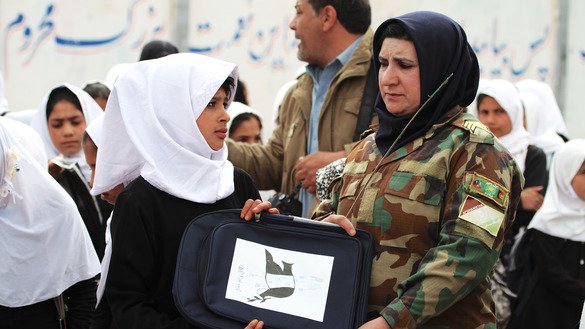 Since March 21, the army has distributed supplies to 28 schools and villages, and next year as many as 35 schools will be targeted for donations, he added.
Schoolchildren rejoice
The campaign by the ANA has earned the gratitude of schoolchildren, education officials and residents of Herat Province.
"The ANA helped me -- it gave me shoes, a flag and a backpack," Asma, 8, a second-grade student in Injeel District of Herat, told Salaam Times.
"I'm happy that it helps the poor so that they can go to school and advance in the future. I'm proud of the ANA and thank it for its help," he said.
Simagul, a 10-year-old third-grade student in the district, was also enthusiastic in her praise of the efforts of the military.
"We are very happy, and we thank the ANA for helping the poor, like us," Simagul said. "We live in peace because of it. We needed backpacks and notepads, and the ANA gave them to us."
The army's donations will spur more poor students to return to school, according to local education officials.
"The ANAs assistance is very important to us," Rohullah Azhad, director of the Herat Department of Education, told Salaam Times. "There are hundreds of students who skip school because of poverty, and this assistance helps encourage students to go to school. We welcome this support."
"The Department of Education has very close relations with the ANA," he added. The 207th Zafar Corps "donated 105 computers to us a while ago that satisfied most of our needs".
The aid not only motivates impoverished students but their families as well, said Muhammad Inam Guldarayee, safety and security manager at the Herat Education Department.
"These packages of assistance are very helpful because we're a poor nation and because many students can't afford school materials," he told Salaam Times. "This support encourages families to send their children to school."
"There are poor children who don't have backpacks, pens and notepads, and when they receive these materials, they're inspired to study, and this is how they grow," he added.
'The people's only hope'
"The security forces are the people's only hope," Ajmal Behboodi, 29, a resident of Herat city, told Salaam Times.
"Security forces have won Afghans' hearts by the support they provide. In addition to maintaining security, they extend support to the affected families during natural disasters," he said.
"Security forces are the children of this land and our brothers, who work around the clock to ensure security -- making all of us Afghans proud," Waheed Ahmad Mehri, 25, a Herat city resident, told Salaam Times. "In addition to ensuring security and fighting the terrorists, the security forces deliver social services."
"We see that they help the education community," he added.
"After the floods erupted and caused losses, we saw that the ANA arrived at the affected areas and rescued survivors [trapped in the floods]. This is a great service, and we have to be proud of our security forces -- especially the army," he said, referring to recent floods that have ravaged Afghanistan.
Appreciation for the efforts of the ANA among Afghan citizens is growing, said Sayed Ashraf Sadaat, a civil-society activist in Herat.
"The national forces are the public's only hope as they're most often seen among civilians and helping them," Sadaat told Salaam Times.
"The defence forces have stood with their people," Sadaat added.