KABUL -- Afghans from all walks of life are ridiculing a Taliban claim that the reason the group kept girls from going to school was for their own protection.
"During the reign of the Taliban [1996-2001], we had wars and insecurity, and for that reason, they did not allow women and girls to leave their homes, whether it was to attend schools, to go to work, etc.," Sayed Akbar Agha, a former senior Taliban official who now lives in Kabul, told Salaam Times in January.
"The Taliban did not want Afghan women and girls to leave their homes and risk their dignity and honour," he said. "The Taliban leadership ... unanimously agreed that women should not be allowed to study or work outside their homes."
"If the education of women is in accordance with Sharia law, and if security is provided, the Taliban will allow [girls] to study and to become educated," he said.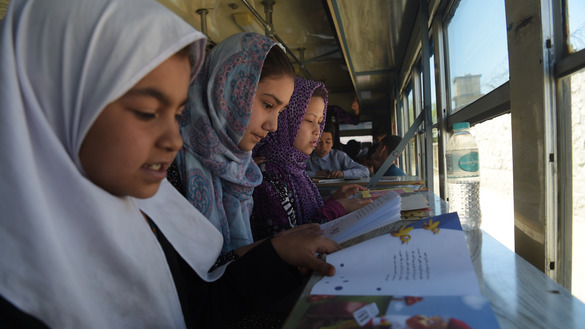 Religious scholars, analysts and Kabul residents, however, are mocking that rewriting of history.
'A preposterous excuse'
The Taliban's invocation of wartime as a pretext for keeping school-aged girls ignorant and confined to their homes "is nothing but a preposterous excuse", Fawzia Safdari, 46, a Kabul schoolteacher, told Salaam Times.
"I remember very well that there was no war in Kabul when the Taliban ruled that city," she said. "Nevertheless, women and girls had to stay at home like prisoners."
"The Taliban's views are un-Islamic," she said. "In no religion or sect have women ever been deprived of their right to learn."
"They lie," Yunis Fakur, a political scientist in Kabul, told Salaam Times, referring to the Taliban. "Under Taliban rule, all women and girls were denied their right to education, as well as all other rights."
The Taliban wish to "keep the Afghan people illiterate and far from the civilised world", he said. "They want to easily implement their radical ideology."
"The Taliban believe that women may study only the Koran, learn ablution, pray and stay at home," Fakur said. "Islam, on the contrary, has granted rights and responsibilities to women and men alike. It says women's education is mandatory."
Creating a generation of "illiterate Afghan women" means their children will be equally ignorant and malleable, warned Nuria Nuzhat, a spokesperson for the Education Ministry.
"The number of female students in Afghan schools has been rising every year since 2001," she told Salaam Times.
"Almost 9.65 million students are going to school this calendar year," she said. "Of them, 3.6 million are girls -- an increase of 203,028 girls from the previous year."
Intentionally hindering girls' education
The Taliban act out of ignorance, according to religious scholars.
"The Taliban are unaware of true Islamic doctrine," said Kabul-based religious scholar Salem Hasani. "They are intentionally hindering girls' path to education."
"Islam and the Koran never said anything about preventing women from learning," he told Salaam Times, adding that the Taliban's harsh attitudes impose a very high cost on Afghan women within their reach.
"At this very moment, there is no high school for girls in areas held by the Taliban, since, according to the Taliban, girls may study only between the ages of 7 and 11," Hasani said.
"Islam has never established an age limit for girls or boys to learn," he said. "The Islamic principle is that both women and men can and should study from cradle to grave."
A far cry from Taliban days
Afghan women who obtained an education despite the Taliban's oppression have no time for the militant group's ideas about what they should or should not do.
Even though Afghanistan is embroiled in war and insecurity now, "millions of girls are attending schools and colleges", said Tahmina, a law and political science student at a private university in Kabul.
"Taliban efforts to prevent girls' education are ... systematic and premeditated," she told Salaam Times. "They've burned down hundreds of girls' schools, killed many female educators in some provinces and threatened female university students with murder. Do they have any reasonable justification for their actions?"
"Girls' education is among the greatest achievements of the Afghan government and the international community," she said.
Tahmina started her education after the fall of the Taliban.
"I have working knowledge of computers, the internet and English," she said. "I am proud to study and consider my achievements -- and the achievements of millions of other Afghan girls -- the outcome of the Taliban's collapse and of co-operation with the international community."