NANGARHAR -- Residents of Musa Khil District, Khost Province, decided in a tribal jirga earlier this month to establish a 5,000 AFN ($70) fine for anyone who prevents girls from going to school.
In some cases, male family members prevent female relatives from going to school. Under the new measure, the head of any family who is caught doing so will have to pay a fine to a designated committee assigned by tribal elders.
Elders of the Mangal tribe, invited by district officials, met May 13 at the Zor Kot High School, where they decided to make education compulsory for girls.
The discussion concerned only girls' education. Boys' education in the district is still not compulsory.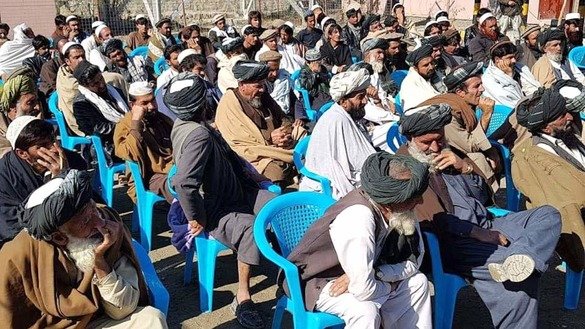 The tribal elders announced the decision in a memorandum, which said that even as girls get older, they will not be prevented from obtaining and completing their education.
"We think that women and men should equally obtain an education in Musa Khil ... and across the country," the announcement said.
"Taking into consideration the value of education in religion and among humanity, [we] the residents of Musa Khil District consider it our responsibility to provide educational opportunities to our sisters and daughters [while considering] the Islamic hijab and other guidelines," it said.
"In light of religious orders, we, the elders of Musa Khil District stand against those who oppose girls' education... as Afghans and Pashtuns, we consider it our religious duty to prevent the spread of ignorance and darkness," the memorandum said.
Waking up from ignorance
"We, the residents of Musa Khil, decide that whoever opposes girls' education will have to pay 5,000 AFN [$70] as a fine to the [tribal council]," civil society activist Saeedullah Haqmal said at the jirga.
"We want this trend to expand to other areas and to send a message to the public to wake up from ignorance and to join the struggle because women and girls are part of this society too," he said.
"Their education should not be obstructed. They have to become doctors, engineers and teachers, and they have to work alongside men," Haqmal said.
Denying girls an education has created a shortage of female doctors and nurses, which in turn contributes to the death of women during childbirth, the elders said at the jirga.
"If they were educated, we would not have this problem. We want an education for women," said Mandayer, a tribal elder.
Eliminating such difficulties requires training everyone's sisters and daughters so they do not have to go through life depending on others, said Gulab Mangal, the district governor.
Developing the education sector
The tribal elders at the jirga asked the provincial education department to provide both girls and boys with appropriate educational facilities in the remote district.
There are 351 functional schools in Khost Province with more than 280,000 students, of whom at least 40% are girls, according to the provincial education department.
Naseer Ahmad Roshan, director of the provincial education department, who alongside other officials visited Musa Khil District to take part in the jirga, pledged to increase attention to the district's education sector in light of the recent decision.
"I will invite organisations, NGOs; I will tell them that the people are ready... they are ready to send their boys and girls [to school], but that they do not have facilities," he said. "I will tell them, 'Give them the facilities so that they can stand on their feet.'"