KABUL -- In a madrassa in Kabul, rows of teenage girls rock back and forth reciting verses of the Koran under the watchful eye of a religious scholar.
The number of Islamic schools has grown across Afghanistan since August 2021, with teenage girls increasingly attending classes after they were banned from secondary schools.
"We were depressed because we were denied an education," said 16-year-old Farah, a veil covering her face and hair.
"It's then that my family decided I should at least come here. The only open place for us now is a madrassa."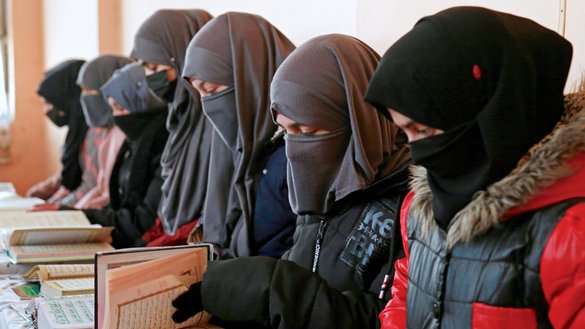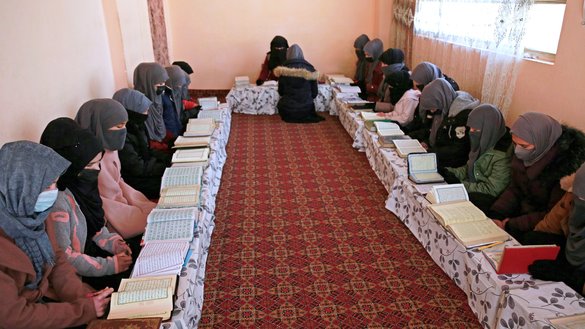 Instead of math and literature, the girls focus on rote-learning the Koran in Arabic -- a language most of them do not understand.
Those who want to learn the meaning of the verses study separately, where a teacher translates and explains the text in their local language, either Dari or Pashtu.
AFP visited three madrassas in Kabul and in Kandahar, where scholars said the numbers of girl students have doubled since last year.
For Farah, her ambition of becoming a lawyer was dashed when authorities blocked girls from secondary school -- and months later banned women from attending university.
"Everyone's dreams are lost," she said.
Still, Farah -- whose real name has been changed to protect her identity like other students AFP interviewed for this story -- counts herself lucky in that her parents allowed her to attend classes at all.
'No future in madrassas'
There has been a litany of excuses for the closure of girls' schools -- from a lack of funds to the time needed to remodel the syllabus along Islamic lines, and the need for segregated classrooms and Islamic uniforms, which were largely already in place.
The reality, according to some officials, is that ultra-conservative clerics are deeply sceptical of modern education for women.
Hosna, a former university student studying medicine, now teaches at a madrassa in Kandahar, reading verses of the Koran to a class of more than 30 girls who repeat the words back to her.
"Studying in universities helps to build a future, makes us aware of our rights," she said.
"But there is no future in madrassas. They are studying here because they are helpless."
The madrassa, located in an old building, has small classrooms with no electricity.
Despite the financial constraints faced by the management of the school, dozens of students attend classes for free.
The educational value of madrassas is subject to fierce debate, with analysts saying they do not provide the necessary skills for gainful employment as adults.
"Given the present conditions, the need for modern education is a priority," said Abdul Bari Madani, a scholar who frequently appears on TV to discuss religious affairs.
"Efforts need to be taken so that the Islamic world is not left behind... letting go of modern education is like betraying the nation."
Other outspoken supporters of women's rights and girls' education have faced threats and even arrest by the authorities.
Meanwhile, the authorities are "thinking day and night on how to increase madrassas", according to Niamatullah Ulfat, director of Islamic studies at Kandahar province's education department.
"The idea is that we can bring the new generation of this country into the world with good training, good teachings and good ethics," he said.
Girls determined to learn
Yalda, whose father is an engineer and mother was a teacher before losing her job when the schools were closed, was top of her class at her old school.
She still shines at the madrassa and has memorised the Koran within 15 months.
"A madrassa cannot help me in becoming a doctor... But it's still good. It's good for expanding our religious knowledge," the 16-year-old said.
The madrassa, on the outskirts of Kabul, is divided into two blocks -- one for girls and the other for boys.
Still, classes are held at different times to ensure there is no interaction at all between the two sexes.
Several girls told AFP that attending a madrassa does provide some stimulation -- and the chance to be with friends.
"I tell myself that some day the schools might open and my education will resume," said Sara.
If not, she is determined to learn one way or the other.
"Now that there are smartphones and the internet... schools are not the only way to get an education," she added.
Across Afghanistan girls have found ways to overcome the closure of their schools, including learning through home schooling, online education and even educational radio programming.
Others have found respite -- and job opportunities -- through vocational training courses.