KUNAR -- "Islamic State of Iraq and Syria" (ISIS) and Taliban militants based in the mountainous and forested districts of Kunar Province are illegally logging and extracting minerals to fund their activities, local officials and residents say.
The illegal timber trade is taking place in four areas of Kunar Province, including Chapa Dara, Manogi and Sawkai districts and Asmar city in Bar Kunar District, said Inamullah Sapai, provincial director of agriculture and livestock.
Because those areas are in militants' hands, it is "without doubt" that the illegal lumbering and mining are funding their fighting, he told Salaam Times.
ISIS and Taliban fighters have seized control of the forests in Chapa Dara and Manogi districts, confirmed Mohammad Sapai, chairman of the Kunar provincial council.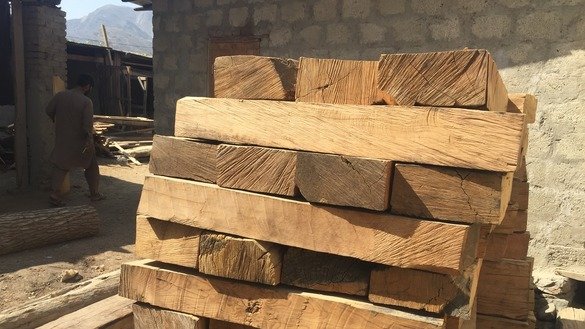 "There is an ISIS commander named Noora who has started cutting forests in the Nanglam Valley of Manogi District to fund his fighters," he told Salaam Times. "Whether they are Taliban or ISIS, all of them take money from cutting the forests and from [mining] and fund a part of their operations."
Sapai termed the resource looting "great cruelty", calling it a betrayal of the Afghan people and their national assets.
Forests, other natural resources destroyed
Thirty years ago, forestland in Kunar Province covered about 324,000 hectares, making up 25% of Afghanistan's total forests, according to the Ministry of Agriculture. Now, however, at least 50% of Kunar woodlands have been destroyed, say officials.
Estimates of the number of illegal mines in Kunar do not exist, but smuggling has occurred for years in districts containing tourmaline, chromite and other precious mineral deposits.
"There are tribal council agreements in many districts that prohibit the public from cutting the forests and extracting from the mines," said Abdul Ghani Musamim, a spokesman for the Kunar provincial governor. "However, [the illegal activities] are going on in some areas."
"It is a fact that ISIS and the Taliban both make money from it," he told Salaam Times.
Tribal agreements prevented the forests from being cut down until several years ago, said Sabir, 29, a resident of Chapa Dara District.
"Now the forests are cut down, and ISIS and the Taliban take their part," he told Salaam Times in a telephone interview. "Most of the benefits go to the Taliban and ISIS. The nation is against this [looting], but it is unable to do anything."
"The mines have the same fate, and there are tens of mines in Chapa Dara District where ISIS and Taliban militants are working," Sabir said, adding that the minerals they extract fund their activities.
Militants extorting money from residents
The forests of Manogi District lie outside government control, residents say, and ISIS and the Taliban are taking advantage of that situation.
It is not clear whether the militants are working together in Chapa Dara, but ISIS and the Taliban are not clashing in the district as they have in other parts of Afghanistan.
"Here, in the mountains, many members of ISIS and the Taliban are taking part in cutting the trees and extracting precious stones from the mines and smuggling [them]," said Faqirullah, a resident of Chapa Dara District who used an alias to protect himself.
The Taliban control a greater number of the illegal operations than ISIS does in the area, said Khalid, 35, a resident of Manogi District.
Local miners have to pay part of their income to Taliban and ISIS members, Khalid told Salaam Times. "Otherwise, they will be beaten and even killed."