KABUL -- A suicide attacker blew himself up Thursday (November 16) outside a wedding hall in Kabul where a political gathering was taking place, killing at least 14 people and wounding 18 others, according to officials.
Supporters of Atta Muhammad Noor, the governor of Balkh Province and a vocal critic of Afghan President Ashraf Ghani, had been holding an event inside the wedding hall at the time of the blast. Noor was not at the event, one of his aides told AFP.
The bomber tried to enter the building but was stopped at the security check-point where he detonated his device, Kabul police spokesman Abdul Basir Mujahid told AFP.
"A number of our police are among the casualties," Mujahid said.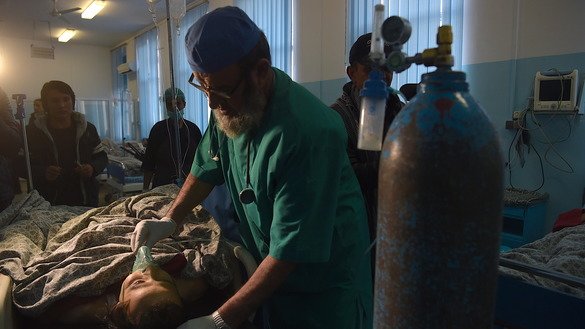 "As a result of today's suicide attack eight police and six civilians have been killed while a further 18 have been wounded," said the spokesman.
The "Islamic State of Iraq and Syria" (ISIS) claimed responsibility through its Amaq propaganda agency.
Chaos and panic
"After lunch, as we were exiting the hall, a huge explosion shook the hall, shattering glass and causing chaos and panic," Harun Mutaref, who was at the gathering, told AFP.
"I saw many bodies including police and civilians lying in blood."
The wedding hall's windows were shattered by the force of the blast and a vehicle parked outside was on fire, said an AFP photographer.
Dozens of police and intelligence officers have swarmed the area and blocked access to the public.
Photos posted on Twitter showed multiple bodies of men lying on top of each other in a muddy street and in a drain, and people dragging away the wounded.