KANDAHAR -- A minivan packed with explosives detonated as security forces were trying to defuse it Tuesday (May 22) in Kandahar city, officials said.
Police and intelligence officers had cleared the area around a bus station where the van was found, said Daud Ahmadi, spokesman for the provincial governor.
"As the security forces were trying to defuse the van, it detonated," police spokesman Mohammad Qasim Azad said.
"The latest figures show 16 dead and 38 wounded people brought to the hospital. We still have two ambulances at the site because there might be more people under the rubble," said Dr. Nehmat Barak, chief of the Mirwais Hospital in Kandahar.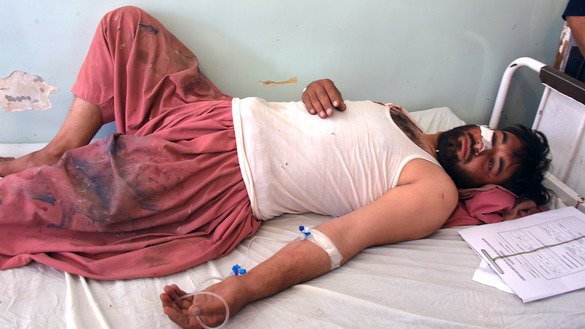 Ahmadi said the dead included four security personnel. At least five children and 10 members of the security forces were among the wounded.
Powerful explosion
The blast was so powerful that the majority of the casualties were passers-by outside the cleared area.
Security forces also found a large container of explosives, rocket-propelled grenades, suicide vests and ammunition near the site, according to Ahmadi.
"The terrorists planned to conduct a big attack at the end of Ramadan in the city among crowds of people as they went out shopping for Eid ... security forces prevented a disaster from happening," a security official told AFP.
President Ashraf Ghani condemned the violence and praised the "brave" officers who dealt with it.
No group immediately claimed responsibility.