KABUL -- At least 12 people were killed and 20 wounded, including children, when a minivan packed with explosives detonated during Kabul's morning rush hour on Wednesday (November 13).
Four foreign nationals were among those wounded in the attack that targeted an SUV belonging to a private Canadian security company, GardaWorld -- in a crowded neighbourhood which is near the interior ministry and north of Kabul airport.
"As a result of today's attack in Kabul, 12 people, including three children, were killed and 20 were wounded including four members of Gardaworld," said Marwa Amini, an interior ministry spokeswoman.
Interior Minister Masood Andarabi said that one of those killed was a 13-year-old child heading to school.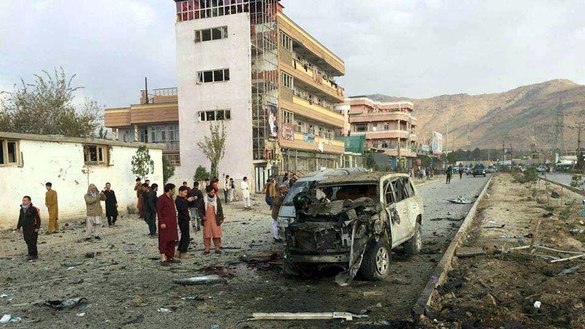 "The enemies of our people should know that our people are determined for peace, nothing can stop them from achieving peace," he said.
The blast was detonated by a suicide bomber in the vehicle, a ministry source told AFP.
The blast damaged several vehicles in the area, an eyewitness told TOLOnews, adding "the victims have been taken away by ambulances."
'Inhuman crime'
Five children were killed, another source told TOLOnews.
There was no immediate claim of responsibility. Both the Taliban and the "Islamic State of Iraq and Syria" (ISIS) are active in the city.
President Ashraf Ghani "condemned the inhumane crime in which civilians and innocent children have been martyred," the Afghan Presidential Palace tweeted.
"The nation's firm determination for reaching peace, prosperity and development will not be hampered by such cowardly acts of the enemy," Ghani's office said in a statement.
Civilians continue to pay a disproportionate price in Afghanistan's brutal war.
Last month, the United Nations (UN) released a report saying an "unprecedented" number of civilians were killed or wounded in Afghanistan from July to September this year.
The figures -- 1,174 deaths and 3,139 injured from July 1 until September 30 -- represent a 42% increase over the same period last year.
The UN laid most of the blame at the feet of "anti-government elements" such as the Taliban.
The UN recorded 8,239 civilian casualties in total in the first nine months of 2019 -- 2,563 killed and 5,676 injured -- with the majority caused by suicide attacks or improvised explosive devices.
About 41% of them were women and children, according to the UN Assistance Mission in Afghanistan (UNAMA).
"The impact of Afghanistan's conflict on civilians is appalling," said Fiona Frazer, UNAMA's human-rights chief.