KABUL -- Elected officials and ordinary Afghans are commending the government's efforts to rein in rogue warlords and militia leaders, demanding that they be tried for their crimes and oppression.
The Defence Ministry announced August 6 that three illegal militia commanders had been arrested in July based on decisions made by provincial military councils in Faryab, Uruzgan and Farah.
Such councils are headed by provincial governors and comprise local police and security forces.
Authorities arrested Nizamuddin Qaisari in Faryab Province July 2 after he allegedly insulted and threatened to kill officials during a provincial security meeting. On July 5, authorities detained Mohammad Daoud Mubarez of Farah Province and Rahimullah of Uruzgan Province.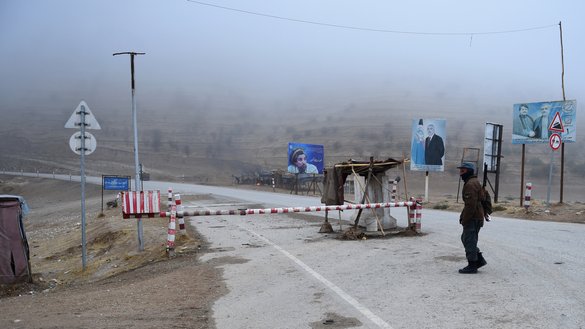 Qaisari and Rahimullah are accused of leading illegal militias in their respective areas, the ministry said. Mubarez allegedly used his position within the Afghan security forces to sell weapons and control of security check-points to the Taliban in Parchaman District, Farah Province.
All three were handed over to the National Directorate of Security for further investigation.
The announcement coincided with a meeting August 6 between President Ashraf Ghani and representatives of Afghanistan's political parties in Kabul, where he highlighted the need to hold illegal militias and rogue power brokers accountable for their actions.
"Making three or four arrests is not the end of the job," Ghani said. "The law is clear, and I feel responsible to enforce the law."
Oppression in Faryab
A number of Faryab Province residents gathered in front of the Afghanistan Independent Human Rights Commission in Kabul July 23, demanding that Qaisari be tried for his alleged crimes.
Fayzullah, a resident of Faryab, accused Qaisari of using weapons and tanks to abduct his daughter-in-law and then kill her two years later.
Qaisari oppressed the local population and must be questioned, said Mohammad Gul Barakzai, another Faryab resident.
"According to [Qaisari] himself, my 25-year-old son was killed by [Qaisari's] commanders. We want justice from our government," he told Salaam Times.
"[Qaisari] has committed many killings in areas under government control, including inside the market, in the centre of the district, etc. He even forcibly took woman [as wives]," Fathullah, who is from the same district as Qaisari, told Salaam Times.
"For example, someone complained that [Qaisari] took his wife and handed her to one of his soldiers. Someone else stepped forward and said that [his] brother was murdered in the bazaar," he said. "Yet another complained that '[Qaisari] had his eyes on two acres of my land, which I refused to give to him. In retaliation, he shot both me and my son'."
"If these accusations are true, then he must be held responsible. If they are otherwise proven wrong, then [the surge in accusations] has to be investigated," he said.
"The government is cleansing the provinces of [criminals]," he said. "The ones who harm the public and disobey the government deserve to be arrested."
Meanwhile, members of the Junbish-i-Mili party have been protesting Qaisari's detention.
Qaisari also has the support of First Vice President Abdul Rashid Dostum, the leader of that party, who returned to Afghanistan on July 22 after more than a year in self-imposed exile. Dostum met with Ghani Tuesday (August 7) about a range of issues, including the Qaisari case.
Qaisari's backers are ignorant of how much he oppressed ordinary Afghans, said Fathullah Qaisari, a representative of Faryab in the Wolesi Jirga (lower house of parliament).
Operating outside the law
Mubarez also allegedly abused his power. He, his uncle and his brother held high-ranking government positions in Parchaman District.
Local residents in a legal petition accused of Mubarez of committing crimes, including murder, according to a report published in 2015 by Pajhwok Afghan News. They claimed that hundreds of district families had been forced to flee the oppression committed by Mubarez and his colleagues.
Anyone who "takes advantage of the name and weapons of the government" should be investigated, said Humaira Ayubi, a representative for Farah in the Wolesi Jirga.
"If there is evidence against anyone, whether it's a high-ranking official or even the president himself, everyone should follow the law, and I support any action that is lawful," she told Salaam Times.
Residents of Uruzgan Province voiced similar support for Rahimullah's arrest.
"Rahimullah and his gunmen did not adhere to the law and did whatever they pleased," said "Samiullah", 28, a resident of Uruzgan studying at a private university in Kabul who requested a pseudonym for fear of retribution. "Everyone was afraid of him."
"Rahimullah had illegal militiamen under his command and was able to do what he pleased, since he was a brother of Mutiullah, a former Uruzgan provincial commander, and also because he has lots of money," he told Salaam Times.
"We are now very happy that the government has so much power that it can arrest outlaws and oppressors," he said.
"What the Afghan government has done is not merely a good and appropriate act," said Ubaidullah Barakzai, who represents Uruzgan in the Wolesi Jirga. "Rather, it is an obligatory and a necessary act, which was demanded by each and every Afghan citizen."
"Residents of Uruzgan have never felt as calm in the past 14 years as they do now," he said.
Barakzai was the chairman of the Complaints Committee in the Wolesi Jirga for eight years.
"There were 66 complaints filed against Qaisari regarding fraud, [assault on] women, rape and murder," he told Salaam Times. "He did whatever he wanted, and this also applies to others who were arrested."
Enforcing rule of law
The public supports the arrest of warlords and militia leaders and expects such criminals to be stopped, said Abdul Kabir Ranjbar, a former Kabul representative in the Wolesi Jirga and a member of Afghanistan's Lawyers Union.
"This action should have taken place a long time ago," he told Salaam Times. "The illegal militiamen harass the public. They follow their own rules and disregard the law.
"One of the factors contributing to the continuation of war is the existence of illegal gunmen," he said. The crackdown is "an appropriate action and if it continues and becomes institutionalised, the ground will be prepared for enforcing the law".
"If these unauthorised gunmen are stopped, it will help about 80% in providing security," Barakzai said. "If the government stops them, peace will prevail."
"Many residents had complained about [illegal] acts in the provinces of Faryab, Uruzgan and Farah," Shah Hussain Murtazawi, deputy spokesman for the president, told Salaam Times.
"This trend [of cracking down] is not going to stop," he said. "We will take measures against those whom the public has complained about."