KABUL -- Afghanistan's continuing crackdown on warlords and local power brokers is drawing praise from Afghan lawyers, lawmakers, civil society activists and local citizens.
Strongmen and the commanders of armed militias are the cause of increasing insecurity and instability in the country, and their arrest and imprisonment ensure that justice and the rule of law prevail, observers say.
Committed to justice
"Regarding the illegal groups and armed gangs against whom there are public charges and complaints, the government has decided to arrest them and hand them over to the justice system," Interior Ministry spokesman Najib Danish told Salaam Times December 8.
"We have begun arresting these individuals and groups in Faryab, Farah, Zabul, Uruzgan and northern Afghanistan, and the process of arresting such individuals and groups continues," he said.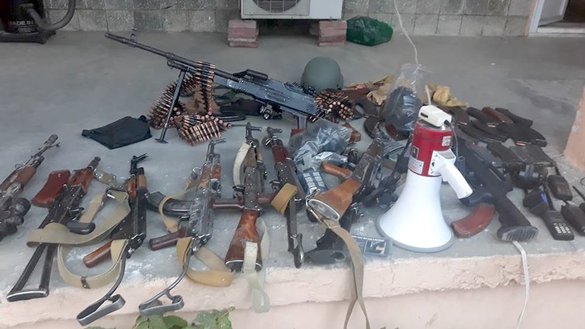 "There are a host of public complaints and criminal charges against those who are arrested by the security forces," Danish said. "We first arrest them and then hand them over to the judicial and legal authorities so that the judicial system of Afghanistan can review and address the existing complaints and accusations against them."
These armed groups are illegally making money -- through corruption or extortion -- as they intimidate others by using guns, he said. "The government is determined to arrest them in order to establish stability and order."
"Implementing the law, ensuring the rule of law and safeguarding the safety and financial security of the public are one of the most important objectives behind arresting of such individuals and groups," Danish said.
"Our security institutions are the only authorities who may use force," said Shah Hussain Murtazawi, the deputy spokesman for the Afghan president.
"We strive to establish and institutionalise a legitimate culture of using of force in the country, and the government does not allow illegal gangs and armed individuals to use force and weapons," he told Salaam Times December 9.
Owning a gun is illegal in Afghanistan unless the government authorises it.
"Security forces arrested a number of illegal gunmen based on the public complaints they received from residents of Uruzgan Province, as well as from the local residents of Pur Chaman District, Farah Province," he said. "Meanwhile, our security forces have recently arrested yet another outlaw armed commander in Takhar Province."
"The Afghan government is committed to fighting all illegal armed groups," Murtazawi said.
Sacrifices for rule of law
A recent standoff between Kabul police and Tamim Shansab, the supposed chief of a security company, is one example of the government's commitment to cleaning up the arsenals of illegal groups.
The standoff started December 3 and lasted at least 20 hours, according to local media reports. An Afghan police officer and a security guard were killed, while six police officers and a journalist were injured, reported Radio Free Europe/Radio Liberty.
The gun battle ended when Shansab surrendered to police on December 4 along with 18 of his private security guards, according to Kabul Police.
Police seized 17 types of weapons from the residence, including a rocket-propelled grenade, AK-47, and more than 15,000 bullets and assorted military uniforms, TOLOnews reported.
"No security company under the name of Tamim Shansab is registered at the Ministry of Interior," said Mohammad Salim Almas, director of the Kabul Police Criminal Investigation Department.
"When you see all this evidence, you realise that there was something going on here," said Kabul Police spokesman Basir Mujahid. "When you see this big house with a large number of illegal armed men, an investigation must determine the details of what was going on here."
Shansab is in the custody of the National Directorate of Security (NDS) as an investigation proceeds.
Welcoming the arrest of warlords
Kabul residents praised the government's continuing fight against warlords and power brokers who terrorise the public and create chaos.
"These warlords are involved in most armed robberies in Kabul and in other provinces, as well as on highways, and their armed members always harass civilians," said Abdul Wali, 36, a taxi driver and resident of Kabul.
"I'm pleased to see that our security forces arrest them because imprisoning these bandits is a good measure," he told Salaam Times.
"Elimination of illegal groups and of gunmen is the wish of all Afghans," Harun, 21, a Kabul resident who sells burgers at the Dahana Bagh Zanana market, told Salaam Times. "We call on the government to arrest and try all such individuals, regardless of their tribal or linguistic affiliation."
Afghan lawmakers also support the crackdown.
"These groups have committed many crimes including kidnapping, extortion, murder, robbery, banditry, drug trafficking, raping of children, usurping of lands and properties, rape, illegal mining, and dozens of other illegal acts," Meshrano Jirga (Senate) Deputy Chairman Mohammad Asif Sediqi told Salaam Times.
"We have talked with security agencies about the armed groups," he said.
"We welcome and support the arrest and trial of these criminal groups, and we call on the government to arrest and imprison all such groups as soon as possible in order to provide stability, security and rule of law all over this country," he said.
"Warlords, illegal [gunmen] and outlawed armed groups are the causes of increasing insecurity and instability in our country," Sediqi said. "The existence of thousands of weapons in the hands of these warlords and illegal groups has created chaos in some provinces."
"The existence of illegal armed individuals and groups has undermined the rule of law and the prestige of the government," Gul Ahmad Madadzai, the deputy director of Afghanistan's Lawyers Union, told Salaam Times.
"They consider themselves to be above the law and pretty much like a government," he said. "They do not observe any laws or human rights."
"Therefore, arresting and prosecuting such individuals and groups are completely legitimate measures and constitute a right reserved for the government, while moving the country towards lawfulness and justice," Madadzai said.
Warlords and terrorists
Earlier this year, Afghan forces arrested three rogue warlords and militia leaders based on decisions made by provincial military councils in Faryab, Uruzgan and Farah provinces.
On July 2, authorities arrested Nizamuddin Qaisari in Faryab after he allegedly insulted and threatened to kill officials during a provincial security meeting. On July 5, authorities detained Mohammad Daoud Mubarez of Farah and Rahimullah of Uruzgan provinces.
Similarly, on July 5, Afghan special forces arrested Nader Shah Kufi, a warlord from Badakhshan.
In late November, intelligence agency personnel arrested Hazara militia commander Alipur, who is accused of extortion, harassment and employment of illegal gunmen in Maidan Wardak Province.
The NDS released Alipur on bail after protests over his arrest, but before his conditional release, Alipur said in a video message that he was ready to surrender all of his weapons to the government.
He will be investigated, said the Interior Ministry.
Nawid Khan Abadi, also known as Nawidak, was arrested December 1 in Takhar after a 30-hour standoff.
"Illegal armed groups and powerful warlords are far more dangerous and ruthless than are ISIS and the Taliban," Siddiq Ansari, chairman of the Federation of Afghanistan's Civil Societies, told Salaam Times.
"Arresting such individuals will bring tranquility and stability to society," he said. "As a civil society activist, I consider the imprisonment of Qaisari, Alipur, Rahimullah, Nawidak and the likes of the aforementioned individuals as a praiseworthy measure for rule of law and civility."
"I call on the public not to protest when the government arrests these criminals," he said. "I also ask politicians not to support such individuals and groups."