JALALABAD -- Hundreds of civil society activists and youth held a march Wednesday (August 8) in Jalalabad, Nangarhar Province, in support of President Ashraf Ghani's recent crackdown on warlords and local power brokers.
The Ministry of Defence announced August 6 that three illegal militia commanders had been arrested in July in Faryab, Uruzgan and Farah.
Participants of the march called on the government to take serious action against warlords in Nangarhar Province, accusing them of seizure of others' property, corruption, torture and undermining of public security.
The demonstrators also called on the Taliban to accept the demands of the nation and declare a long-lasting ceasefire during Eid ul Adha.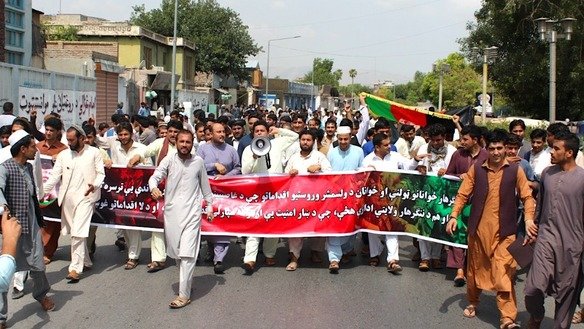 "A number of warlords were detained following the order of the president recently in a number of provinces. We welcome this step, and we demand the detention of such warlords in Nangarhar Province as well," Mutiullah Ahmadzai, the head of Youth Affairs at the Nangarhar Department of Culture and Information, told reporters.
Noor Ahmad Noorani, a civil society activist, praised the steps taken against warlords and urged the government to prepare a permanent plan for a long-lasting solution for existing security challenges.
"Permanent plans should be prepared for resolving such issues. We praise the measures taken by President Ghani," he told Salaam Times.
"This president and our government diminished the power of warlords [including those] whom one could not even open his [or her] mouth to address. It was something big that was done, and it has to be continued," Noorani said.
Security ramped up
Jalalabad residents also welcomed the deployment of additional security forces to the city after a string of deadly attacks.
Ghani ordered the Afghan National Army (ANA) to help maintain security in Jalalabad at the request of Nangarhar officials following an attack July 31 on the compound of the provincial Refugees and Repatriations Department in Jalalabad.
The ANA partially took over security responsibilities in Jalalabad August 1. On August 7, the General Command of Police Special Units of the Interior Ministry assumed charge from the army.
Over the past few days, ANA troops have been removing black film used to tint car windows and seizing unregistered vehicles, as well as a number of other activities.
"I appreciate the deployment of the ANA forces to tighten security in Jalalabad city and I appreciate their activities here, and I ask for further efforts to be made by them against the warlords," Noorani said.
"Deploying the [ANA] ... in the city is a useful measure for security, and we appreciate it," said Abdur Rahman Mawen, a civil society activist in Nangarhar.
"You can see how bravely the [ANA] forces defend this territory," he said.