KUNAR -- Afghan forces in a series of operations have reopened a key highway that connects the Asmar, Ghaziabad and Narai districts of Kunar Province as well as the Kamdesh and Barg-i-Matal districts of Nuristan Province.
This operation was launched on August 3 and continues today.
Taliban militants built a stone wall on the road a year ago, blocking access for cars in an effort to prevent government officials from commuting. Local residents were forced to walk for two hours to reach cars on either side of the wall as the Taliban would target any incoming vehicles in the area.
"We launched this operation to open the road, establish security check-points and tighten security in the area so that the enemy will not be able again to launch attacks or block the road," Brig. Gen. Mirwais Sapi, the commander of the 2nd Infantry Division of the Afghan National Army, who is leading the operation in Kunar, told Salaam Times.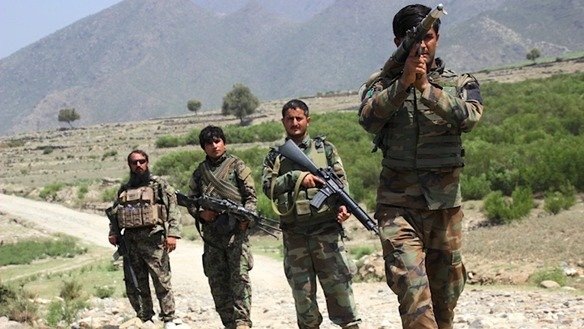 "So far, we have killed up to 40 terrorists and wounded tens of others in these operations," he added.
"I can surely say that the enemy is broken and completely destroyed here, and here we will establish six to seven security posts so that the terrorists cannot cause any bad incidents or disturb residents in the future," Kunar Governor Abdul Sattar Mirzakwal, who visited the ongoing operations in Asmar and Ghaziabad districts, told Salaam Times.
Local residents said that they are happy with the operations now that the road is clear.
"We would walk for two hours, and on the way there were Taliban who would shoot indiscriminately," Haya-ud-Din Ihsas, a 35-year-old resident of Ghaziabad District, told Salaam Times.
"But now we are happy because the route is safe," he said.
"The Taliban don't care if you are a common person, a Taliban member or a government employee," Faqir Mohammad, a resident of the Shal Shangar area of Asmar District, told Salaam Times. "They blocked the road for everyone and disturbed everyone."
"It is good that the government came and opened the road," he said. "If security posts are established, it would be even better."