KABUL -- Thousands of Afghan youths are signing up to join the Afghan National Army (ANA) and Afghan National Police (ANP), according to officials at the Defense and Interior ministries.
"There are a total of 40 ANA recruiting centres across the country: three in Kabul Province; two centres each in Nangarhar, Kunduz and Balkh provinces; and one centre each in [the remaining 30] provinces," Ghafoor Ahmad Jawid, a spokesman for the Defence Ministry, told Salaam Times.
"The recruitment process is normal and moving well," he said, adding that the ANA regularly exceeds its recruitment goals.
"These ANA recruitment centres recruit more than 6,000 individuals every month," Jawid said.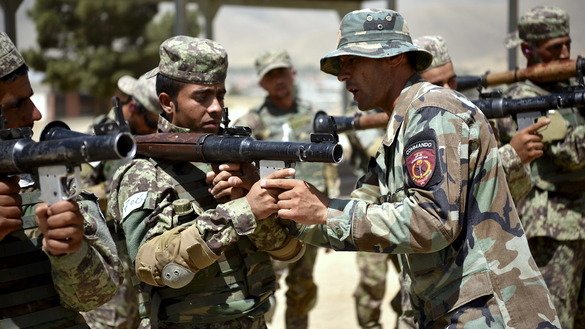 The ANA recruitment personnel at the Defence Ministry often encourage youth to join the army through social media pages and through meetings with tribal elders, mosque prayer leaders, members of civil society and parliamentary representatives.
ANP recruitment centres are also receiving large numbers of men and women in Kabul and other provinces who want to join the police force, said Nasrat Rahimi, a deputy spokesman at the Interior Ministry.
"The desire of our youth to join the Afghan National Police is so high that we do not even need to publish any recruiting announcements," he told Salaam Times.
"We now have 20,000 new troops ready who have completed the first phase of registration and are ready to begin working alongside our security forces," he said.
"These 20,000 individuals are ready and will start working as soon as there are vacancies within the ranks of security forces," he said.
Although Afghan forces suffer from attrition, the increasing rate of recruitment reportedly is enough to keep the total number of forces in the country growing at a sustainable level.
Ready to serve Afghanistan
"Our people love their homeland and want to serve their country as members of security forces, and that's a fact," Gen. (ret.) Atiqullah Amarkhil, a Kabul-based military analyst, told Salaam Times.
Gul Mohammad, 26, a resident of Maidan Wardak Province, recently came to Kabul to join the ANA ranks.
"I want to join the ANA to serve my homeland and my people," he told Salaam Times.
"Ever since I was a child, I wanted to be a military man in order to serve, protect and defend my country," he said. "I am very happy that the ground is now ready."
Ghulam Sakhi, 27, who is originally from Bamiyan Province but lives with his family in Kabul, said he also decided to join the ANA.
"Afghanistan and our people need security," he told Salaam Times. "I want to join the [ANA] and serve my country in order to pay my dues to my people and my homeland."
"When you want to serve your people and your homeland earnestly and honestly, you have to sacrifice your life, and I'm ready to do just that," he said.
Conditions for recruitment
Afghans who want to join their security forces must meet certain requirements.
"[The recruit] must be a [citizen] of Afghanistan, have an Afghan identification card and maintain the necessary physical strength and must not have committed a crime," Rahimi said.
Those who are hired will receive training that lasts from six to nine months, he said.
One concern is the presence of enemy infiltrators among security forces, which has occurred in the past, according to Jawid, the Defence Ministry spokesman.
In order to prevent infiltration by such individuals, every ANA volunteer must provide two legal documents in which two different individuals guarantee the applicant's character and suitability for the job.
The documents undergo scrutiny by a recruitment investigation team, which includes representatives of the National Directorate of Security (NDS) and the Department of Intelligence and Investigation at the Defence Ministry.
Newly recruited individuals will then be transferred to the military training centre, where they complete training programmes and receive practical lessons.