Iran has been distributing propaganda that seeks to influence global public opinion through dozens of news sites around the world concealed as local media outlets, Reuters revealed in a special report.
In its report, Reuters identified more than 70 websites that push Iranian propaganda to 15 countries.
The report identified that Iran was running three disinformation websites in Pakistan and four in Afghanistan.
"The sites underline how political actors worldwide are increasingly circulating distorted or false information online to influence public opinion," the November 30 report said.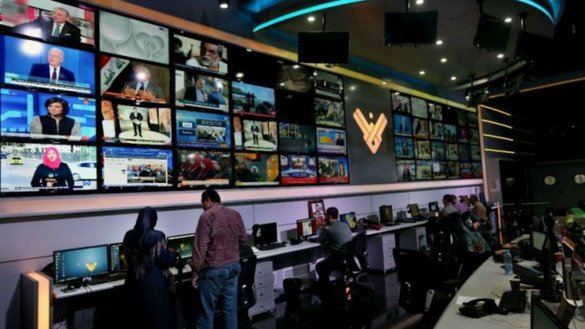 The sites offer a mixture of news and are designed to look like regular news and media outlets.
The websites were uncovered by building on research conducted by cybersecurity firms such as FireEye, and have been active at different times since 2012.
'A very serious matter'
Iran's efforts to influence public opinion across the world are "being carried out according to a well thought out plan that requires an even stronger plan to counter and eliminate", said Mazen Zaki, director of the new media department at Egypt's Ibn al-Waleed Centre for Studies and Field Research.
Through these outlets, he said, Iran has been exploiting modern communications technology to pursue "a policy of media inundation to spread its ideas in indirect ways by distorting and manipulating facts".
"In addition to the channels and websites whose [pro-Iran] orientation is no secret [...] there are dozens of channels and websites that are totally anonymous and push directed news," he said.
For example, he said, "a website that bears an Egyptian name and has an address in Cairo" has been disseminating disinformation that harms Egypt's foreign relations.
"In Yemen, we see some websites that incite against the legitimate government and glorify the Houthi militias, portraying them as the saviours of the Yemeni people," he added.
The same is happening in Syria, he said, where the efforts of the international coalition and its allies to fight the "Islamic State of Iraq and Syria" (ISIS) have been undermined by websites spreading similar disinformation.
In addition to spreading rumours, Zaki said, these media outlets have been "disseminating disinformation about Iran's Islamic Revolutionary Guard Corps (IRGC)", sharing news of false victories to glorify the group.
Promoting Wilayat al-Faqih
The proliferation of the IRGC "is based on the sowing of divisions and fomentation of crises, unrest and internal sectarian and religious wars," said Hassan Afifi, a lecturer at Cairo University's faculty of media.
"This of course requires a massive media machine that takes on the task of disseminating falsehoods and disinformation," he told Al-Mashareq.
"In 1979, after the IRGC seized power in Iran, the media effort began internally, initially, to disseminate the ideology of Wilayat al-Faqih, and this was soon after expanded beyond Iran's borders," he said.
The doctrine of Wilayat al-Faqih (Guardianship of the Jurist) calls for allegiance to Iran's Supreme Leader, Ali Khamenei.
The first misleading steps taken by Iran's media abroad were in Lebanon, where Arabic language editions of Iranian newspapers, led by Kayhan newspaper, were put in circulation, Afifi said.
These focused on Lebanese and Gulf affairs, and laid the groundwork for the new ideas and ideology that were emanating from Iran, he said.
Manipulating technology
"The advancement in technology makes it difficult to track websites and satellite channels in order to stop them," said Mahmoud Shahin, a professor at Helwan University's faculty of engineering and technical adviser to a telecom company.
"These technologies enable publishing from anywhere in the world and disguising the source," he told Al-Mashareq, pointing to the concealment of IP addresses and the use of fraudulent web addresses (URLs).
"The same applies to TV channels, as it is possible to broadcast through one satellite and relay the signal through another, taking advantage of the proximity of the satellites to each other and closeness of their frequencies," he said.
"What is more dangerous than a particular website are social networking site accounts that promote that website and re-post the news it posts," Shahin warned.
"The IRGC has a specialised online media arsenal, and enormous sums of money are spent on them to operate the way they do," he cautioned.