The military, ideological and cyber wars being waged against the "Islamic State of Iraq and Syria" (ISIS) have greatly impaired the group's media capabilities, as the volume of fresh releases and publications has shrunk significantly.
"ISIS's media machine is in an obvious and significant decline, which is reflected in all the media platforms used by the group in the past," said Mazen Zaki, director of the new media department at Egypt's Ibn al-Waleed Studies and Field Research Centre.
These include social media sites and online forums through which it disseminated its audiovisual material, as well as weekly or monthly circulated magazines, he said.
"Most have been absent for more than a year, including Dabiq magazine and al-Bayan newspaper," he said, adding that ISIS releases from al-Furqan Media Foundation, Amaq, al-Okab online forum and the Muntadayat al-Malahem wal Fitan forum also have been scarce.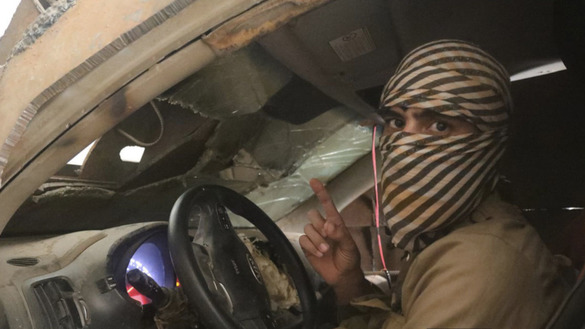 These outlets constantly change IP addresses to avoid being taken down or blocked, he said, "but that is no longer easy to do either owing to the international crackdown on such sites".
Zaki said cyber counter-terror efforts to monitor online content have borne fruit thanks to the co-operation of social media platforms, which have been systematically deleting or blocking hundreds of thousands of false and real accounts that disseminate ISIS propaganda material.
"This, of course, adversely impacted the massive recruitment network ISIS used to have, which was reflected in a notable drop in recruitment operations and the number of new recruits," he said.
'Total decline'
In 2015, when ISIS was ruling over roughly seven million people in Iraq and Syria, its propagandists produced content from 38 different media offices from West Africa to Afghanistan, Charlie Winter, a researcher at King's College London who has been studying ISIS communications for years, said early this year.
But now, most of these outlets have been silenced.
Many factors have led to the decline of ISIS's media machine, the first being the contraction of the territory that ISIS used to control in Syria and Iraq, said professor Hassan Afifi of Cairo University's faculty of media.
This has resulted in a lack of media content, such as the regular updates the group used to post to boast of its prowess in the field and to recruit new fighters, he said.
The ideological war against ISIS also has begun to bear fruit, Afifi said, noting that "social networking sites and online forums abound with enlightening material that debunks the group's lies and refutes the [claims] with which it tried to brainwash the youth".
The clearest indicator of the weakness of ISIS's media machine "is the layout and quality of the few and rare releases it has made in recent period", he said.
"A close examination [of the releases] reveals that the group has lost the momentum and precision it once had, as video releases are rare and those that are released are of poor quality," he said.
Also notable is the delay in issuing statements in which ISIS claims responsibility for terror acts, and the presence of grammatical and typo errors in both its Arabic and English language releases, he added.
"This indicates that the previous crew of professionals are no longer active and that ISIS has resorted to using inexperienced individuals to produce its media content," he said.
Loss of ISIS propaganda centres
The group's control over vast areas in Syria and Iraq enabled it to establish media centres equipped with the latest technology, said security expert and military analyst Maj. Gen. Abdul Karim Ahmed, who is retired from the Egyptian military.
ISIS "inundated cyberspace with massive amounts of propaganda material that showcased its victories and the areas it controlled", he said.
This helped spread its influence and boost its ability to recruit youth around the world, he said.
"Now, however, the situation has changed after the areas controlled by the group have shrunk to 2% of the size of the areas it controlled in 2015," said Ahmed.
ISIS has been stripped of its media centres, which weakened its technical capabilities, he said.
"News of the group's defeats, its elements' escape from the areas it once controlled and their pursuit around the world, now top international headlines," he said.
This has become counter-propaganda content to which ISIS is unable to respond, Ahmed said.